Apple's new rules require app names have fewer than 50 characters. See which apps were affected and how they're adjusting their ASO tactics.
As mentioned in our ASO Playbook, app store optimization is always evolving. Many iOS developers around the world received a tough reminder of this at the start of September, when Apple announced a round of App Store improvements.
Two main updates were announced. The one that received the most press coverage was an upcoming evaluation of existing iOS apps to enforce a quality standard, which kicked off on September 7. Apple's other announcement was that app names would be shortened — from 255 characters down to 50.
While a date for the app name change wasn't announced, based on App Annie's Keyword / ASO report, it appears to have gone into effect immediately, forcing some apps to quickly adjust their ASO tactics.
Changes to iOS App Names and the ASO Implication
Per Apple's updated product page, app names should now be 50 characters, but it's recommended to have fewer than 23 characters for optimal presentation across Apple devices. It's also recommended that the app name field should only include the name of the app, and not additional descriptions.
This gentle nudge is widely seen as a way to curb the practice of keyword stuffing — or using your app name real estate to include additional keywords not core to the name itself in an effort to boost discoverability.
What Apps Were Affected?
Any apps with exceptionally long names felt a hit to their keyword rankings immediately. Using App Annie Store Stats, we looked at the app name character lengths of the top 200 free and top 200 grossing iPhone apps on August 31, the day before the new length requirement was introduced.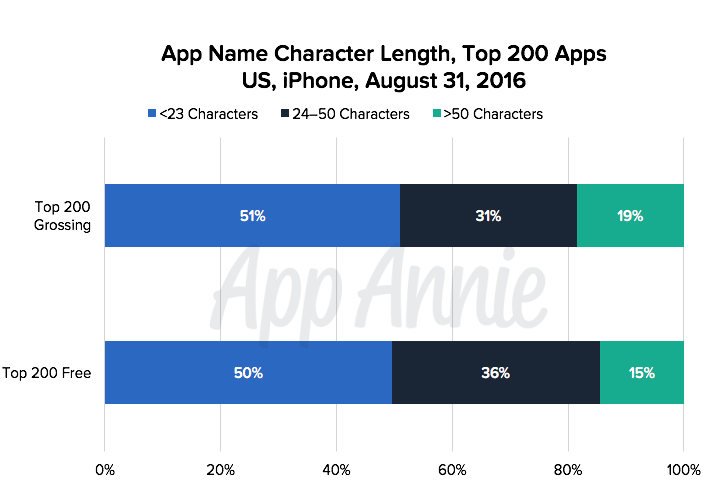 Only half of apps analyzed met Apple's recommended length of 23 or fewer characters. Nearly 20% exceeded the new 50-character limit.
Let's take a look at how apps with longer names fared post-algorithm change.
Match Flirts With a Simplified App Name
On August 31, the app's full name was Match™ - Dating App to Flirt, Chat and Meet Local Single Men and Women, which came in at 70 characters. By September 2, the keywords after the 50-character mark —  "local", "single", "men", and "women" — plunged down the App Store rankings.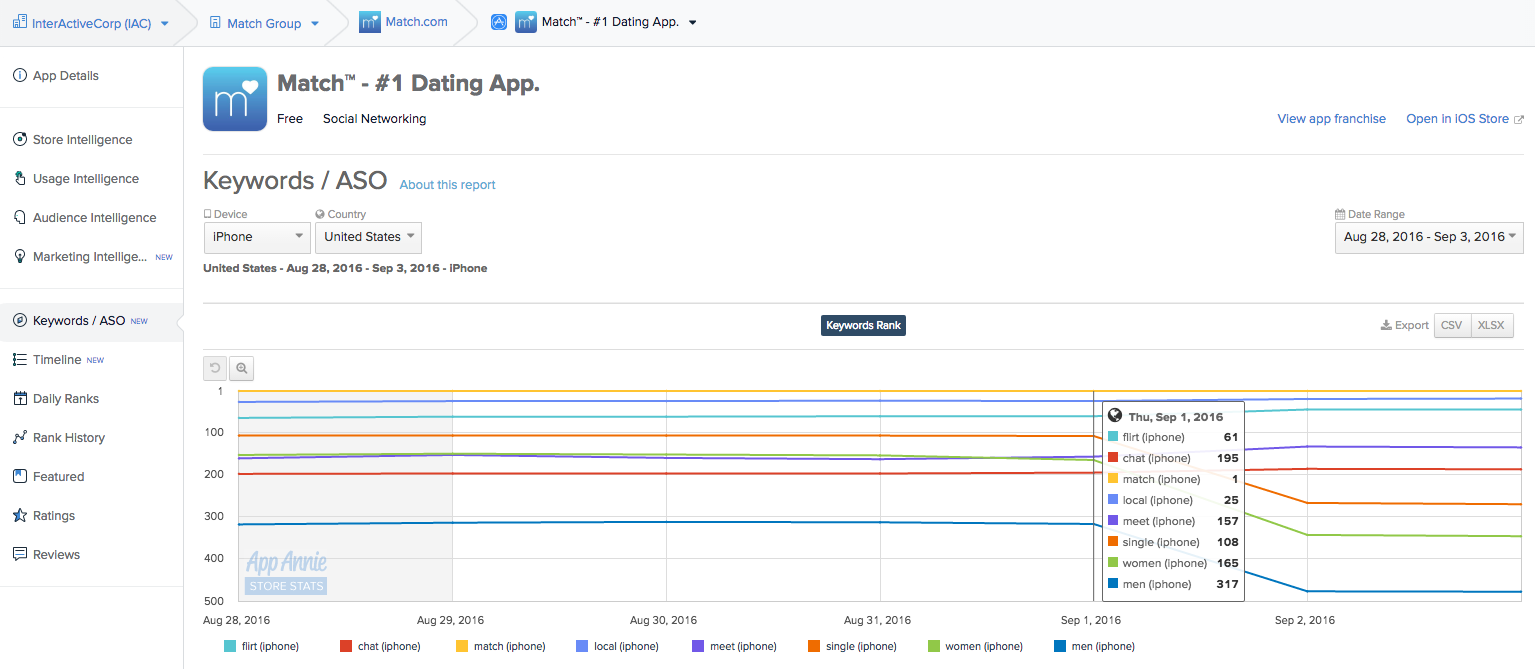 After Apple's September 1 announcement, Match's keyword rankings for "local", "single", "men", and "women" took a dive.
However, the brand was smart and reacted quickly, changing its name to the search-friendly Match™ - #1 Dating App on September 13. Given the app's brand awareness, it was able to hone in on its core service and discard the now-superfluous keywords.
Hulu's Keyword Binge Highlights Opportunity for Improvement
On August 31, the popular video streaming app's iOS name was a mouthful: Hulu: Watch latest episodes of your favorite hit TV Shows, stream kids movies & comedy films. That's a whopping 92 characters.
By the next day, Hulu dropped down or off the keyword rankings for "tv shows", "stream", "kids", "kids movies", "comedy" and "films" — all the words listed after the 50-character mark.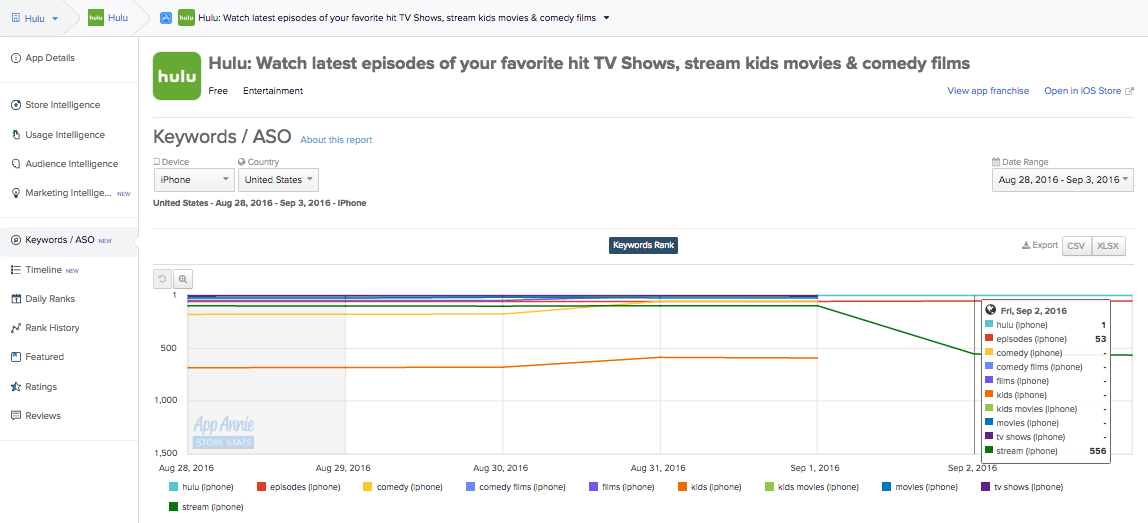 After Apple's recent change, Hulu no longer ranks for the keywords "tv shows", "stream", "kids", "kids movies", "comedy" and "films".
According to our new Timeline feature, though Hulu has made changes to its description since September 1, it has yet to adjust its name to be in compliance with Apple's new rules. Coincidentally, on August 30, the app had just changed its app name to include the keywords it no longer ranks for.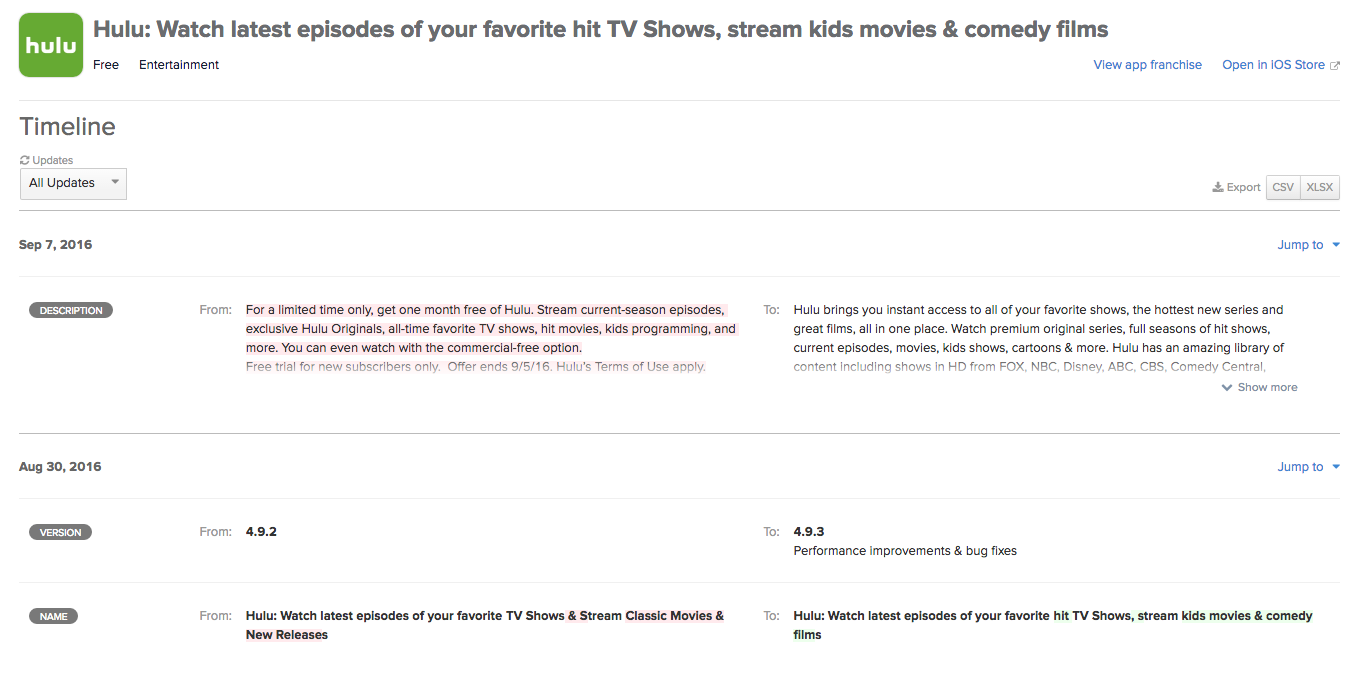 What Do These Changes Mean for Your ASO Strategy
These changes reinforce that publishers can't rely on simple keyword tricks to get noticed in the App Store. ASO is fluid — it's important to continuously monitor your efforts and optimize based on performance, especially when a major platform adjusts its rules. Staying up to date on the latest tactics will help improve the chances of new users finding your app.
ASO comprises both the tactics you use to drive discoverability, like app name, keywords and descriptions, and the assets (e.g., icon, screenshots, ratings) that convince users to install your app. Similar to how SEO has evolved, the better you can address the needs of your users and add value, the better positioned you are to rise up the ranks.
New to ASO? Sign up and get started today. Ready to take your program to the next level? Request a demo for Marketing Intelligence.