When some people think of App Store Optimization (ASO), the first thought may be to improve visual assets like the icon or screenshots or to focus on keyword optimization. What may get overlooked is the impact of app ratings and reviews on ASO. These public evaluations factor into app rank, a critical factor in exposing your app to users browsing the iOS App Store and Google Play store. We'll show you just how important ratings and reviews are and how to improve both the quality and amount.
Why Ratings and Reviews Factor Into ASO
Ratings and reviews are a natural way to increase app discovery and organic downloads. A higher-rated app with more reviews will rank higher than other apps in its category. Potential users browsing app stores may also be influenced by high ratings, leading to an increased amount of conversions.
During November 2015, WhatsApp Messenger dominated Google Play download ranks and did well in the App Store. While some users may have already known about the app and brand, others were likely convinced by the sheer amount of positive reviews and ratings.
Big-name apps like WhatsApp Messenger don't have to be unique. Others can emulate its success by improving rating scores and increasing the amount of reviews.

With over 23 million 5-star ratings, WhatsApp Messenger ranks highly on Google Play.
Turning 1-Star Ratings Into 5-Stars
An app's initial debut rarely goes off without a hitch. Occasionally there may be persistent bugs, performance issues on different devices or simply features that users would like to see. This can lead to some very low ratings and reviews out the gate. Don't get discouraged — even unfavorable reviews may be rife with information on how to update and change your app. As long as you're swift and take user feedback seriously, changing public opinion can go smoothly.
When Layout from Instagram on iOS released in late March 2015, 11% of its ratings were 1-star and 57.2% were 5-star. Some reviews asked for additional features or noted problems. Updates in April and May addressed these user concerns, and by early June ratings had improved to 2.7% 1-star and 68% 5-star for the period.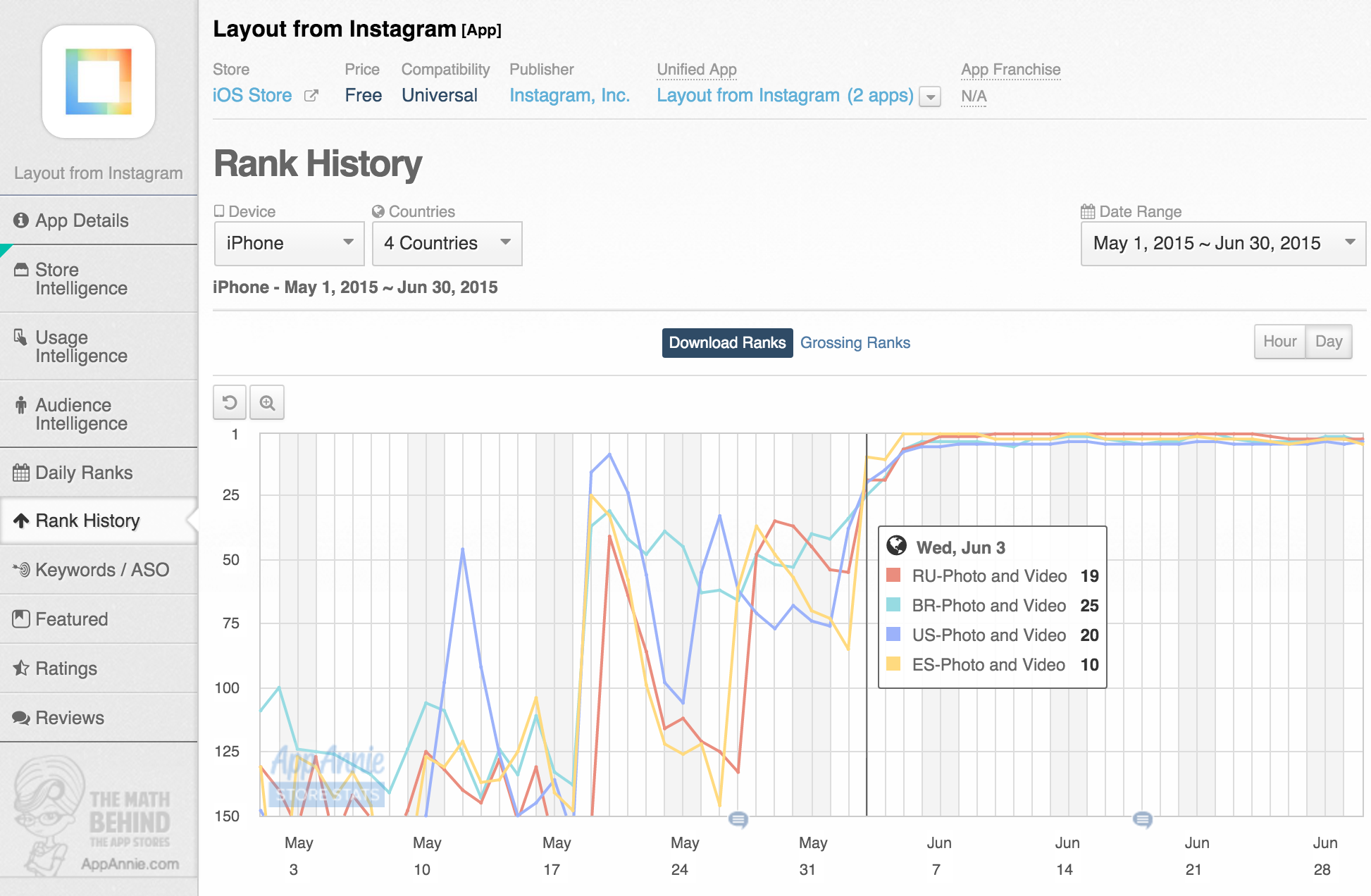 Shortly after a May update, Layout from Instagram had a surge in rank within the United States, Russia, Spain and Brazil Photo and Video category on iPhone.
Sometimes it's not just reactively updating to improve ratings. Good app content can also spark good reviews. You'll first need to identify key moments of user delight. For example, on a dating app you may ask for a rating after a successful match or first reply message. In a game, it may make sense to prompt users after they complete a hard level or unlock a power. The quality of your app's first ratings and reviews can vary, but it's very important to get honest reviews early.
Gain Honest and Trusted Reviews
Reviews show potential users the pros and cons of downloading and using your app. What can be more troubling than bad reviews are no reviews at all. When an app goes live the review section on the app page will be barren, just lingering for the first review. Rather than waiting for an unknown review based on an user's first impression, you may want to consider asking your trusted network to submit a review documenting their honest thoughts.
If your app had beta testers who know the ins and outs of the app, ask if they're willing to submit a review. Their experience will be more credible than a new user, regardless if the feedback is positive or critical. Another good avenue is to approach professional peers whose opinions you trust — people who have made similar apps or are experts on the app's content — to see if they'll download and review your app.
Prompt Users for Direct App Feedback
Similar to prompting users to rate after great moments in the app, you can also occasionally ask them if they are generally enjoying the app experience. Your app's next prompt should reflect their answer: if a user current likes the app, ask them to submit a review; if they're unhappy, direct them to submit an email or use another contact method to give feedback.
We spoke to Alex Mackenzie-Torres, CMO for Moovit about how the company responds to user queries. "Responding to users on Google Play is one of our favorite ways to improve store ratings. With one-to-one customer service, we typically find the underlying reason for 1-star and 2-star reviews, resolve it with the user, and ask them to revise their rating. The result is a higher rating, and more importantly, an active and happy user."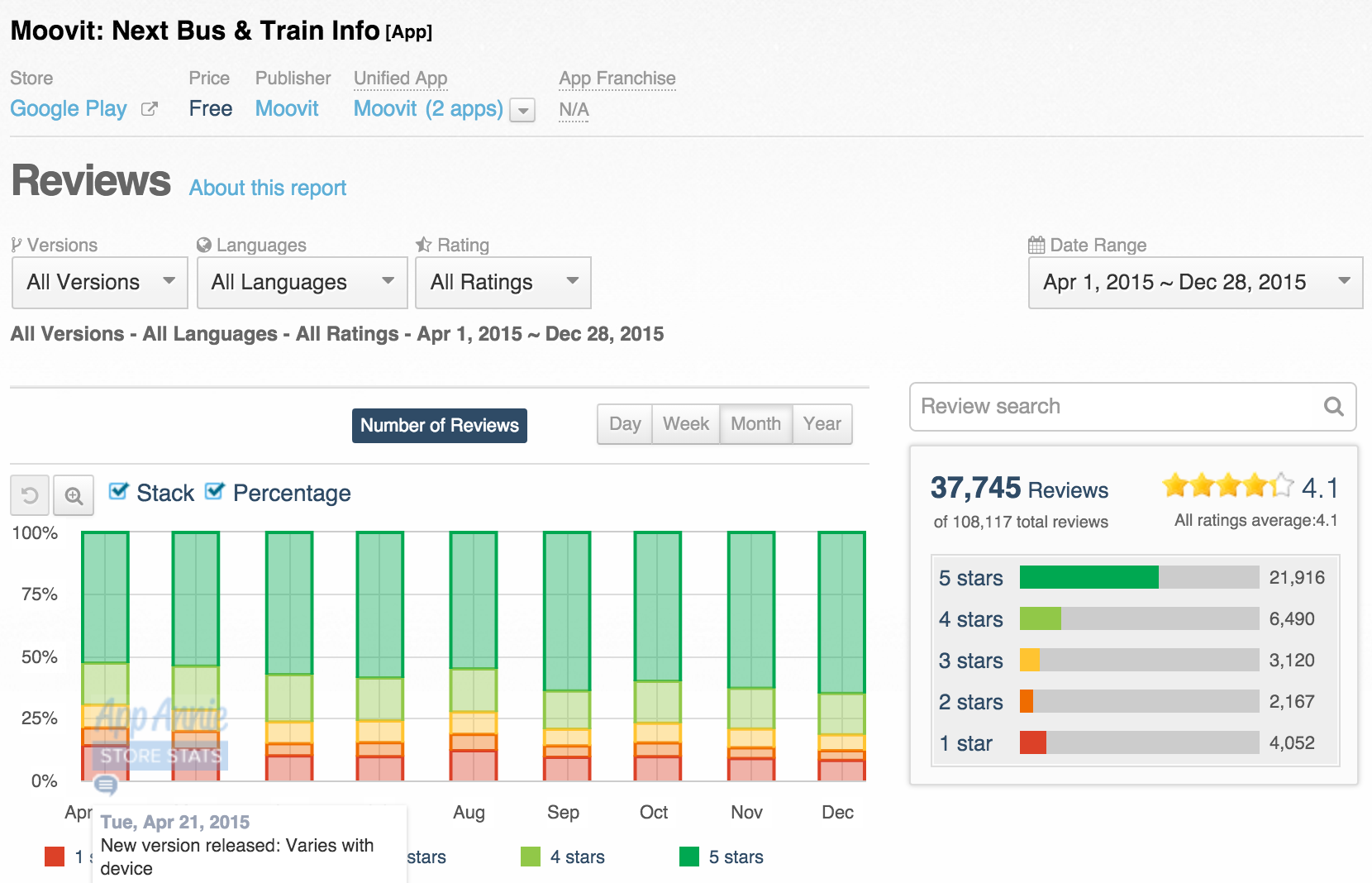 Diligently Improve Ratings and Reviews
Turning negative ratings and reviews into positive ones will take time and consistent action. The faster you respond to user feedback and update your app the happier users may be. In the end, more and higher reviews will result in better ranks and more downloads. Knowing just how and when to gain ratings and reviews is also important: key interactions are a great time to gain 4-star and 5-star ratings.
One of the best ways of getting user feedback is through custom-made forums. For teams that don't have a dedicated engineer for that (or the additional budget), third-party SDKs like UserVoice are a good alternative.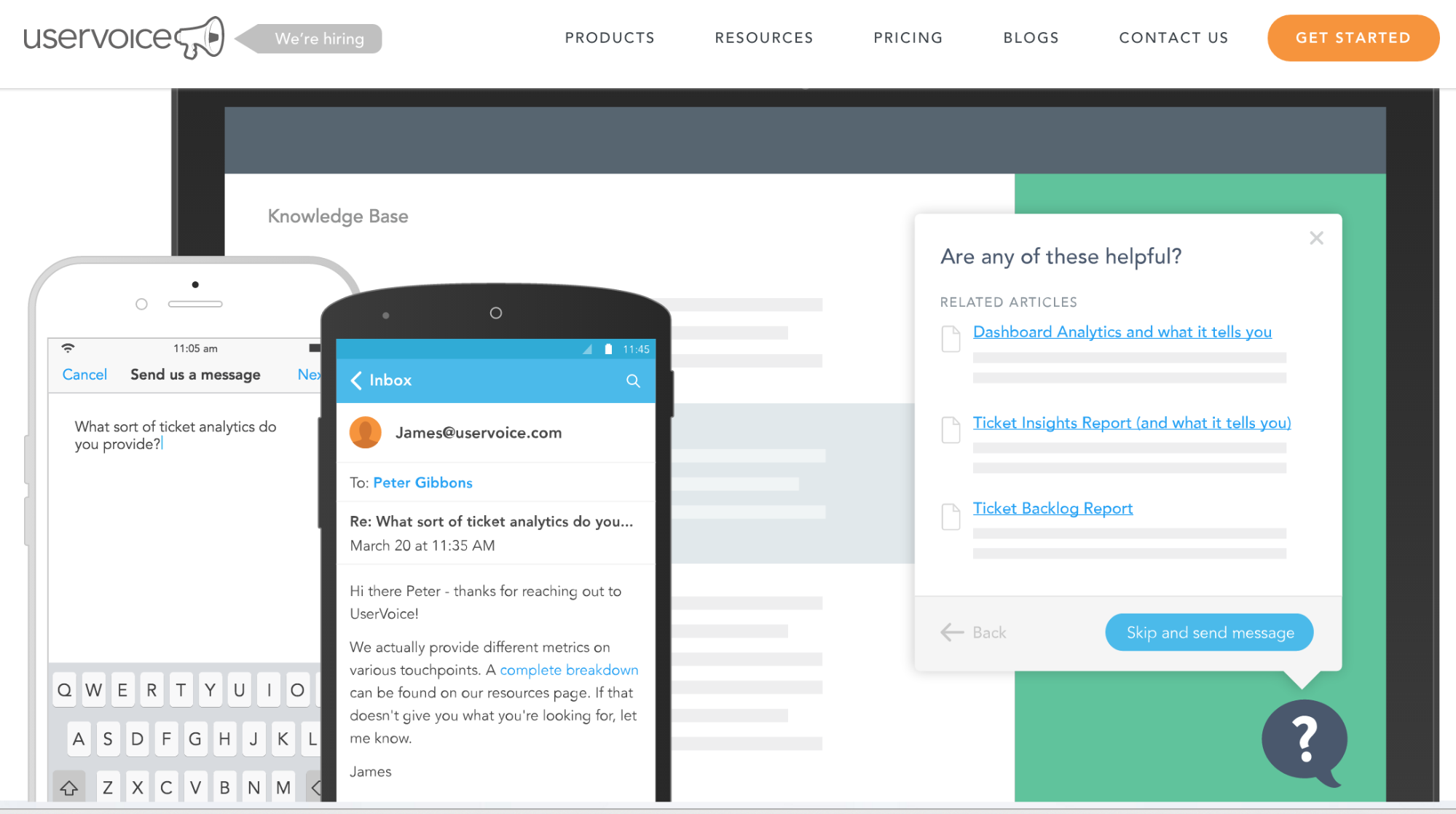 App developers can use third-party SDKs for user feedback. Though these may have costs.
Improving app ratings and reviews is just one of the important components of a solid ASO strategy. In the future, we'll dive further into crafting compelling app store videos and re-tweaking already tested ASO keywords.
Start Building a Better App Business
Subscribe to see more app industry reports, conference updates and guides. Have something to add? Share your questions and comments on Twitter.
Want to take your app business to the next level? Create a free account to dive deeper into Store Stats or request an Intelligence demo.