There are more than a million apps in both the iOS App Store and Google Play, and your news app is probably one of them. It's no secret that people love consuming news through apps. In fact, University of Missouri's Reynolds Journalism Institute reported that a large percentage of mobile users are downloading news apps and routinely using them. But what many publishers don't realize is the space isn't just comprised of major names like Yahoo! and CNN. As seen in our latest General & Business News Index, smaller apps in this category have better chances at being downloaded thanks to good keywords.
This how-to article focuses on leveraging keywords for news apps, but the advice can apply to many categories. Below, we'll explain how smaller players are leveraging keywords for impressive app store search visibility, why big publishers might have trouble ranking for certain keywords, and we'll also offer a checklist of items to ensure your keyword strategy is up to snuff.
Zinio Gets Clever With Keywords
Good app store optimization (ASO) strategies can radically boost a relatively unknown app to success by getting it in front of users when they're searching for a new app. Zinio is one of those apps and it managed to snag the top ranked search spot for "magazines" on iPad and iPhone. This puts it ahead of other major names like Flipboard, NYTimes and National Geographic Magazine.
Zinio is a perfect example of how an up-and-comer can take a generic keyword like "magazines" and optimize their app around it, leaving bigger brands in the dust. See how you can use App Annie's ASO tools to mimic Zinio's success in your apps:
Above is a video tutorial on getting to App Annie's keyword optimization tool, and tips for finding the best keywords to outrank your competition.
Unoptimized Keywords Equals Missed Downloads
Yahoo! has worldwide brand name recognition, and it's leveraging that factor for its app that streams news stories to its users. As you'd expect, it ranks at #1 when users search "yahoo" on the iOS App Store. However, when someone searches "news" or "breaking news," the app doesn't crack the top 50.
That could be considered a missed opportunity, as many users will never even see the app to consider it. It's far down the list of news apps, and any users looking for a news app would have to go through a long list of contenders before hitting Yahoo!. By not optimizing its keywords around news, Yahoo is missing out on a large segment of mobile news readers. Other big players may be missing similar keyword opportunities.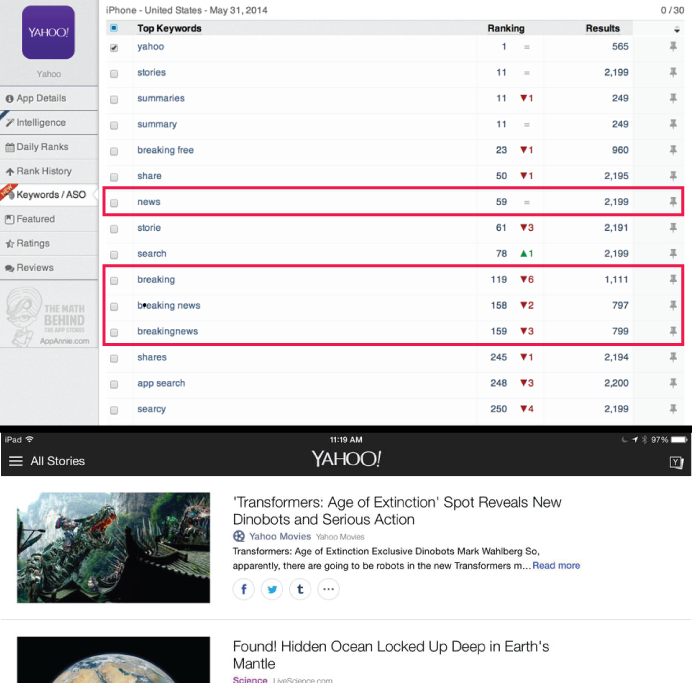 Yahoo! ranks well for its own name, but it isn't in the top 50 for any terms related to news despite being a news app.
Is Your App Keyword Optimized?
Below are a few quick pointers to optimize your keyword choices. There are many keyword optimization tools out there, but before diving into those you should cover the basics:
1. Compare Keywords Against Competitors
Bring up a few news app tabs on Store Stats (in Zinio's case, they would probably check Flipboard and Next Issue) and scan their descriptions, reviews and keywords for recurring terms. Record these on a spreadsheet, verify they're relevant to your app, and work the appropriate ones into your app's title, keywords and description.
2. Put Keywords in Your Title
Why hide keywords behind a finger-press? Put the best, most relevant keywords right in your title so users know exactly what you offer. Prismatic: A Personalized and Social News Reader is a good example of this. By itself "Prismatic" offers little information, but the keywords in the title clarify its offerings.
3.  Internationalize
If you offer news for multiple languages or know your downloads are coming from non-English speaking countries, make sure your top keywords and app metadata is in that language as well. As our Market Indexes regularly show, non-English speaking countries make up a significant portion of app store downloads — more than most publishers realize — and it's important to capitalize on this with your keywords.
Get Out There And Optimize!
Now that you know how to leverage keywords, you're ready to begin. Small publishers, take solace in the fact that you can run with the big players by implementing a solid keyword strategy. You don't need to rely on brand recognition or blind luck to get noticed — you can have keywords work for you. Big publishers, double-check your blind spots and make sure you're not missing large segments of users searching for news.
Come back soon for more how-to articles to help your apps succeed in the app stores. To get more insight on the app economy, check out the rest of our blog — we regularly feature worldwide app market reports, industry event analysis, product announcements and more. Share your questions and comments below, or on Twitter. And be sure to check out our ASO tools by creating a free App Annie Store Stats account today.