If you've been watching the app stores over the past year, you've probably seen a lot of videos popping up. Both the Apple App Store and Google Play Store leverage video as a key asset for your app store page and developers are increasingly focusing their creative efforts on making great app trailers to pull in users. If that's not enough to convince you an app trailer is worth investing in, eMarketer reported last year that mobile video advertising will be "the fastest-growing category in all of advertising."
Long story short, video is going to matter if you want more users for your app. A lot.
So, where to begin? Rather than giving an in-depth guide on video production, here are some do's and don'ts you should keep in mind when making your trailer so you can spend less time making trailers and more time making great apps.
Do
✓ Leverage Video Ad Platforms
Video ad networks — also called ad platforms — like Vungle, AdColony and Unity Ads are just two of many great options for distributing your trailer if you have a user acquisition (UA) budget. Better yet, if you can commit a certain level of spending with them, some video ad platforms may even make you a simple trailer at no cost to get you started. (One caveat: ad platforms specialize in serving ads, not necessarily making them. If you decide to have one make your trailer, make sure you have an artistic direction in mind. Put on your director's hat and work on some storyboards.)

✓ Open Strong
You've probably seen YouTube pre-roll ads before. At the bottom-right, there's a "Skip in 5… 4…" button that acts as gatekeeper until the timer hits zero. For mediocre ads, this wait time is excruciating. Every once in a while, you might run across a commercial that's so interesting, so weird, so mysterious… you just have to keep watching.
The people who made these commercials knew they were battling the 5-second skip countdown, and you should think the same way. The rule of TV and YouTube ads definitely apply to app trailers: whatever you make, it needs a strong hook within the first 5 to 10 seconds.
✓ Put Together a Storyline and Script
Storyboards are road maps for your trailer. Without one, viewers might make it from A to B, but most of the time they'll veer off. It might be difficult when you know your app so well, but it's critical that you take a step back and watch the trailer from the perspective of a new user with no background understanding of your app. You need to create a sales pitch that entices your target users while also demonstrating your app's key features. Here's how:
Sketch how you'll get your target user's attention.

Non-Games: Explain the pain point you're solving.
Games: Highlight what would motivate someone to play your game.
Show a user reacting with happiness, excitement or relief.
Flash to an end card with your app's icon and name, plus the stores it's available on.
Get feedback from stakeholders within your team and polish it until it shines.
✓ Keep It Short
Your audience might come across your video in an Uber, between text messages, or while waiting for the next stage in a game. They're also probably watching from a spotty 4G or LTE connection. Be mindful of their attention span and network connections: aim for a 15- to 30-second video.
It's also a good idea to set up your video so it can be re-cut for different lengths. AdColony suggests 20-second videos are optimal for video advertisements on mobile to combine strong click-through rates (CTRs) and conversion ratio (CVR). You might want to have a handful of videos cut to different lengths to see what resonates most with your users.
Don't
✘ Rely Entirely on Sound
How often do you have your headphones in or your phone volume turned up when you see video ads on your phone? Probably not too often. It should go without saying that audio, while great for improving your trailer's quality and viewers who want to listen, isn't something you should rely on. Make sure your trailer has simple, short captions highlighting your app's key features and uses.
✘ Expect Users to Understand Your App Right Away
Your app probably has the next killer user interface (UI). But it's also probably covered in text, buttons, figures and other things that can cause distractions. Even Venmo — essentially a money transfer service — has much more than just "Pay" and "Charge" buttons. Your viewer is seeing your app for the first time, so you should grab their hand and lead them from start to finish. Here're some tools at your disposal to become a great tour guide:
Touch Hotspots – These are "nubs" that simulate a finger sliding around your app. When you tap, it should pulse. When you swipe, it can animate like a swipe. This is great for non-game apps. See an example of touch hotspots in action below.
Zooming – Zoom into the center of the action. Isolate the part of the UI that matters, so the rest isn't there to distract the viewer. Just make sure the zoomed area isn't pixelated or fuzzy.
Isolating Zoom-Outs – Pick the parts of the UI you want the user to focus on, then "cut" them out and hover them above the app.
✘ Forget Your App's Icon
Your app's icon is one of the easiest ways to build brand equity, so it needs a place in your trailer. Even if a viewer is watching from your app store page, it's still a good idea to remind them what your icon looks like to build your brand. Here are the things you want to make sure are on your trailer's end card:
Which store(s) users can locate your app on.
Your app's website (if it exists).
✘ Assume One (Screen) Size Fits All
iPhone 5. iPhone 6. Galaxy Note S3. Samsung S5. Tablets. All these devices have different screen sizes, so don't assume your trailer will look great across all of them. What you can — and should — do is create videos at multiple resolutions that encompass the major phone types. That might sound like a lot of work, but tailoring your trailer to a viewer's device can subconsciously signal that the app was developed with their phone model in mind. Beyond that, there are reports that the Apple App Store won't let you upload your trailer unless it matches all supported resolutions.
Tools of the Trade
Now that you know some best practices, here are actual tools to create your app trailer:
QuickTime (iOS Only) – If you're running OS X Yosemite, you can capture video from your iPhone or iPad through a Lightning connection. Given the high data transfer rate and native integration, not to mention zero cost, this is our recommended recording method. Mac|Life provides a great setup guide if you need help getting started.
Reflector (iOS Only) – Not a fan of Quicktime, or avoiding Yosemite? Reflector offers the same functionality as QuickTime but is AirPlay-based so no cables are required. Be aware that games and high-action videos might experience lag or frame drops due to the amount of data being passed.
Rec (Android Only) – For Android phones, you have a similarly elegant process to record your app. Download Rec, configure the video settings, and you're good to go — with or without a USB cable. You shouldn't come close to the recording length limit for your app trailer, so using this should cost you nothing.
If you're strapped for time and have some budget to throw around, or you just don't feel like now is the time to test your trailer-making skills, you can skip the tools and hire an agency. Two well-known agencies among app developers are Apptamin ($1190+, Multi-Platform) and 87seconds ($1,900+, Multi-Platform).
So, How's It Doing?
Once your video's live, it's time to see what kind of impact it's having on your app's performance. You can check this by connecting to App Store Analytics and creating Event Tracking notes on your app's dashboard. Here you can track whether the trailer caused downloads or revenue to grow.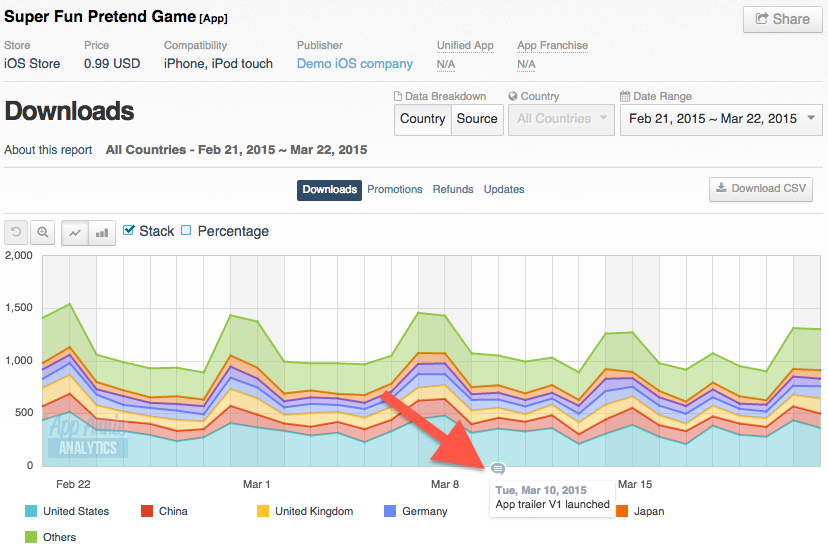 Log an event on your Analytics dashboard to easily track video ad results.
Connecting your apps is just step one. Connecting to Advertising Analytics lets you take it a step further by tracking your marketing performance (ad spend, user acquisition performance, etc.) due to your trailer. Correlate acquisition KPIs to app store performance, test creative lengths (maybe the :15 version performs worse than :30 for your app), and continue optimizing as you climb the rankings.
There are endless tests you can implement, and we created these interconnecting dashboards to make your life easier. You spent valuable time making your trailer. You owe it to yourself to save time tracking how it does.
Want More? App Annie Has It
Don't miss a single app-related update — subscribe to our blog to get more free app industry reports, conference updates and guides. We love hearing your opinions and ideas (hey, sometimes we overlook some key tips), so share your comments and questions below or on Twitter.