ASO is vital to an app's success, and keywords represent a relatively easy and effective lever to pull in an overall ASO strategy.
Over 65% of all downloads on the iOS App Store come from search. This indicates a massive opportunity to boost your app's downloads using just organic search. However, competition is fierce in the app economy, with over 2 million apps in the iOS App Store and 2.5 million on Google Play. How do you make your app stand out?
As we've highlighted in our App Store Optimization Playbook, a well-defined and executed app store optimization (ASO) strategy is crucial to an app's success. ASO is not a "set it and forget it" approach. Continuous monitoring and refinement are required to meet two key objectives:
Discoverability, or the ability of your app to be easily found within an app store. This is affected by keywords, app categorization, ranking within categories and being featured.
Conversion — once a user lands on your page in the app store, are they convinced to download? Creative app store assets, such as your app icon and screenshots, along with user reviews and ratings can affect conversions.
Within your ASO strategy, one of the first and most effective levers you can pull is optimizing your keyword selection. This can give you important wins for discoverability through organic search. Nailing your keyword strategy with terms that are highly searched but also relevant to your app can dramatically help you optimize your app's visibility to capture more organic downloads.
The Keyword Sweet Spot
Keyword optimization is both an art and a science. It takes creativity backed with quantitative analysis. Our ASO Keyword Explorer provides two key metrics to help guide your strategy: search volume (how often a term is searched for) and difficulty (how hard it is for an app to rank in the top 10 for a keyword). The sweet spot for a keyword's discoverability is to have high search volume but a low level of difficulty, meaning your app is likely to get a high amount of traffic but with lower effort to rank in the top 10 for that keyword.
Looking at video streaming and music streaming apps on iPhone and Google Play respectively, we see that keyword changes make a big difference in discoverability success.
Key phrases "TV Shows" and "Watch TV Shows" perform in the opposite manner on iPhone, the former being much easier to rank in the top 10 and having much more organic traffic than the latter.
While words like "Popular Shows" or "Watch TV Shows" on iPhone and "Playlists" or "Free Songs" on Google Play may accurately describe your app, they drive a relatively low amount of traffic and therefore offer fewer opportunities for install. Conversely, keywords like "TV Shows" and "TV" on iPhone and "Listen" and "Music" on Google Play are searched for more often by users.
However, high-traffic keywords such as "TV" and "Music" are often highly competitive, making it harder for your app to stand out when using them. The optimal spot is finding a keyword with both high search volume and low difficulty to rank in the top 10 such as "TV Shows" and "Listen".
Monitoring Your App for Keyword Opportunities
Store Stats users can utilize App Annie's free Keywords / ASO reports to identify top keywords for their apps. We took a look at SoundCloud's discoverability strategy in the United States.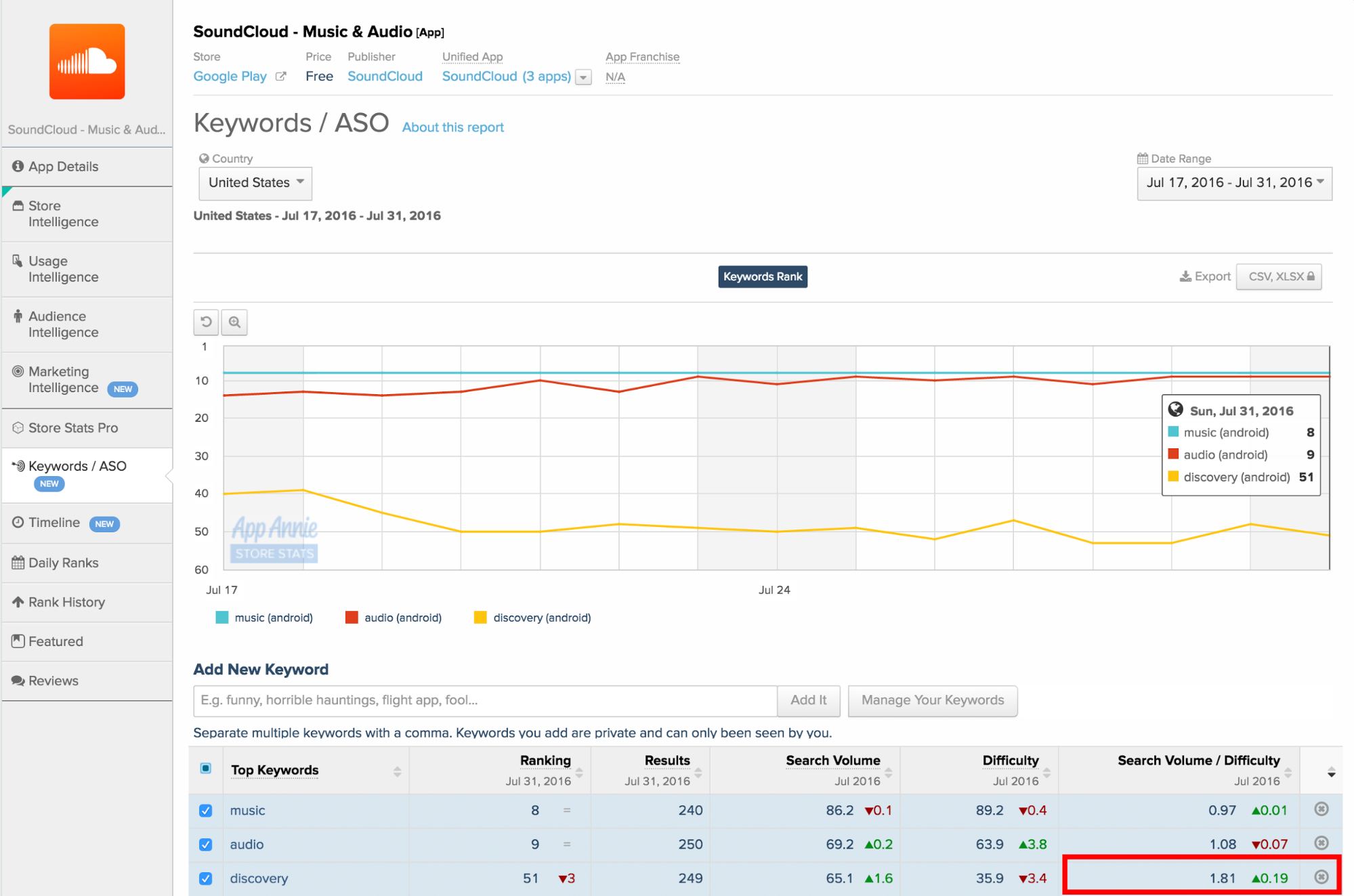 Monitoring how an app ranks for keywords can indicate how its ASO strategy is performing.  
This view enables users to see what keywords their app is ranking for and offers an initial snapshot into performance. Marketing Intelligence users have access to an enhanced view, which reveals search volume and difficulty metrics for keywords. The ideal ratio of these two metrics is generally above 1.00 — and the higher the ratio the better. For example, the keyword "discovery" sits in the sweet spot, with a relatively high search volume and low difficulty leading to a ratio of 1.81.
Keyword Explorer also lists the top ranking apps for a given keyword. For instance, "discovery" shows that top-ranking apps for that keyword on Google are not music-related. This presents an opportunity for SoundCloud to capitalize on the high search traffic for this keyword while also securing prime real estate as the only music streaming app in the top ranks. Before incorporating this keyword into their strategy, Soundcloud could refer to its reviews to make sure this keyword maps to a potential searcher's intent by seeing how their actual users describe the app. They could then take action to boost their ASO on Google Play by updating the app title or prominently featuring this keyword in the meta description of their app and then test to see if this change leads to an increase in downloads.
Maximizing Your Localization Strategy
An app's keyword rankings, and as a result its discoverability, will vary by each country's app store. Even across similar markets that use the same language like the US and the United Kingdom, search volume and difficulty for each keyword could vary, causing some words to be closer to the sweet spot in one country than in another. An important thing to remember is that, in general, you only have 100 characters for keywords on the iOS App Store (though there are some exceptions). With such limited space, selecting the right keywords for your app is critical.
The Keywords/ASO report allows you to examine top-ranking keywords in other countries to assess how you should localize your strategy. Using Marketing Intelligence, we see that where "discovery" showed an advantageous volume-to-difficulty ratio for SoundCloud in the US, "listen" had an optimal ratio in the UK. This indicates a keyword that SoundCloud could specifically use in the UK to try to increase discoverability.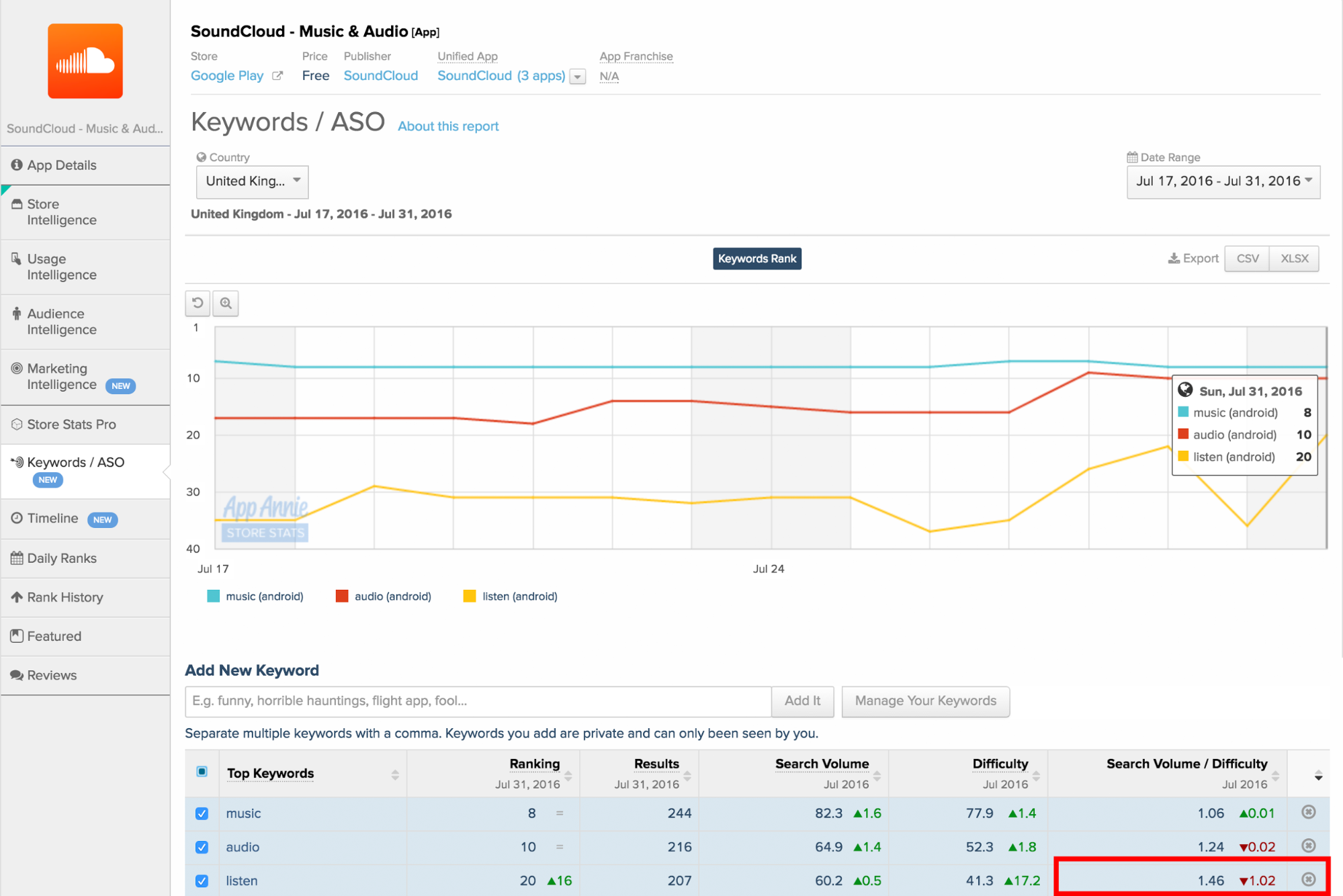 Even in a similar market to the US, there are differing opportunities for keyword optimization in the UK such as "listen".
For keywords that are transferrable across markets, you can duplicate tracked keywords easily for multiple countries, streamlining manual reporting processes across multiple markets.
If the country of localization indexes in two languages, as is the case with Japan's iOS App Store — indexing in both English and Japanese — you end up with more than 100 total characters for keywords. This is an excellent opportunity to utilize the extra keyword allotment in your ASO strategy and underscores the importance of being able to conduct thorough keyword research.
Closing the ASO Loop
ASO is crucial to an app's success. In a crowded — and growing — app economy where a majority of downloads come from search, it is important to optimize your app's keyword strategy to generate the largest amount of traffic to your app page and increase opportunities for downloads. It is essential to continually monitor, test and evolve your ASO strategy to get the best results.
Choosing the correct keywords to secure your app's discoverability is only half the battle of an optimal ASO strategy. Once a user is on your app page, you still need to convince them to download your app. Assets like icons, screenshots, descriptions, ratings and reviews are crucial to communicating your app's value proposition and driving downloads. Search offers a unique opportunity to acquire users and should be prioritized within the larger user acquisition strategy. Our ASO Playbook offers further best practices on how to succeed in the app stores.
Download our complimentary eBook, App Store Optimization — The Definitive Playbook, by clicking the below button:
New to ASO? Sign up and get started today. Ready to take your program to the next level? Request a demo for Marketing Intelligence.