Editor's Note: This post was originally published in August 2015 and has been updated with new content and research for accuracy and comprehensiveness.
When you're building out your app marketing strategy, one of the most crucial steps is identifying the right app keywords for the app stores. To have your app appear in the top rankings where there is high search visibility, you need to identify the top keywords that will help drive users to your app and download. If users cannot find your app from organic searches, you're missing a huge channel of lead generation.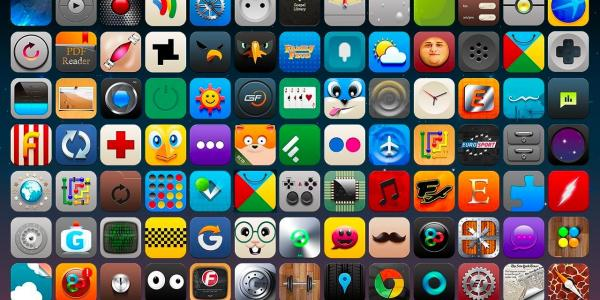 (Image Credit: Apk Android Mobile)
Put simply, app store keywords are the driving force behind your app store optimization (ASO) efforts. There's just one problem: you have nearly limitless keyword options, but each app store only lets you use a certain amount of characters (and if you're curious what those character limits are, read on). Your options are limited, so every keyword needs to count or you're leaving users on the table (and savvy competitors will snatch them up by taking advantage of gaps in your ASO strategy). This is why finding the best app store keywords is so difficult. Luckily, there are resources and app store keyword tools available to assist with your app optimization efforts. App Annie's free Keyword Search tool allows you to explore which apps are displayed by the app stores for different search terms, helping you build a solid app marketing strategy.
Additionally, to help you understand how app store keywords will impact your app business, we scoured the net and consulted with app store experts to put order to the keyword chaos. Below are tips you can use to find the best keywords for your app.
Brainstorm (In a User's Shoes)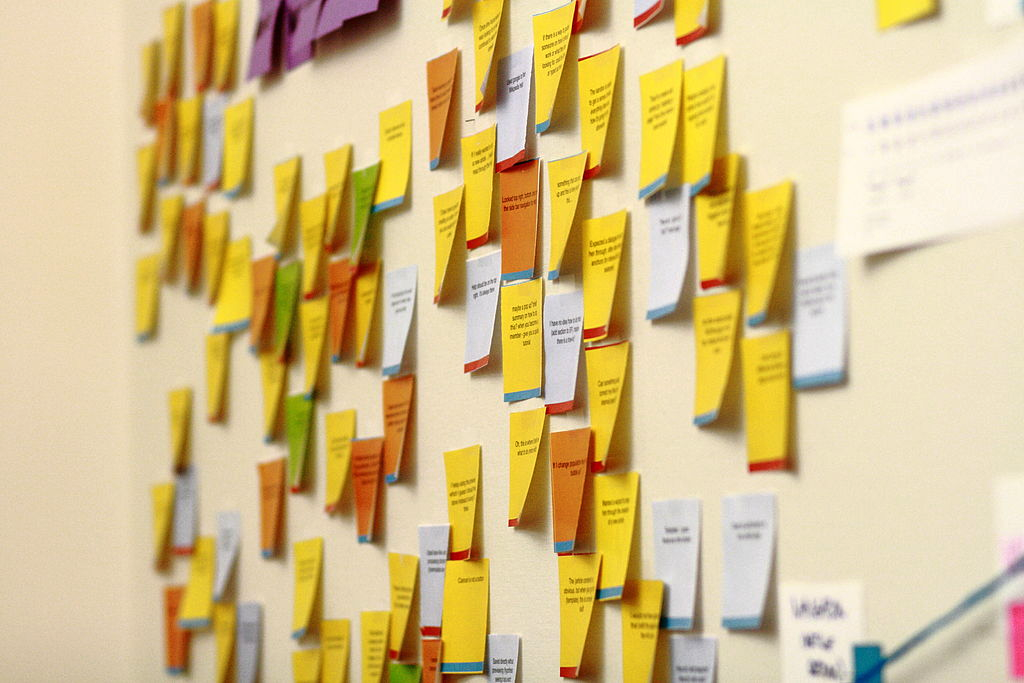 (Image Credit: Wikimedia Commons)
Before you get to optimizing your keywords, you need a list to pull from. Regardless of whether you're marketing a game or navigation app, you need to get into your user's mind.
But what if it's your first time marketing a particular type of app, or you're an indie dev with coding chops but little user research experience? Here are the tricks app marketers use to think up keywords when they're starting from zero.
Games have it a bit tougher. You can include your game genre and other descriptors (e.g., "alien shooter"), but games tend to be found through app store Top Charts or brand names. Still, there are opportunities to be clever here as long as you're honest about what your game is. The top tip we see used is including misspellings of popular games similar to your own.
Apps that aren't games can focus on functions and use cases. If you have a to-do list or calendar app, focus keywords around that. But, again, think beyond functions and explore use cases like "family task tracking" or "work meeting scheduler."
3 Factors to Evaluate Your Keywords
Now that you're armed with a list of keywords, you need to trim the fat. Relentlessly cut keywords that aren't performing well using the following data-grounded metrics: relevance, competition level and traffic.
Relevance: Keywords should direct users to your app — but when they find your app, they shouldn't wonder how yours got on the list. Don't waste valuable space listing irrelevant keywords just because you see them trending. You might appear in search results, but most users will scroll right by (or worse, make a note that you're using questionable ASO strategies).
Competition Level: With millions of apps comes lots of competition… for certain keywords. If it's too difficult to rank for a keyword (i.e. you aren't confident you can make it into the top 25 or top 50 for a given term), you might want to drop that keyword and use something else.
Traffic: How much traffic a keyword gets equates to how many users are searching for the term (search volume). You might rank #1 for something, but if only 100 people are searching for it, you might want to use other keywords instead. (An important note: most services scrape "traffic" from the web, not the app stores themselves. That means that online tools aren't giving you actual app store search volume. Keep this caveat in mind when citing these numbers)
In isolation, these metrics just tell you if a keyword is relevant, hard to rank for, or popular. But evaluating these three factors together will give you a list of strong keywords.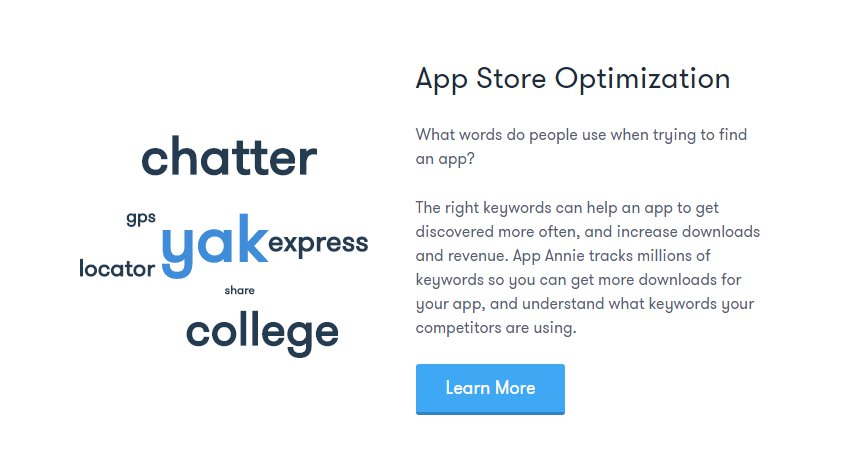 Yik Yak's top-searched keywords.
Wash, Rinse, Replace, Repeat
Now the "optimization" part comes in. We recommend you continuously test the above 3 Factors, iterating until you find the top performing keywords.
Some keywords, once they catch on, can get oversaturated. It's ultimately your call if a keyword is "must-have" or not — the tradeoff here being whether you want to show up alongside competitors in the rankings or use a new (and ideally more valuable) keyword.
Here are some extra tips we have when it comes to keyword optimization:
Audit your keywords each month.
Your primary keyword should be in your app's name.
Take advantage of misspellings. Consider including commonly misspelled versions of a keyword in your list.
App Store-Specific Tips
iOS
Apple's app store is a great place to launch your app, but if keyword character count was an apartment, you're living in a micro studio. You have 100 characters to use for keywords, so you need to employ creative workarounds. Here are some ways to get more bang for your ASO buck:
Duplicate your most relevant keywords in your app title, which can contain a maximum of 255 characters. (However, reports suggest Apple has been cracking down on this. Still, it's a strategy many app developers employ — just don't abuse it.)
Don't use spaces after keywords. Just separate them with commas.
Each keyword is only counted once, so don't repeat them. Spaces indicate a new keyword, so compounds (e.g., "brain training game") don't work.
Google Play
Google Play is unlike iOS in that it doesn't have a dedicated section for keywords. Instead, it combs your app title and description. You have more room to work with, but Google has their own rules for keywords. Here are our tips for the Google Play Store:
Rather than keyword-stuffing, have a user-friendly description section that focuses on readability.
You have 4,000 characters to work with in the app description (versus just 30 in the app title). This affords you many more keywords. Put your full keyword list to work if you threw any out when optimizing on iOS, assuming they're relevant.
ASO best practices on Google Play resembles SEO. Use your main keyword at least 5 times in your description to maximize your results.
Summing Up
Now that you know the importance of optimizing app store keywords to drive traffic to your app, you're ready to get to work. Using App Annie's Keyword Search tool will aid your keyword research, and help you continue to build and test new ideas to improve your app store presence. For more insights on developing a sound ASO strategy, we recommend the following post: How to Improve Your ASO by Maximizing Your Keyword Strategy.