StoreMaven covers critical differences between the iOS and Google Play stores, plus how upcoming changes to the iOS App Store may impact ASO.
A successful app store optimization (ASO) strategy is also a holistic one, where both keywords and creative assets are considered and designed to complement one another.
In our last post, we covered the importance of developing compelling creative assets — such as icons, screenshots and videos — and why A/B testing these in advance can help your app put its best foot forward in the app stores. You can learn more about designing impactful app store assets in App Annie's ASO Playbook.
As you prepare to test your assets, you should be aware that there are significant differences between the most popular app stores that will impact your testing strategy as well as how you prioritize the optimization of certain assets.
The Key Differences Between Google Play and iOS
There are large design and layout differences between Google Play and iOS. Consequently, you'll want to be aware of a few distinctions when designing your app store product page.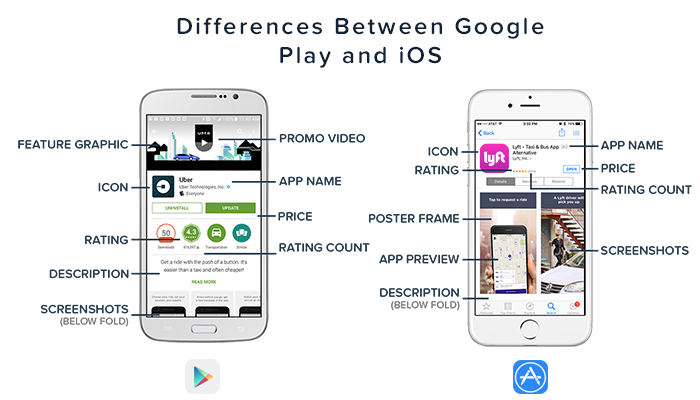 On Google Play, the most impactful element is your featured graphic, the first visual visitors look at when landing on the page.
On average, only 15% of Google Play visitors scroll through the image gallery, as they are only visible to users that explore and browse the lower parts of the app page. This means that your screenshots will need to include additional information on top of what was established in the first impression, whereas on iOS your screenshots establish the first impression.
Around 15% of Google Play visitors play your video, versus. 7% on iOS. The Google Play guidelines are more flexible in allowing you to design videos that aren't only screen captures of your app. This is a major opportunity for designing more exciting and impactful videos.
On Google Play, your short description appears above the fold and in a larger font, in a short and readable format. It has a higher impact than that of the iOS app description.
The bottom line here: Don't assume that whatever works on Google Play will work on iOS.
How to Approach Your ASO Testing Strategy
At StoreMaven, we've had the opportunity of testing with the most sophisticated mobile developers who understand the importance of making testing and optimization part of an ongoing and iterative marketing strategy. The companies that achieve the best results test and update their creatives frequently — either each version release, or once every two weeks. Apple allows you to change your store assets when you release a version, but on Google Play you can do so at any time.
There are a few reasons why developers should consider frequently refreshing their app store creatives.
Your audience is always changing. The users you target one month aren't necessarily the ones you'll target the next.
You frequently update your ad banners. The tie between your ads and app store pages are strong. The more coherent the message, the better. If you don't update your app store creatives often, the messages will drift apart, causing a mismatch that lowers conversions.
You use retargeting. If you're heavily investing in retargeting, it's important for returning users to see that you update your app frequently, and you'll benefit from trying out new messages.
You consistently roll out new features. Whenever you make significant updates to your app, it's important to communicate them through your app store pages.
You're following changes in the industry. You should always take a look at the changes your competitors make, differentiate yourself and capitalize on new trends.
Implementing a rigorous testing strategy does not come without cost, and every developer should assess their ability to budget the costs of testing and the potential ROI of quality user downloads.
Start by Focusing on Quick Wins
Our best practices have shown it's often best to start testing by identifying the low-hanging fruits that can yield highly impactful results. Localizing app store pages — or at the very least, translating copy — is important and works for most non-English speaking countries, but there are a few exceptions. For instance, in countries such as Brazil, English (or a global brand) actually appeals better to users. Translation is only the start — if you have the resources and your app has a strong global presence, it helps to design screenshots that are more closely tied to the local culture. The effect of this is strongest and most visible in Asian markets like Japan and China, where users generally prefer content-heavy images with more information and text versus North American users who go for clean and simple images. When design resources are very tight, we always recommend focusing efforts on designing and testing a new first screenshot (for iOS) or feature graphic (for Google Play).
How Will Apple's Latest Updates Affect Your ASO Strategy?
Landscape Orientation Paves the Way for Higher Video Engagement
Back in November 2015, Apple began displaying landscape images horizontally (as intended by designers). Landscape images significantly change the way users interact with your app page — the primary impact is an increase in exploration as a result of heavier engagement with assets like videos, almost doubling the view rates.  However, the rate of users that scroll through the screenshot gallery decreases, meaning fewer users see each screenshot. This also means that going landscape without having a video can damage your overall page engagement. For apps that have one clear and simple message, landscape might be better as it reduces clutter. But apps that rely more heavily on a list of value propositions are better off having an engaging image gallery. Whichever you choose, it's important to test first.
More recently, Apple made another adjustment, making landscape images appear much larger in search results. Historically this had been the main disadvantage of landscape screenshots. But with the latest update, you can now freely test landscape versus portrait without the fear of compromising your organic installs from search.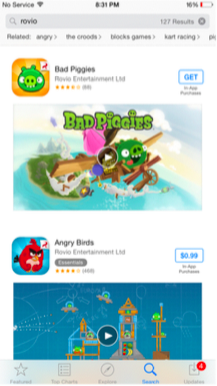 The Large iPhone 6 Plus Layout Shows Fewer, Larger Images
The iPhone 6 Plus now features only two screenshots in the first impression, as opposed to three smaller screenshots. We've found that this corresponds with lower bounce rates, as a result of a less cluttered first impression.
The Challenges and Opportunities Presented by the Launch of Search Ads on iOS
We're very excited about Apple's latest Search Ads announcement, as they've added a new channel for quality traffic. However, it's important to acknowledge that they present big challenges for mid-market and indie developers. Namely, that the incumbents of each genre will have the capital and sufficient LTVs to outbid smaller competitors on keywords. Additionally, there's a possibility that competitors will be able to bid for your own brand name. This means companies might begin paying for users that otherwise might have installed organically.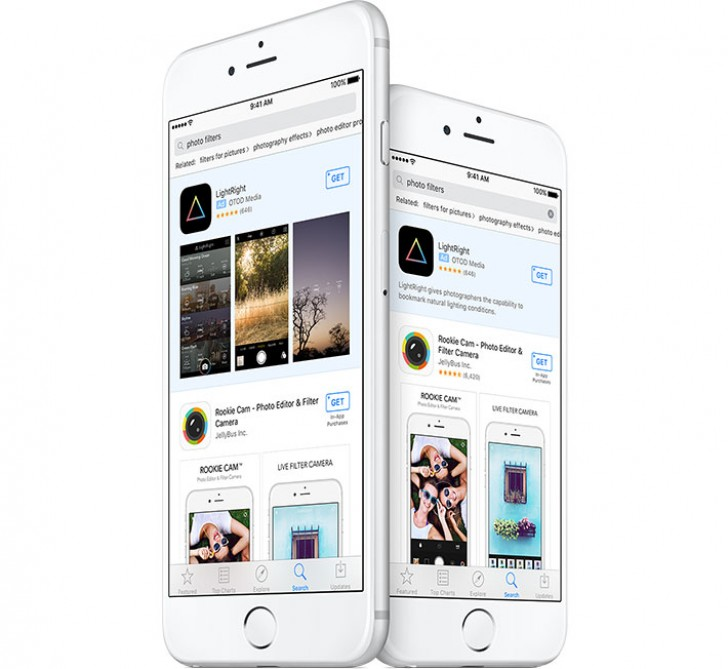 Purely from an ASO perspective, Apple's most promising announcement was that they will share data on the volume of search queries for keywords. Even better, the Attribution API will help you understand the value of users that downloaded after searching for a given keyword. This will help you improve your keyword strategy, better your ability to know which keywords to bid for in search ads, and provide insights into the messages you should highlight in your App Store creatives.
On the challenges side, the primary issue for marketers is the inability to customize ad creatives. Apple announced that the ads will simply pull in the marketing assets from your app page (potentially so that they won't have to monitor ads and combat fraud). This means that the only way to optimize your ad's tap-to-download and tap-through rates is by optimizing your app page creatives — primarily your first three screenshots, icon, title and first part of your description.
Want to learn more about app store optimization? Download App Annie's ASO Playbook.
| | |
| --- | --- |
| | Adam Rakib is the co-founder of StoreMaven. StoreMaven's platform helps developers increase install rates and lower CPIs by testing different app store creatives and analyzing user behavior on iOS and Google Play. |