Your app store page is your first impression for users. Learn how to optimize for installs in this guest post from StoreMaven
In today's app economy, app store pages have become the gateway for users to access your product. At StoreMaven, our mission is to get the right people to find out about you, and ensure they install your app.
Unfortunately, the vast majority of people that visit your app store page will choose to drop and not install. It takes around three seconds for most visitors to decide to install your app or leave you behind, and in most cases you only have two screenshots, an icon and your title to convince them.
Having this kind of information is vital for designing the optimal app store page and increasing conversion rates, and is exactly what we found missing from Google Play and the iOS App Store. Back in 2014, at our previous game company, we saw that only a small percentage of our paid and organic traffic was converting to downloads. Lacking familiar web tools such as Google Analytics and Optimizely, we figured our only way to access behavioral data and run A/B tests on the store pages was to make cloned versions of the stores, and send a representative sample size to different variations.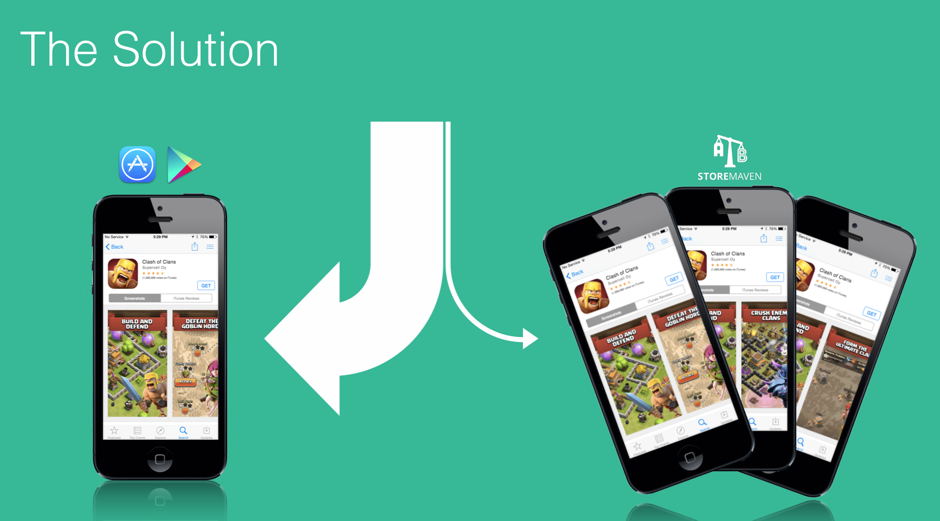 Why Testing in Advance Leads to Better Outcomes
After two years of testing — and over 120 million store visitors to our pages — we learned all about the potential benefits of testing, as well as about the challenges of maintaining tests at an affordable cost.
StoreMaven does the latter by using StoreIQ, a predictive testing algorithm that reduces the required test sample size by 30–50% compared to traditional A/B testing. The average four-variation test can be concluded with 1,500 samples at a cost range between $1,500–$4,000. The factors which determine the total test cost are the overall test install conversion rate (CVR), cost per click and — most importantly — the lift in CVR that the alternative app store pages had over the control group. Here are a few tips for designing tests that can make a real impact on store conversions.
Depending on the lifetime value (LTV) of your users, the cost of testing is quickly recovered, as the average potential lift per test ranges between 15–45%, giving a sizeable boost to your growth rate, with some companies achieving even higher increases. For instance, we recently worked with Kabam to test and optimize their creative assets, which ultimately improved install conversion rates by 66%.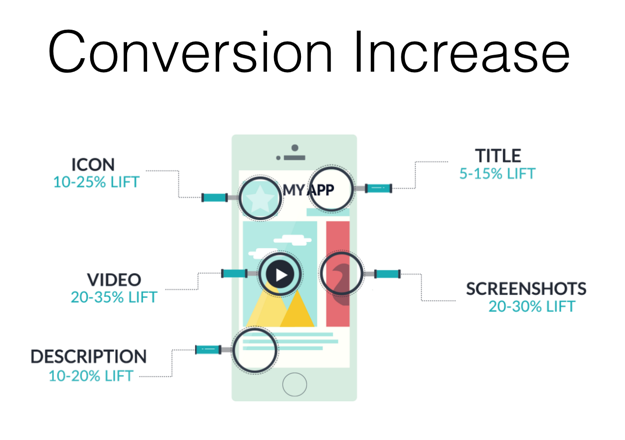 A Strong ASO Strategy Goes Beyond Keywords
As you look to app store optimization (ASO) for growth, you'll find that optimizing keywords is an effective tool in your arsenal. With so many apps available in the iOS and Google Play stores, It's becoming increasingly harder to appear high up in the search results — not to mention the top charts. Your keyword strategy can help you achieve more organic growth through better discoverability in the app store search results and charts. To better your odds and maximize potential, it's important to figure out which keywords are being searched, aren't highly competitive, and help improve your rank. Over time, you'll want to test new keywords as an ongoing part of your optimization efforts.
But it doesn't matter how many people are visiting your page unless visitors ultimately install your app. More important than visitor volume is optimizing for the number of quality downloads on your app store page. For that, it's imperative to test and iterate to find the best performing app store creatives.
The top ASO experts have a holistic approach to keyword optimization and creative optimization, since the two overlap in many different ways. For example, having a great icon and strong messages in your first screenshots has an enormous impact on discovery in search results and on the performance of your app page. Similarly, a caption on your first screenshot that matches your strongest keywords can drive more organic downloads as well.

Your App Store Page Is Part of Your Onboarding
The app page as a central part of your onboarding experience. Your app page should lead with a message that converts well, but also one that sets the right expectations for what your app experience will deliver. This is the best way to ensure that you'll get installers who are excited about your product, and understand what it does.
The fundamental thing about app page optimization is ensuring you make a great first impression. All users who land on your store page take a quick glance at what's available to them — e.g., your app icon, app name, first two screenshots, etc. If they don't like what they see, they drop. But if they like what they see,they'll either install immediately or engage with the app store elements. We call these engaged users "Explorers". You can learn more about them in App Annie's playbook on app store optimization.
First Impressions Vary on iOS and Google Play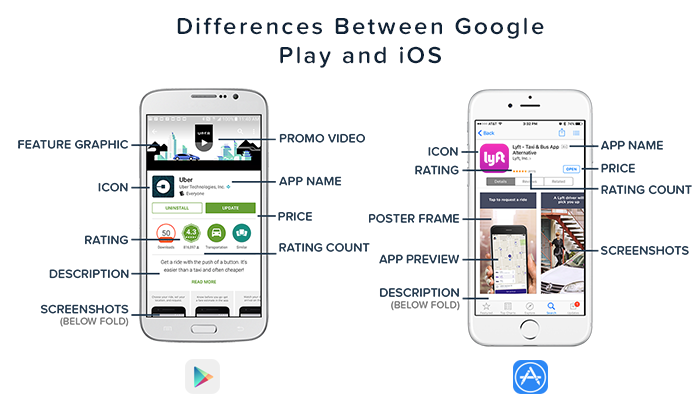 Less than 33% of visitors to your app store page will scroll through the full screenshot gallery. Still, it's critical to make those images count, as those that do scroll represent 50% of your installers.
Though style trends for screenshots come and go, one constant remains: Be sure to communicate a diverse set of value propositions. Naturally, visitors who take the time to scroll through your screenshots want to learn more about the app. If they see something that's repetitive, vague or uninteresting they might move on in their search. The best app store pages are ones that spark intrigue and provide a mix of compelling reasons to install the app. However, we urge you not to try and fit too many messages in at once — a cluttered page is no better than one that's too vague. Your messages should always be focused and concise.
What's the best way to engage with users intent on exploring your page? In our experience, we find that videos perform well and are worth the effort of optimizing.
       Droppers:                                                  Installers:
The above depicts the level of engagement with the video and gallery on iOS. Dense colors demonstrate increased engagement.
The existence of video on its own can either lift or decrease conversion rates by 20–35%. Video is definitely the toughest element to get right because of the cost of production, but even more importantly (on iOS), because of selecting the right image thumbnail, or poster frame. Apple requires you to select the thumbnail from one of the video frames. Since this becomes your first screenshot it's crucial to test and find the optimal thumbnail even before producing the final video.
As far as video content goes, the most common mistake we see is companies building up a narrative in their video only to reveal the core value proposition of the app at the end of the video. Since 10% of users drop every five seconds, you should make sure to present your strongest message first. Visitors want to make quick decisions and marketers need to serve information in exciting, but easy to understand, formats. The use of text captions in the video and gallery is a great way to contextualize visuals and increase conversions as well.
In our next post, we'll look at the differences between Google Play and iOS, how to approach your creative asset testing strategy, and what changes to the iOS App Store could mean for your ASO strategy.
Want to learn more about app store optimization? Download App Annie's ASO Playbook.
| | |
| --- | --- |
| | Adam Rakib is the co-founder of StoreMaven. StoreMaven's platform helps developers increase install rates and lower CPIs by testing different app store creatives and analyzing user behavior on iOS and Google Play. |