Take these three points into account when developing your strategy for the iOS App Store.
Your app marketing techniques may need a refresher based on Apple's release of iOS 10.3. You'll no longer want to talk about pricing, for example, and developers should start responding to user reviews in the iOS App Store.
If you're new to app marketing and app store optimization (ASO), make sure to download our latest playbook, Mobile App Marketing — Your Guide to the Basics. Otherwise, let's look at how these changes could impact your ASO and user engagement tactics.
Say Goodbye to "Free" Names
If you submit an app that references pricing in the name, screenshots or metadata, it will most likely be rejected from the iOS App Store. This change has been a long time coming, according to some sources, but it appears that submitting an app with the word "free" or the mention of discounted pricing in the name will result in rejection from the Apple review committee. One reason for the change seems to be to avoid confusion in regions where there are different pricing or currency calculations.
This change is a good excuse to check the performance of your current keywords — and remove any that rely on the word "free."
Respond Directly to User Reviews
In order to get the highest possible ratings and reviews for your app, we encourage app publishers and developers to respond directly to the feedback users leave in the app stores. Until this new update, however, iOS publishers had to rely on more indirect methods. Now, with Apple's latest update, if a review says a certain feature is buggy or needs fixing, developers can ask for specific information in-line.
According to Apple, there is no time limitation on when you can respond to reviewers, so it could be to your benefit to respond to older problems. Only one response per review will show up on the App Store page.
Taking prompt action on user feedback — and actually fixing the problem — can lead to users changing their 1- or 2-star ratings to a higher rating. We don't have to tell you how much that can positively affect your rankings and download rates.
Personalize Home Screen Icons
Have a favorite baseball or hockey team? Users can now make their personal feelings apparent with the home screen icons for MLB.com At Bat and NHL.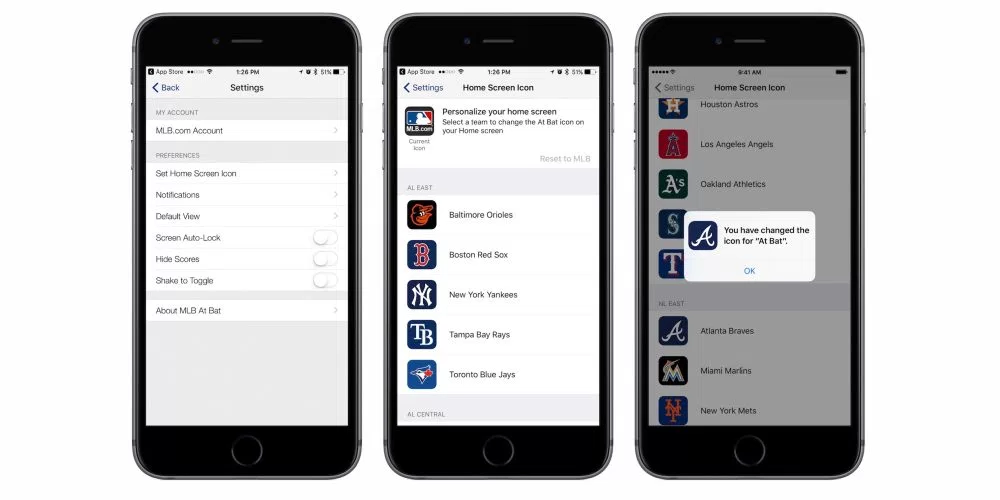 This is another update to iOS and it gives users a fun way show off their personality (and, potentially, make them love and use your app even more). Developers who want to provide this option will need to create the different icons in advance, according to Apple's guidelines. It's only an option for apps that already provide theme customization, and a user will need an "icon selection screen" to choose their design option. Still, if themes are part of your app, let users get personal! It could become part of a winning user engagement strategy.
For more tips on how to make your app more attractive to users in the app store, download our latest playbook today.