Apple's Search Ads launched October 5. We look at whether you should try this new platform.
As of this week, Apple's Search Ads are live on the iOS App Store. Are you ready to create your first ad?
Search Ads will be a key new acquisition channel for UA managers and anyone responsible for getting users to install their app. It's also a great way to diversify beyond Google and Facebook, major players for targeted app install campaigns.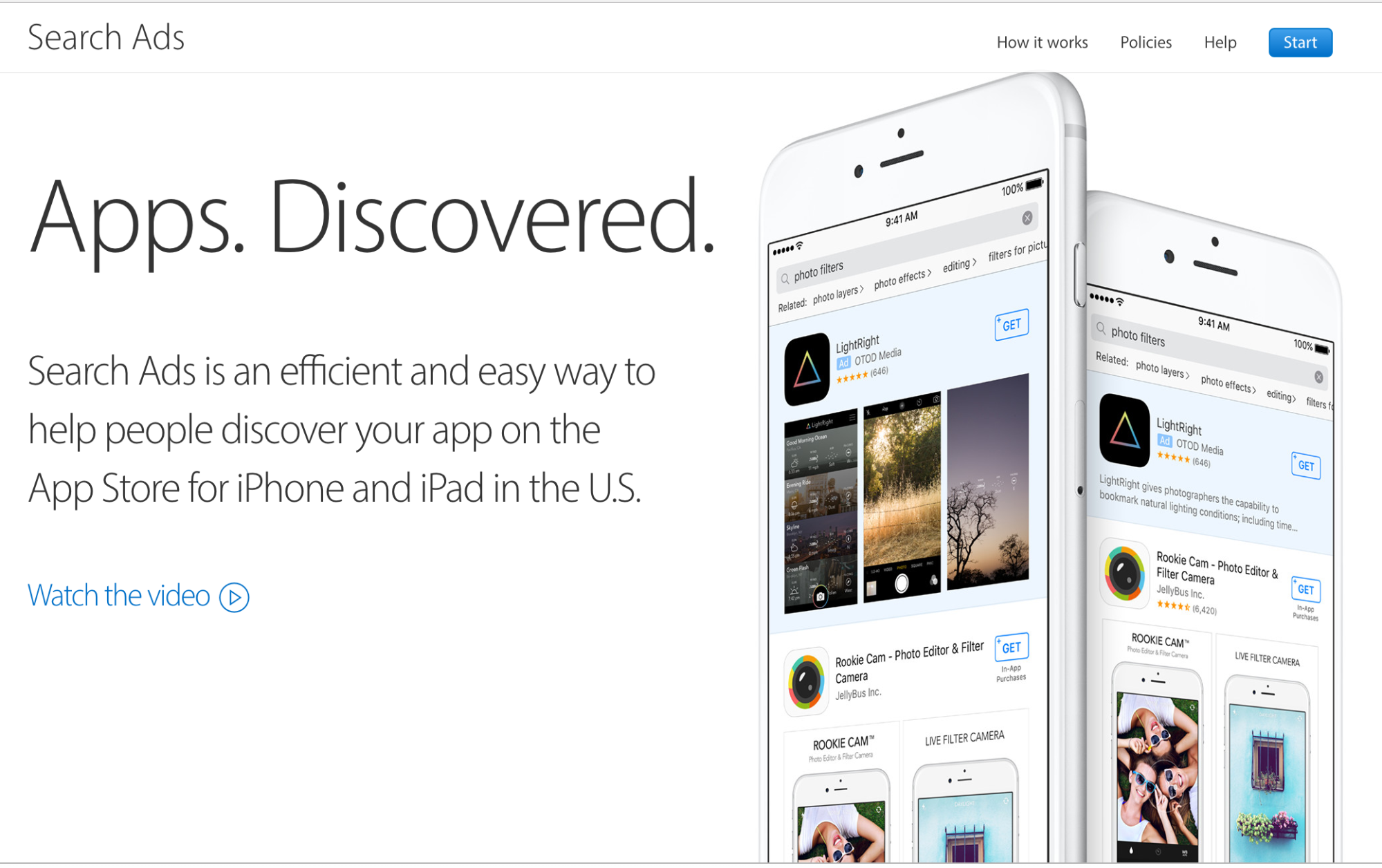 Apple App Store Optimization (ASO) Rules Changed — Here's How Search Ads Fit In
Apple recently reduced the number of keywords you could include in your app name. By limiting app names to 50 characters, apps now have less incentive and opportunity to insert keywords beyond the app's name — often referred to as "keyword stuffing." This impacted keyword ranking positions for over 15% of the iOS App Store's top apps since their names contained over 50 characters. However, with Search Ads, affected publishers throughout the store — major players and small businesses alike — can regain some of the ASO juice they lost from this change.
The key point is that when a user opens the App Store on their mobile device, their intent to install an app is extremely high. In fact, Apple says over 65% of downloads happen after App Store searches. Much like a shopper in a grocery store has high intent to buy products on the shelf, mobile users have high intent to buy or install apps when they're browsing the App Store. Publishers can use Search Ads to highlight their app to a specific, targeted audience during this key high-intent moment.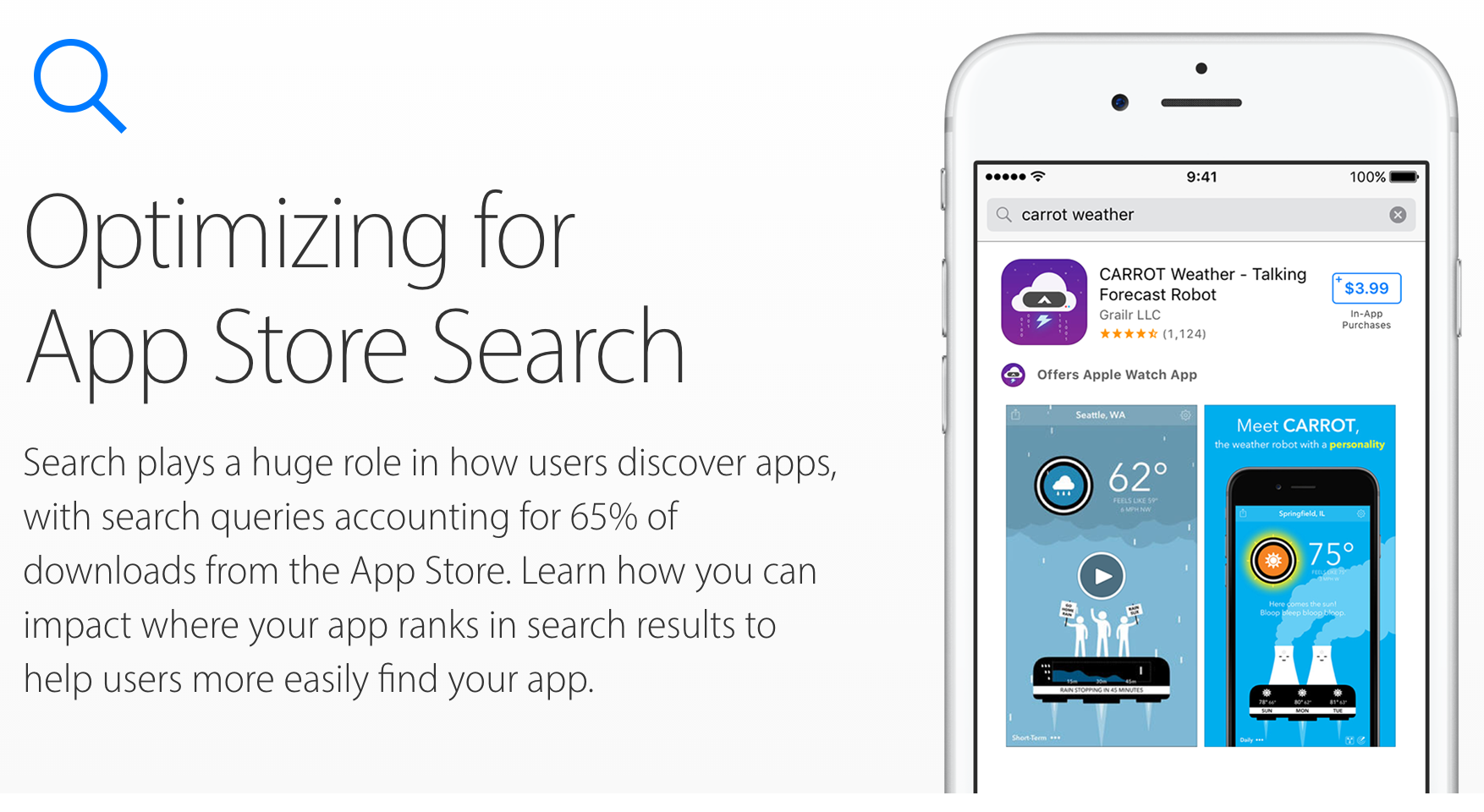 This release comes on the heels of Google consolidating its mobile ad offerings across YouTube, AdMob, Google Play Search and more under Universal App Campaigns, which was itself a move to match Facebook's App Install and App Engagement products.
7 Things You Need to Know about Apple's Search Ads
1. Apple Pulls Ad Images and Copy From Your App Page
While Google and Facebook allowed customizable creative in their app install ads, which allows for creative testing on a per-ad basis, Apple is taking a different approach by pulling in these details directly from app pages. This means a better user experience (UX) since there's a lower chance images or copy is unrelated to apps itself, but it restricts publishers' options since any changes would require altering the app's name, images or description. Long story short, publishers need to make sure their app page is up to snuff before creating an ad.
2. Search Ads Should Be Effective for UA
If Google Play Search Ads are any indicator of how Apple's Search Ads will do, it should become a cost-effective UA channel for publishers. In our own tests, we found Google Play Search Ads had similar retention rates as other high-LTV ad platforms.
That said, because Google Play Search Ads allowed customized creative and copy and Apple's Search Ads pull from app page metadata directly, it may require more testing before it's a truly competitive channel. Keep an eye out for best practices and tips from industry experts in the weeks and months to come.
3. Apple is Sharing Keyword Search Volume
Apple is giving all advertisers access to relative keyword search volume by proxy of Search Popularity, pictured below. On top of that, Apple will offer keyword suggestions based on keywords it finds in app page metadata. We always suggest picking the most relevant keywords for your app, not just ones with the highest volume, since that will attract the most relevant users and increase conversions. But Apple's data is a big leap forward in transparency.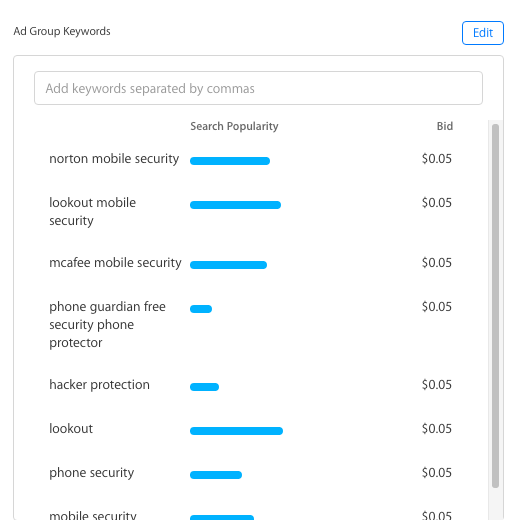 Add this search volume information with its new Attribution API and you have the tools necessary to improve your keyword selection and bidding strategy. StoreMaven gives a little more detail on this in their ASO Best Practices article.
Using our Keywords / ASO feature, you'll be able to track the long-term performance of your top keywords to ensure you're rising in the rankings.
4. Apple's Providing You $100 to Start, But Proper Testing Requires More
Apple is giving $100 in Search Ads credit to anyone trying to service, but that amount is insufficient to do a proper channel test. Fabien-Pierre Nicolas, VP of marketing communications at App Annie, spoke with AdAge on how publishers may adapt to this new channel: "Testing new acquisition channels is always a best practice, but you need to ensure your tests are statistically significant to evaluate if they're ROI-positive. In most cases, a test budget between $5,000 and $15,000 will produce usable results." He also warned that CPI figures will likely be higher, possibly between $5 and $10 early on, until publishers master this new channel.
5. Users Will Know It's a Search Ad
Search Ads will have a blue background so users clearly understand it's an ad rather than an organic result. The ad itself will look like a native result for a user search, but will be clearly distinct from an organic result.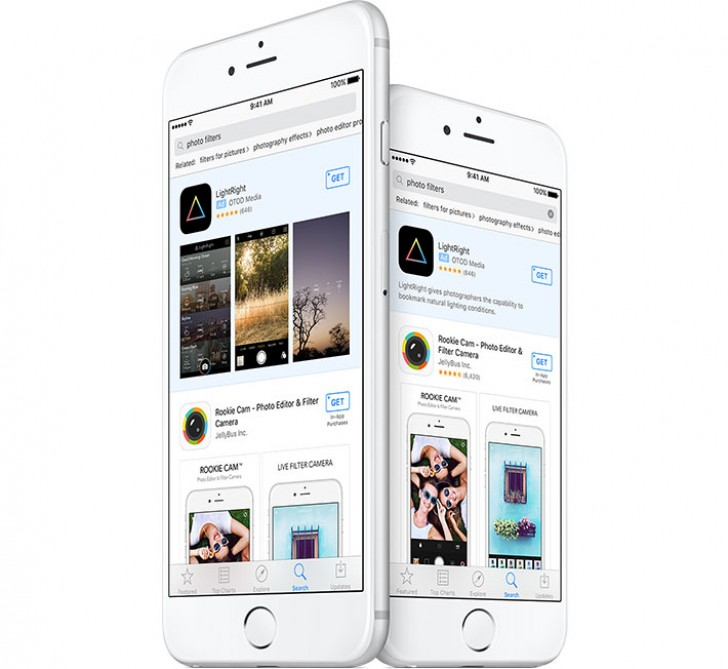 6. Targeting, Targeting, Targeting
Search Ads will let you target users by:
Demographics: Target by age, gender and other demographic breakouts.

Location: Filter down to the city level — which will be a huge benefit for publishers in the travel, transportation and retail industries.

User Type: Target users that have or haven't installed your app.

Device Type: Target by iPhone, iPad or both. However, you can only target at the device level, not by

version or model

.

Keywords: Enter or upload keywords relevant to the audience you're targeting. Negative keywords and broad/exact keywords are also supported.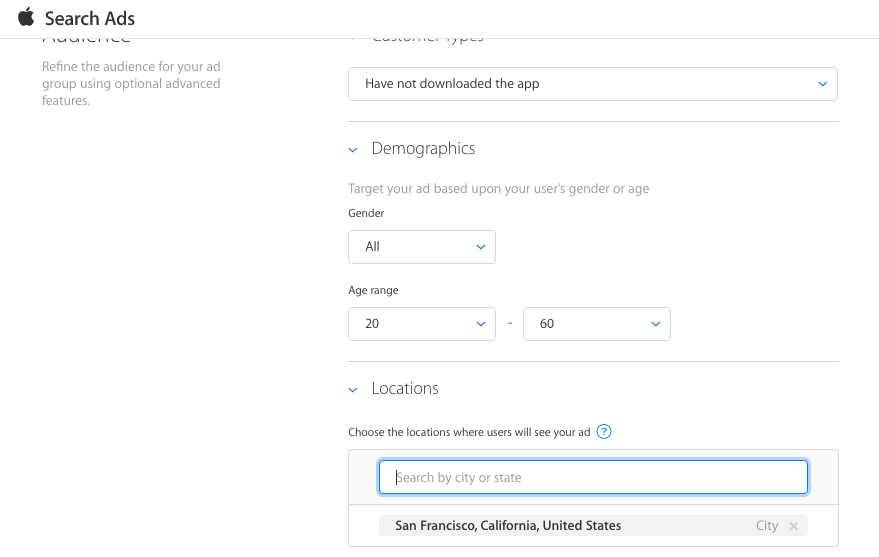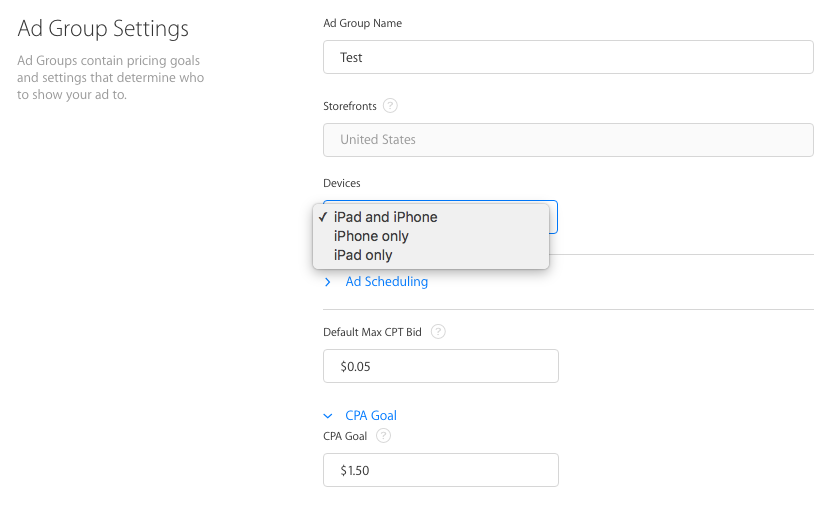 7. You'll Only Pay When a User Taps Your Ad
Apple's Search Ads allow bidding, as expected, but on a "cost per tap" (CPT) basis (more commonly known as cost per click, or CPC) with a cost per acquisition (CPA) target. This is the same model as Google Play Search Ads. This ensures you're only paying when a user takes action on your ad, while Apple's Search Ads algorithm optimizes around your CPA goal to ensure you're acquiring users at the proper cost.
Our Verdict on Apple's Search Ads?
Regardless of your app category, Search Ads are worth testing. As we said above, over 65% of downloads are from searches on the App Store. Running ads for your app there — at a key moment where intent is high — is well worth trying out.
Build a Better App Business
Ready to step up your UA game? Keeping tabs on the major platforms and competitive landscape is key to any successful UA strategy. Request a demo for Marketing Intelligence.