Most marketers understand that video is important for engaging audiences — but did you know it's also beneficial to your ASO strategy? Apptamin shares best practices in this guest post.
A lot has been written about screenshots, keywords and the other elements of app store optimization (ASO). But there isn't as much information out there about video optimization.
Apptamin recently shared some best practices in App Annie's new ASO Playbook. In this post, I'll cover a few video strategies that you can test to improve your conversion rate on the app stores and why — if you don't already — you should be considering app store videos.
Video is the Future
Before we get into some actual ASO strategies, let's take a look at how video already rules the app advertising landscape. In a recent study by AdColony, 93% of top-tier advertisers said that video ads were one of the most effective ad formats for them.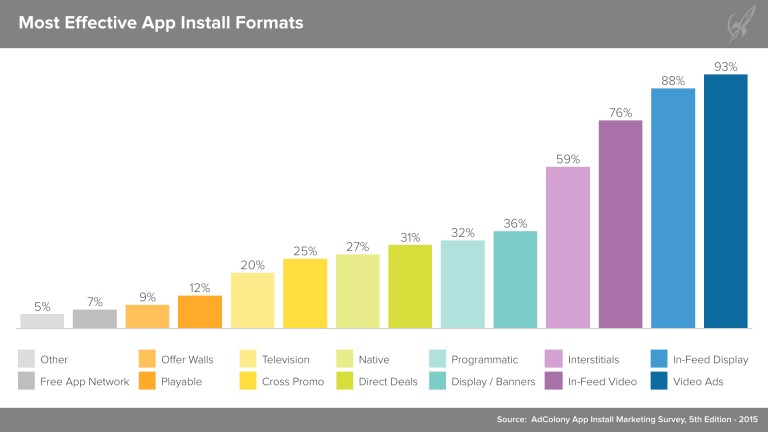 On top of this, video consumption on social media like Facebook is steadily on the rise. Some experts — including Facebook execs — say that video will soon be the primary form of content online.
That's why it's important to consider using a video on your app store page. People are becoming more and more accustomed to videos and will probably expect a video to explain what your app does.
Here are some tips for making your video the best it can be.
3 Musts for Your App Store Video
Let's start with what should be included in your video. It's important that you keep these three things in mind.
Front-Load the Benefits
You might be tempted to pique a viewer's curiosity at the start of your video and finish with a bang. That's understandable, since that's what we're used to when we watch feature-length movies.
But people on the app stores are busy — they won't stick around for that long. Lead with your best feature and present them in decreasing order of importance.
Keep a Good Pace
Finding the right pace for your video is critical for keeping users engaged. If your video moves too quickly, you might lose some people. Move too slow, and your viewers will get bored and move on.
Naturally, it can be tough to figure out the right pace for your app store video. The solution is to ask as many people as possible what they think of the video.
A big part of keeping a good pace is only highlighting a few of the best features of your app. Yes, I know that your app has 20 killer features. Focus on the ones most likely to drive installs. If you try to fit too much into your video, you'll likely  leave people more confused than excited.
Make Sure it Looks Good on Mobile
This one can be easy to overlook. A promo video can look great on your 27" desktop computer. But it might look considerably less awesome on a phone. Be sure to plan your video storyboard with that in mind. Use a larger font and footage from your app that is easy to see.  Personal finance app Mint uses large, impactful font that is highly readable on mobile and makes it value proposition abundantly clear.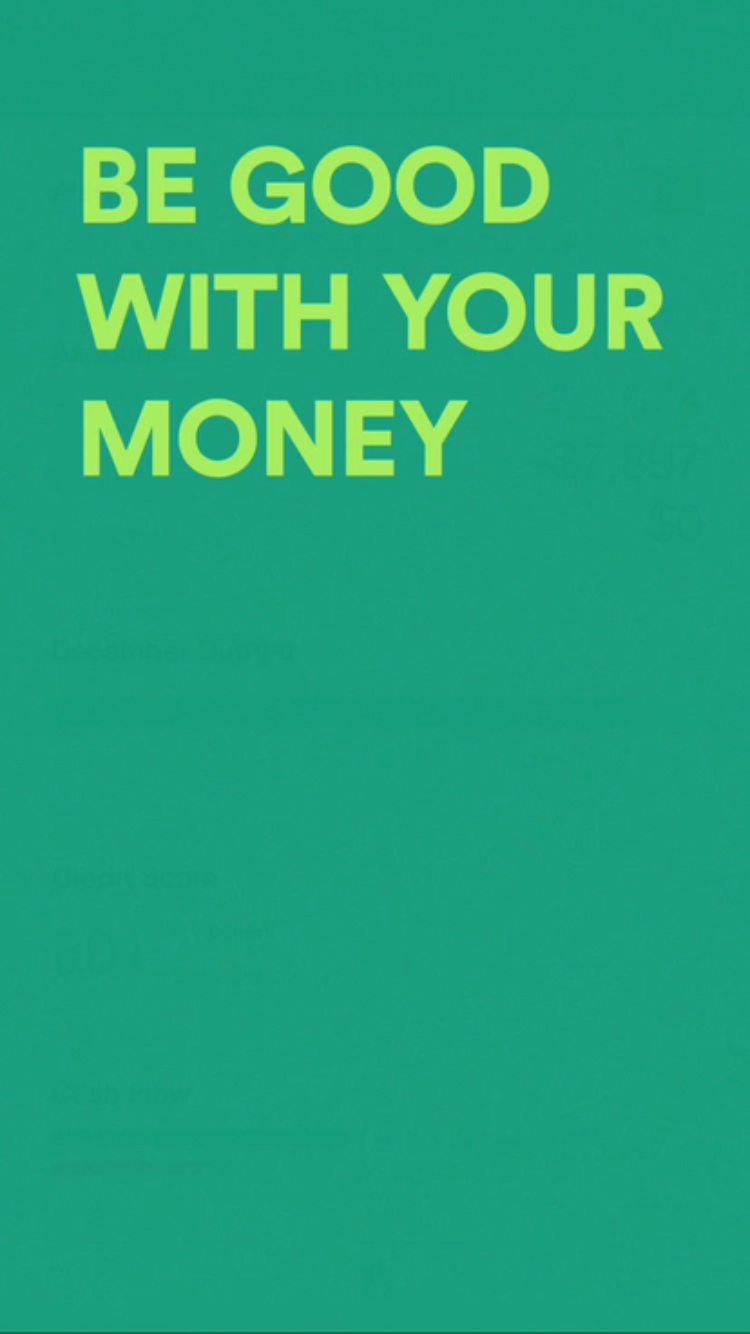 Mint uses large, impactful font between previews of its user interface to draw attention to its core value and features.
Optimizing Your Screenshots
If you have an exciting app preview video that explains all your app's benefits but people still don't seem to be watching it, then there are a couple of things you can test to improve the odds that your video will get watched.
First thing to consider is your poster frame or thumbnail for your video: Is it compelling enough to get someone to click? Many times, developers can make the mistake of just using any random frame from the video.
It's important to approach your thumbnail like a screenshot. If possible, add some text to explain what you are trying to highlight about your app.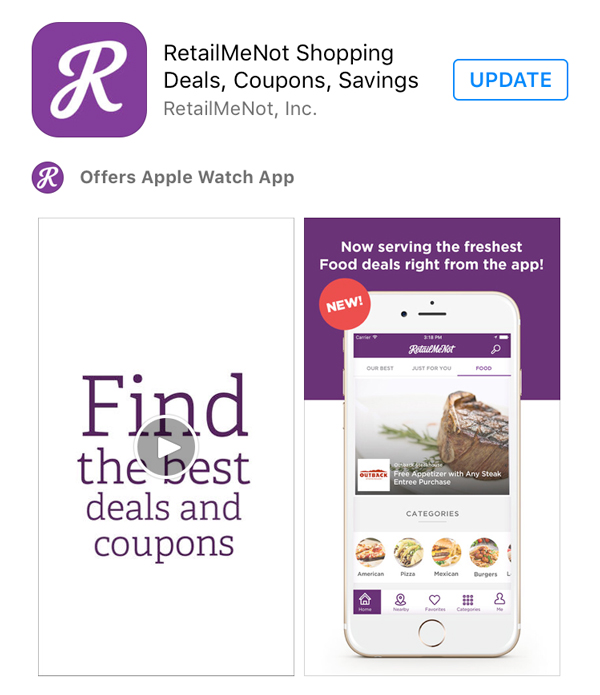 RetailMeNot uses a text-based thumbnail to highlight the app's value proposition, which may convince more people to click through to the full video.
And make sure the poster frame is laid out and chosen so people can easily tell it's a video. When working with travel app tripwolf, we designed the designed the section of the video that would double as the poster frame to draw attention to the play button.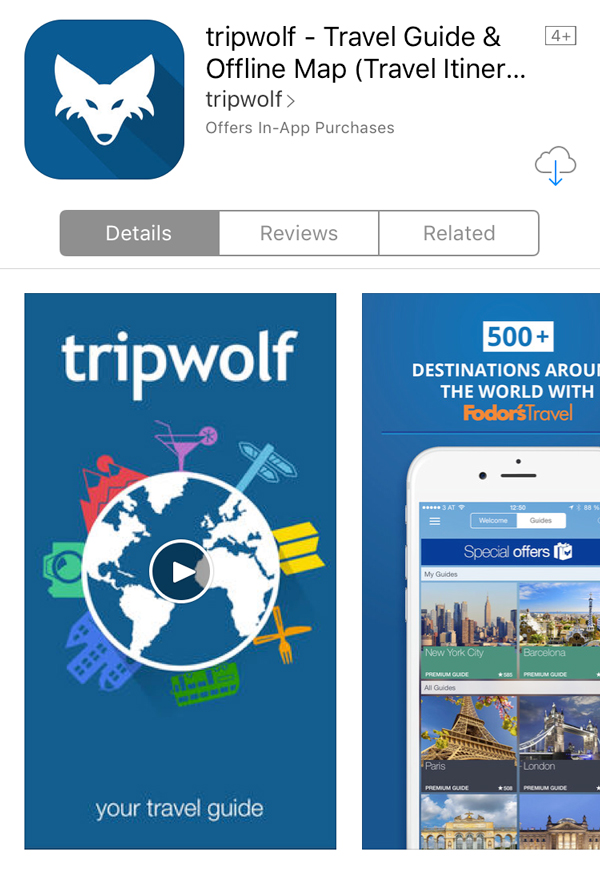 You'll also want to consider how your preview video fits into the screenshots you've selected. For instance, if you're using portrait screenshots, test out having your first screenshot "point" back to your video. It doesn't need to be anything too overt, like a huge red arrow. A subtle hint can get the job done and is much more elegant.
For example, notice how the bull in the first screenshot points back to the video. This technique is used in other forms of advertising and can work well on the app stores too.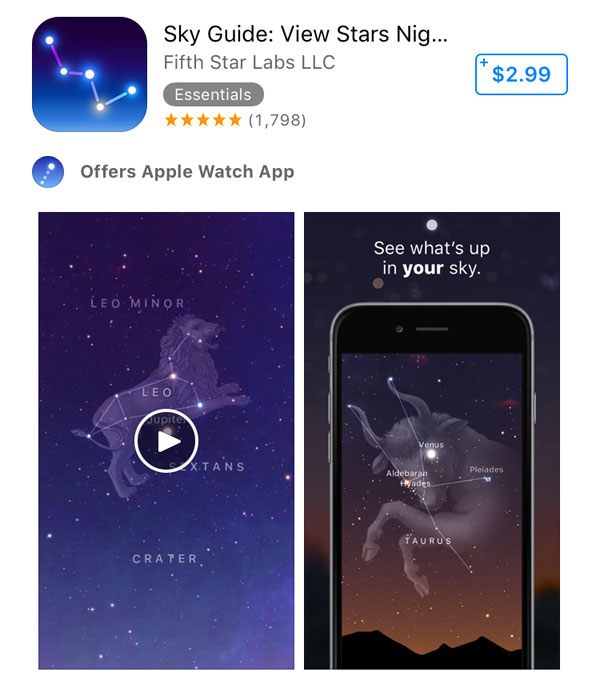 Conclusion
Just like everything else in app marketing, there is no one-size-fits-all. Depending upon the type of app you have and your target audience ,an app store video may not give you the best results.But given the increasing importance of video on mobile devices, it's certainly worth testing.
Download App Annie's ASO Playbook for additional best practices in creative optimization.
| | |
| --- | --- |
| | Sylvain Gauchet is the co-founder of Apptamin. Apptamin works with startups, game studios and brands and produces video creatives (video ad units, app store videos, etc.) that help them acquire new users and convert visitors into customers. |