OneSky explains why localization is so important to ASO and how to kick-start your efforts.
We often forget one key fact about app marketing: Doing well in the app business these days isn't just about winning one market. From day one, it's about global domination.
Think about the app stores. With hundreds of localized versions, app stores are designed to make up a completely global marketplace. Right now, the iOS App Store and Google Play Store, the two largest app stores in the world, are both available in more than 130 countries.
Having your app topping the charts for iOS and Google Play in the United States (as in, in two markets with tens of millions of users) is great. But what's even better? Getting the #1 rank in every single app store in the world. That's hundreds of markets, with billions of users.
According to App Annie, the top three app markets in the world are the US, China and South Korea. Two of the three giants, China and South Korea, are not English-speaking regions and have different cultures. So when it comes to app store optimization (ASO), you should think globally. By localizing and optimizing for local markets, you can succeed on a global level.
3 Reasons Why You Should Do Global ASO
There are three main reasons why your ASO strategy should be carried out with localization in mind
1. Discoverability
Localization allows you to have more keywords
Many regional versions of the iOS App Stores index in more than one language. For example, Japan's iOS App Store indexes in both English (US) and Japanese — which means you actually have 100 characters for the keyword field for each language, or 200 characters total. This is true for most app stores: If you use multiple languages, you end up with more than 100 total characters for keywords. Take advantage of this opportunity to double up the volume of your keywords. Apple's App Store provides a list, so you can see which languages are indexed in each local store.
Localization helps you get featured in app stores
As we mentioned earlier, between iOS and Google Play there are 155 app stores in the world. Each local app store team is constantly looking for the best apps from their local users, so they're more likely to choose ones in the native language.
If your app is localized, it's going to give you a huge advantage. In fact, a lot of non-English app stores even have a special section dedicated to awesome apps available in their language.
There are plenty of success stories. Steven Zhao, CEO and Founder of Blue Tea Games, localized their card strategy game Mavenfall and released the game globally. Mavenfall was immediately featured in Apple's "Best New Games" section across 120 countries, with an Editorial Feature in Hong Kong and Taiwan.
"Localization is an important step for any game looking to grow beyond its national borders and reach a global audience," comments Zhao on his success. "It certainly explains why Apple featured us."
Mavenfall, fully localized in Chinese, is selected as editorial feature in App Store Hong Kong and Taiwan.
2.
Conversion
According to research conducted by Common Sense Advisory, 72.4% of global consumers prefer to use their native language when shopping online.
Localized products appeal to local smartphone users. It shows that you care about them — only if, of course, you've done the localization well! Translating increases the chance that your app will be downloaded. Localization is even more important for markets where the majority of users are not proficient in English.
The numbers don't lie. Studies have found that, in the first week alone, localized apps experienced an average 128% growth in download volumes after the native language was added. Additionally, in the first week, revenue for localized apps show a promising 26% increase. Even just localizing an iOS app's keywords can yield a 767% increase in downloads compared to non-localized keywords.
3.
Experience
Sometimes, localization is not just about measurable metrics, like acquisition numbers. It's more about building your brand. Localizing enhances your brand by showing that you respect local users and their cultural diversity.
It's true that English is a universal language understood by millions of people around the world. But why have your brand merely understood, when you can impress global users? As Nelson Mandela once said, "If you talk to a man in a language he understands, that goes to his head. If you talk to him in his language, that goes to his heart."
Take Evernote, for example. The note-taking app paid extra attention when localizing to Chinese app stores — and the effort paid off.
Some highlights of their localization efforts:
Evernote

localized its Chinese brand name with a memorable pun. The second Chinese character means "elephant" — which happens to be the logo of Evernote — making the brand name easier to remember.

The brand carefully localized its app store screenshots.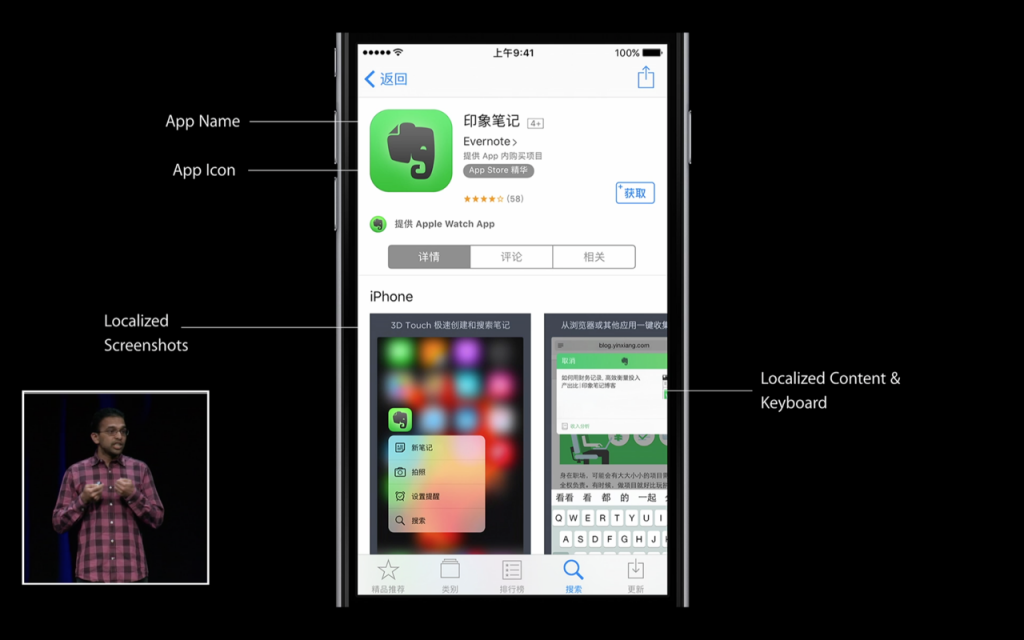 Evernote was showcased at WWDC 2016
How to Kickstart Your Global ASO Strategy
Conduct Deep Research
Research your target markets deeply before carrying out your localization. Here's a list of what you should research:
How are your users segmented all over the world?

Geographical distribution

Language preferences

What are the unique properties of your target market?

Official languages

English proficiency

Market size

Local competitors

Indexed languages of the local app store
Analytics tools like App Annie will help you carry out this step.
Start small
Localization should follow the same rule as in agile product development: start small and lean. At OneSky, we advocate a localization strategy called Minimum Viable Localization (MVL).
The idea of MVL is simple. You start by localizing the minimum amount of content — just enough for local users to discover your app and understand what it is. If this localization yields results, you scale up the coverage and localize the full app. The agility of MVL makes it great for experimental cycles, because it allows you to test the market potential of certain regions. It's also a good strategy if your product has a lot of universal features, such as productivity apps, utility apps or mobile games.
Once you launch , you can use A/B testing tools like StoreMaven to optimize the impact. If you want to learn how to fully localize your app, check out our app localization guide.
Use smart tools
Using a Translation Management System (TMS) can help you easily manage global ASO. There are three main ways that a TMS helps your translation workflow:
Automate steps
Since a TMS is integrated with your app platform, you can automatically import and export the app store listing, which saves hours of copying and pasting.
Reduce cost
A TMS can, and will, streamline the translation process by removing any duplicates. And less duplication means lower costs.
Scale up easily
The translation memory feature in a TMS keeps all translated content organized, adaptable, and immediately available.
Want to learn more about app store optimization? Download App Annie's ASO Playbook.
| | |
| --- | --- |
| | Patrick Yip heads marketing at OneSky. OneSky offers cloud translation platform which helps mobile apps like Day One, WeHeartIt and QuizUp manage localization projects, access professional translators and crowdsource. Patrick is heavily attracted to any brilliant growth strategy, well-crafted content and the idea of making the internet globally accessible. |