Star Wars: The Force Awakens — the seventh film from one of the world's most beloved series  — premieres this December. For nearly 40 years, this mega franchise includes a rich cast of characters that have been featured across six feature films, cartoons, comics, video games and other forms of media. The strength of its intellectual property (IP) is perhaps only rivaled by Marvel, another Disney property.
With a significant amount of online buzz and early ticket sales topping $50 million during November, the coming weeks are poised to showcase how strong the Star Wars brand is. It has been a force to be reckoned with across several mediums beyond the silver screen, for instance, televisions series like Star Wars Rebels. But for now, we'll look at the franchise's history of success across mobile apps.
The Force Awakens Fuels Mobile Games
Star Wars has been a force to reckon with across several mediums beyond the silver screen; for instance, televisions series like Star Wars Rebels.
But the brand has also been smart to engage long-term and new fans through mobile apps. Recent Star Wars mobile games such as Star Wars: Commander and Star Wars: Uprising have had impressive downloads within the last month. With time, these apps can overtake the popularity of older apps that have been holding steady in the iOS App Store and Google Play for the past few years.
Star Wars continues to release additional mobile apps to capitalize on the buzz of The Force Awakens. Released at the end of November, Star Wars: Galaxy of Heroes from Electronic Arts should prove to be a serious powerhouse in the future.
Fabien-Pierre Nicolas, VP Marketing & Communications at App Annie, believes the game will top revenue charts. "We forecast EA's Star Wars: Galaxy of Heroes to be a hit as it's already in the Top 20 grossing games in the US on Google Play and the Top 30 on Apple's App Store thanks to a strong feature from both platforms."
Nicolas foresees growth continuing into the new year. "With the movie coming very soon, combined with all the new devices activations, we expect the game user base to continue growing over December and January."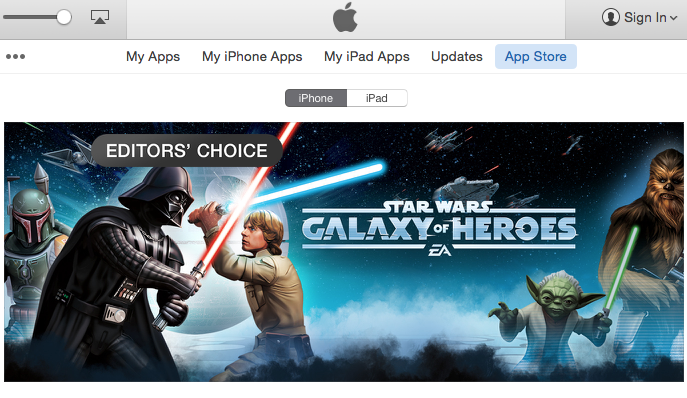 Star Wars: Galaxy of Heroes released in late November 2015 and received a top slot promotion on iTunes and Google Play. This may have factored into the game quickly reaching number one in the Games category in the United States and other countries.
The Year's Top Star Wars Apps
We used Store Intelligence to examine Star Wars apps across the iOS App Store and Google Play from December 2014 to November 2015 to find the top five in overall worldwide downloads and revenue. This included free, paid, freemium and paidmium apps. Among the top apps, eight stood out: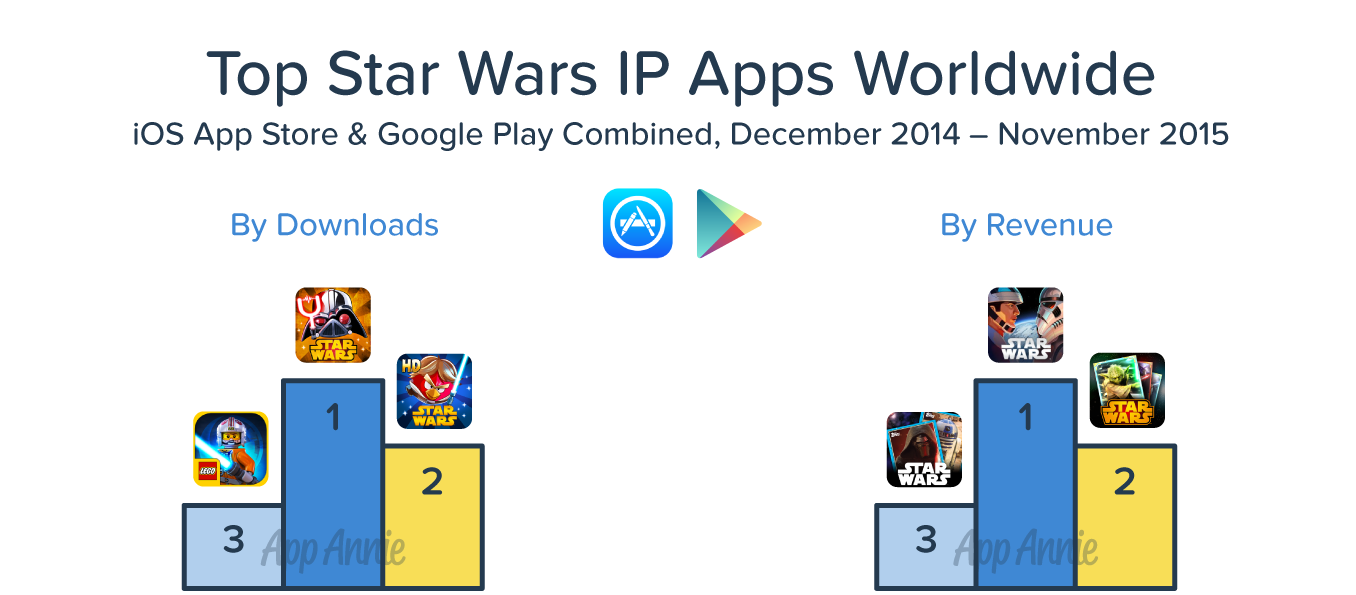 By Downloads:
By Revenue:
Of these eight apps, seven were expanding the franchise into different game genres. Demonstrating the brand's ability to tap into the nostalgia of its fan base, even apps that focus on traditionally offline activities like card trading still prove to be popular draws and significant drivers of mobile revenue.
Star Wars Around the World
Star Wars isn't just for North America; the global ranks show that the IP also has massive appeal in Europe and South America, and opportunities in Asia — great places for new growth markets that can supercharge IP partnerships.
We further examined the Star Wars IP to see which countries contributed the most to overall downloads and revenue. The United States leads in both measures, but many other countries played a large part in Stars Wars' mobile popularity.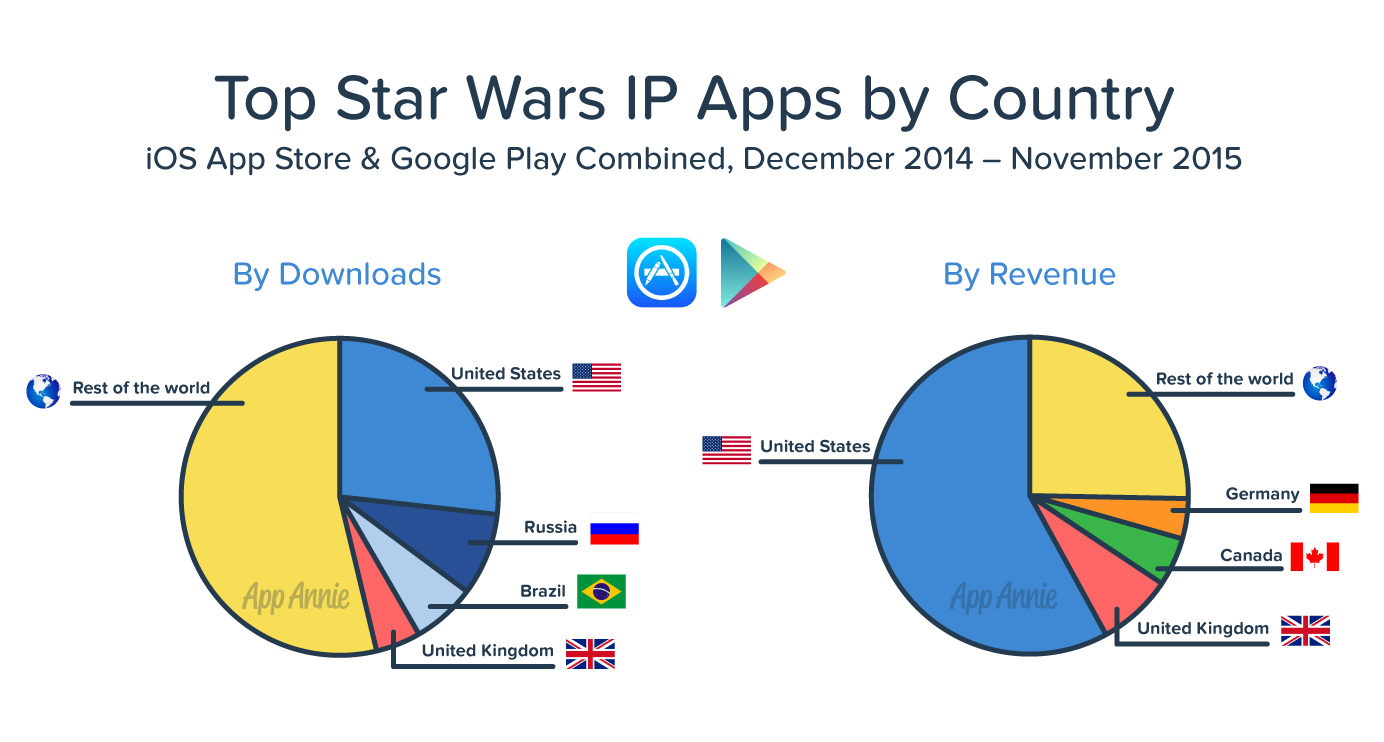 Russia and Brazil followed in download numbers, both contributing a huge portion of the Angry Birds Star Wars and LEGO Star Wars franchises' downloads on the iOS App Store and Google Play.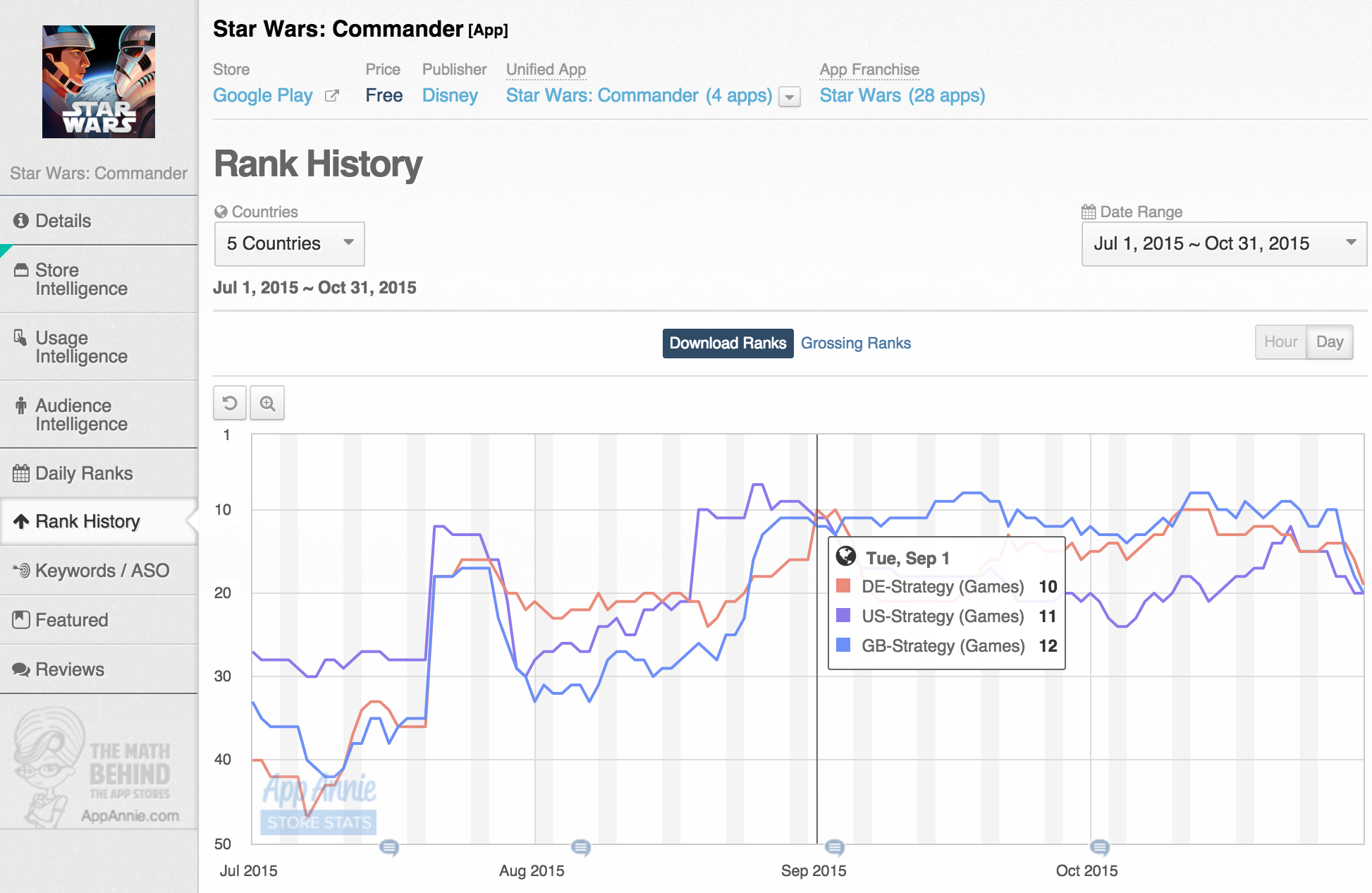 Star Wars: Commander has been popular in the Strategy (Games) category on Google Play in the United Kingdom, Germany and the United States.
On the revenue side, the United Kingdom and Germany were major players in Star Wars: Commander reaching the number one spot, and also contributed a good amount to the success of Star Wars Force Collection. Although not within the top five countries, Japan also played a large part in the mobile card battle game's success. This could be in part from publisher Konami continually running promotions.
Star Wars Connects Well With Other IPs
Star Wars has had great traction teaming up with other major brands in the mobile ecosystem. Apps such as Angry Birds Star Wars and Lego Star Wars: The Complete Saga ranked at the top in the US overall charts when they were first released — November 2012 and December 2013, respectively — and continue to perform well years later.
Nicolas elaborated on the importance of engaging mobile users. "Beyond the geographical expansion, whether it's directly or through the partnership with Rovio and LEGO, Disney leveraged mobile apps to continue to engage the younger male audience with their IP in between two movie cycles."
But what about more recent endeavors? With such a robust universe, Star Wars is a prime IP for mobile partnerships. Waze released an update featuring Star Wars droids and Google allows users to select Light Side and Dark Side skins.
What Other IP and Mobile Game Publishers Can Learn
Disney and Star Wars provide a great example for how to combine IP holders with great publishers, and this partnership can provide a roadmap for others looking to broker a successful partnership.
App publishers can see that there is a growing demand to bring IPs to new markets in Europe and South America, where a previously untapped audience could lead to monetization opportunities.
Well-established and growing IP holders have a great opportunity to popularize their brands across the world. European, Asian and U.S.-based consumers want to experience creative worlds through mobile, but each has their own local tastes.
Now is a ripe time to forge long-lasting mobile collaborations.
Want More? App Annie Has It
Subscribe to our blog to see more app industry reports, conference updates and product news. We love hearing from our readers, so share your questions and comments below or on Twitter.
Want to perform your own analysis? Create a free Store Stats account or request an Intelligence demo today.