Comic apps have found success in Asia and are generating revenue both in-app and offline in long-term and sustainable ways.
Japan and Korea are known throughout the world for their unique pop culture. One of their most popular exports is manga — richly illustrated comics telling stories of adventure, business, love and horror. Domestically, manga has a deep history spanning centuries, and remains a key aspect of both Japanese and Korean culture and literary tradition. In addition to filling bookshelves in homes across these countries, manga is finding success in the digital world. In the iOS and Google Play app stores combined revenue rankings for August 2016, comic apps moved into the top 10 for both Japan and Korea.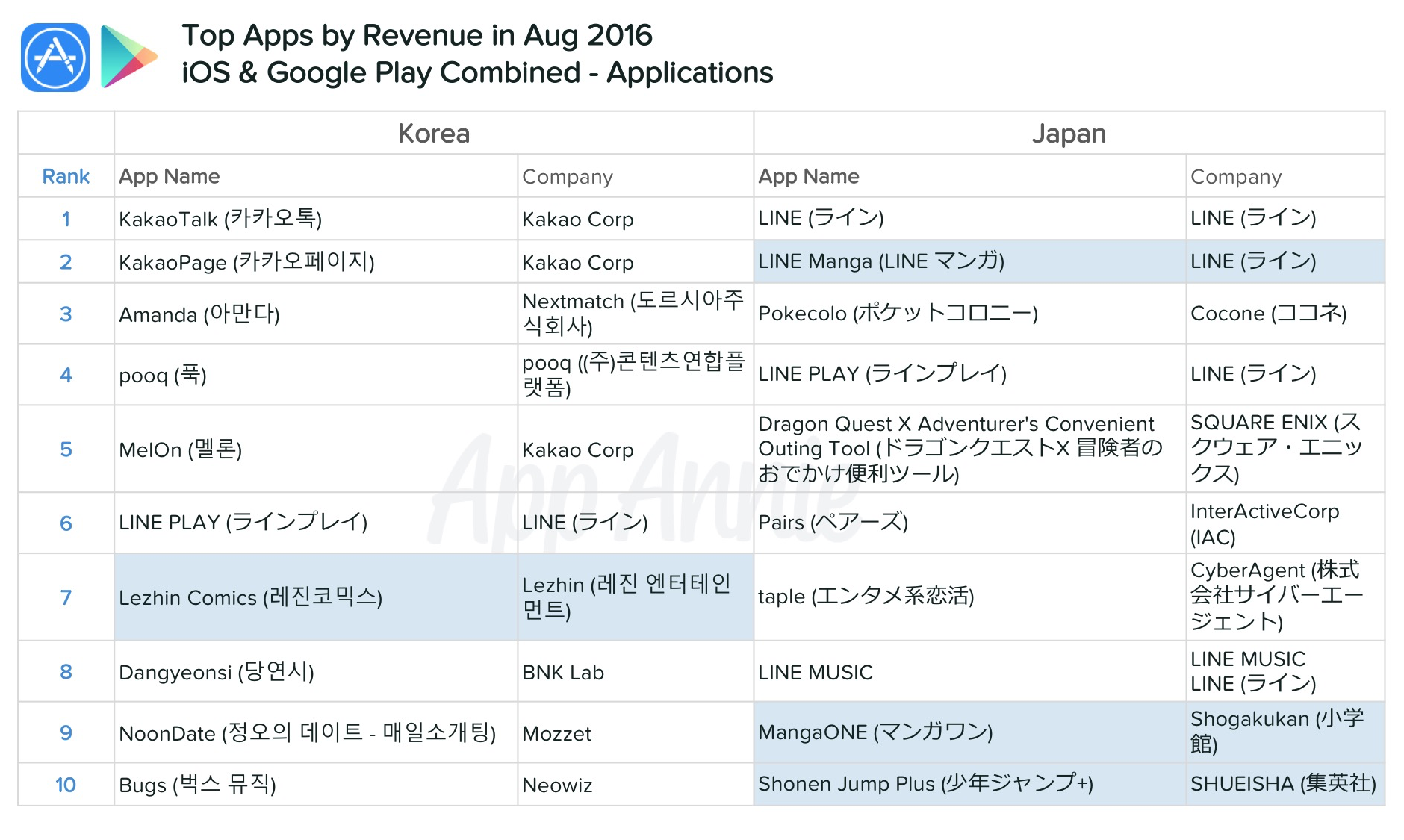 Lezhin Comics placed #7 on the top 10 apps in terms of iOS and Google Play combined revenue in Korea, while LINE Manga, MangaONE, and Shonen Jump Plus made it onto the chart in Japan.
It's not just the cultural affinity Japan and Korea have with comics driving the success of these apps. Manga apps are consistently generating strong revenue returns, ranking in the top 10 in both countries due to their clever approaches to app monetization.
The table below illustrates a breakdown of the monetization models employed by the top 10 apps by MAU in the Comics category on Android phones in Japan and Korea during Q3 in 2016.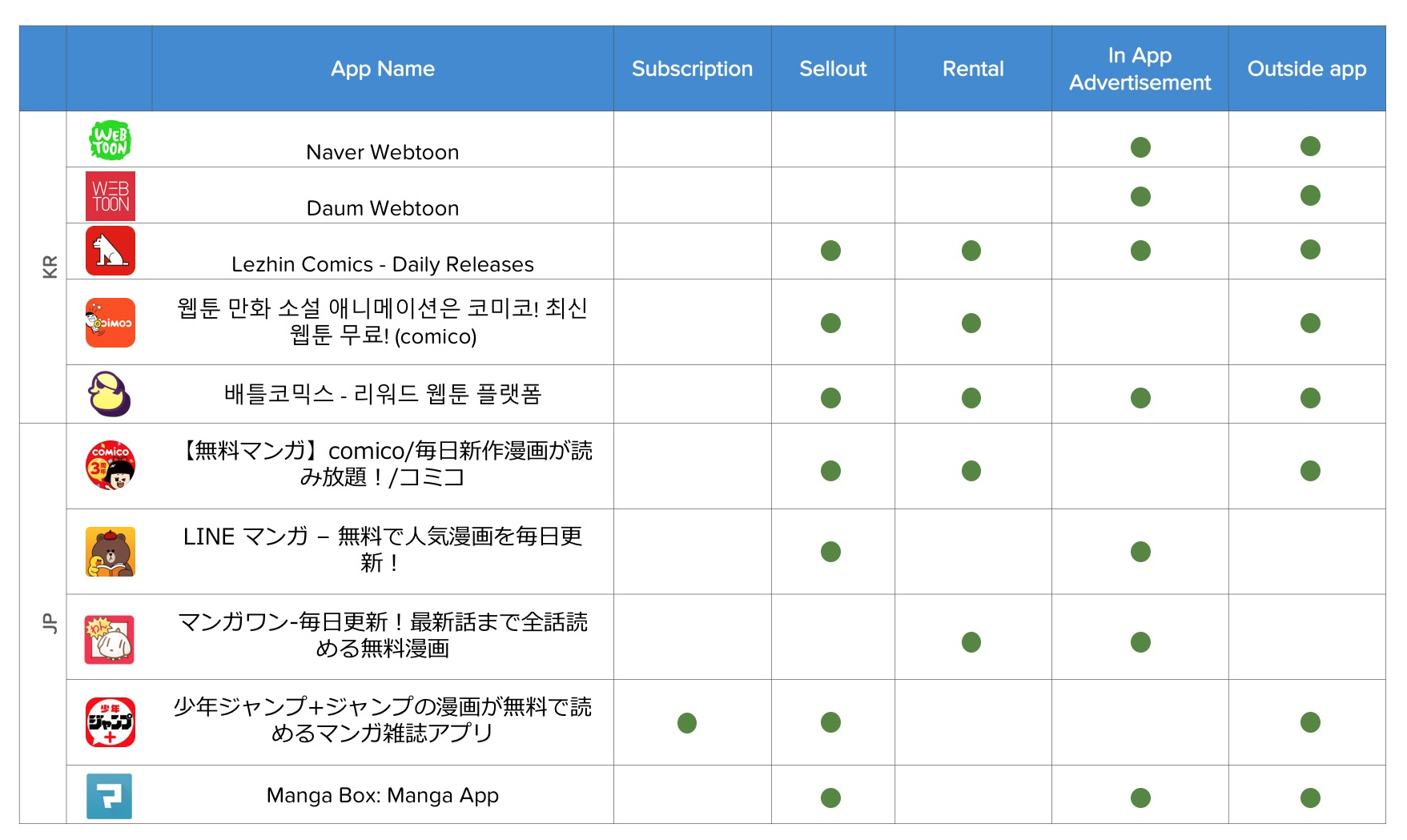 Lezhin Comics Uses Mature Content to Target a Female Audience
In-app purchase models are one of the strongest monetization models implemented by comic app publishers in Japan and Korea. The strongest of these — with 9 publishers across the top 10 utilizing this method — is the "Sellout" model,  where apps enjoy success by providing targeted content to highly specific segments of a demographic.
Korea's Lezhin Comics has perfected a robust revenue model, unbeaten by any other app in the Google Play Store's Comics category. The app offers certain content for free, but found a winning strategy by specifically targeting adults — mostly women — with tailored, mature content that they can charge a premium for.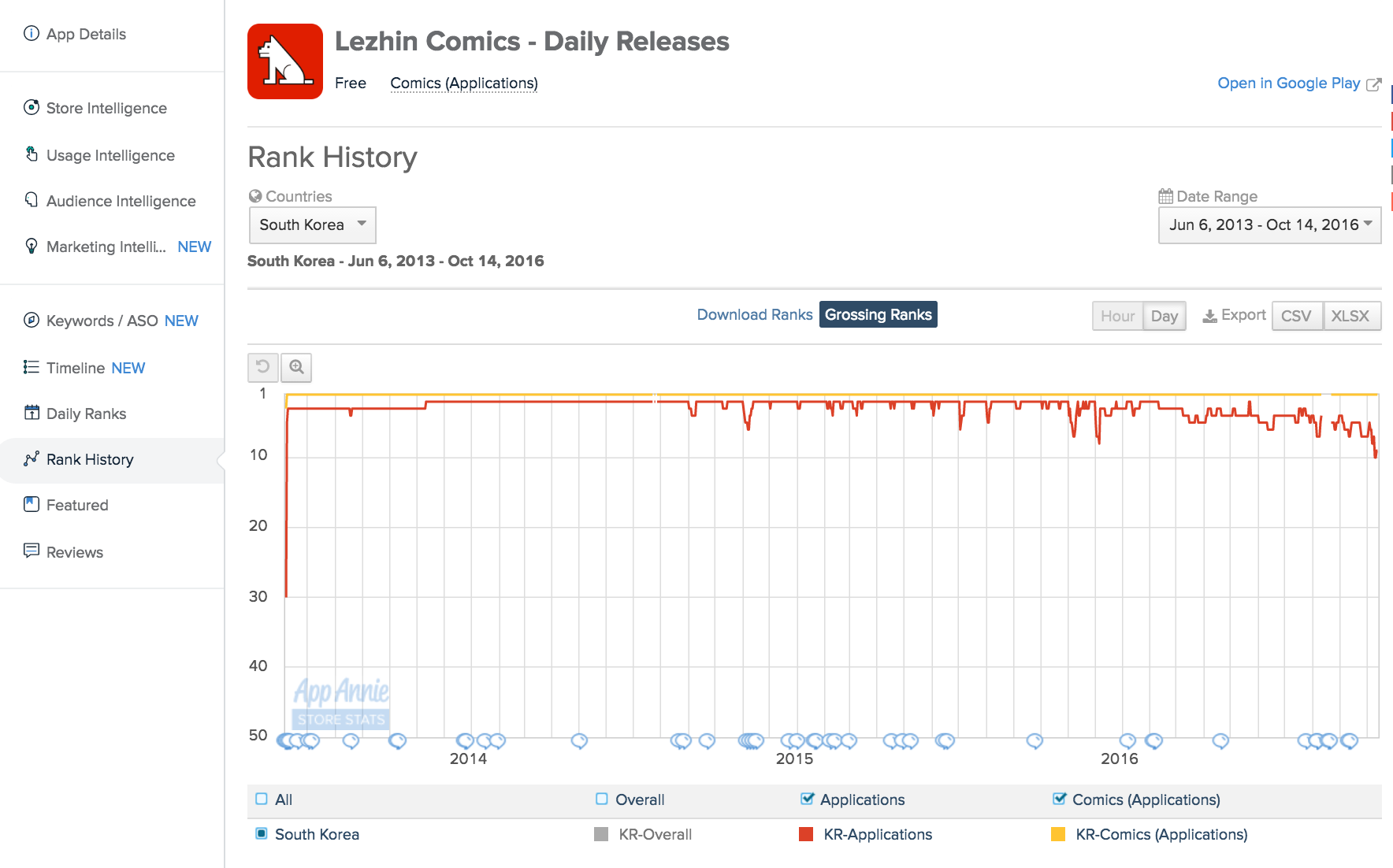 Lezhin Comics has held the top spot in revenue rankings under the Comics category on Google Play since its launch.
With a nuanced understanding of specific demographics, Lezhin Comics moved into an untapped mobile market with a paid webtoon service platform. According to App Annie Intelligence, this resulted in the app generating steady, consistent revenue. Additionally, MAU has nearly tripled year over year (YoY) in Korea between 2015 and 2016 on Android phones.
Japanese Smash Hits Use Subscriptions to Hook Users
As we mentioned in our Q3 Market Index, diverse revenue streams such as subscriptions have had a notable impact on the iOS App Store and will only continue to grow. Several of the top comic apps in Japan have found success from this model.
The most notable of these is Shonen Jump — the most popular weekly manga magazine in Japan with smash hit titles including One Piece, Naruto and Dragon Ball, While Shonen Jump sells a digital version of its weekly magazine in its Shonen Jump Plus app, it also offers a monthly subscription at a slightly lower price point in order to incentivize users to purchase.
Kindle Unlimited, recently started by Amazon Japan, also has a huge demand for comic subscriptions within the country. The service gives users unlimited access to read books, magazines and manga with a monthly subscription fee. Kindle Unlimited went viral due to manga's massive popularity in Japan. However, popular manga titles were later removed,  potentially due to the demand exceeding Amazon's expectations.
In-App Ads Help Webtoons Generate Revenue and Engagement
Like other forms of media, in-app advertising enables publishers to provide a wider audience free access to comics in a variety of ways.
The first of these is native advertising. This form offers app publishers the creative license to place ads in their comics where they please in order to avoid disrupting the user experience. Korea's two largest web portals — Naver and Daum — have integrated "Webtoon" (web + cartoon) services into their platforms as a way to simultaneously advertise while keeping users engaged. These are typically placed within or at the bottom of each issue and keep comic strips free for readers. Due to the mobility of smartphones, reading on the go has also spurred the creation of webtoons apps which offer even more advertising possibilities.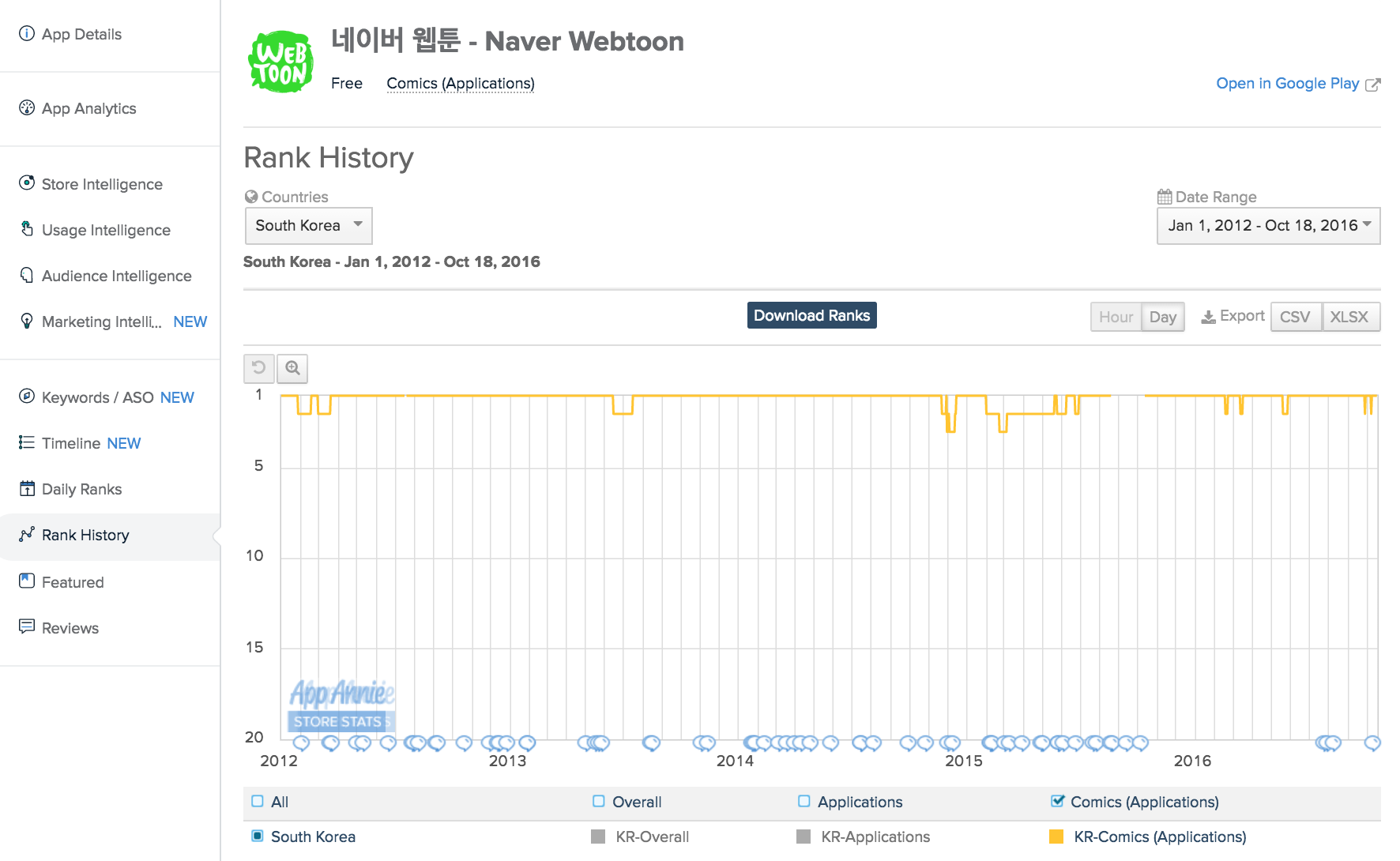 Naver Webtoon was launched in 2012, and has remained in the top five rankings in the Comics category on Google Play in Korea.
Another monetization model regularly used is the rewarded ads model, in which users are rewarded for performing certain tasks (such as watching videos, registering for third-party services or installing sponsor apps with in-app currency). Users can then purchase access to comic content with their earned currency, making the actual reading experience a separate and isolated event from each individual advertisement.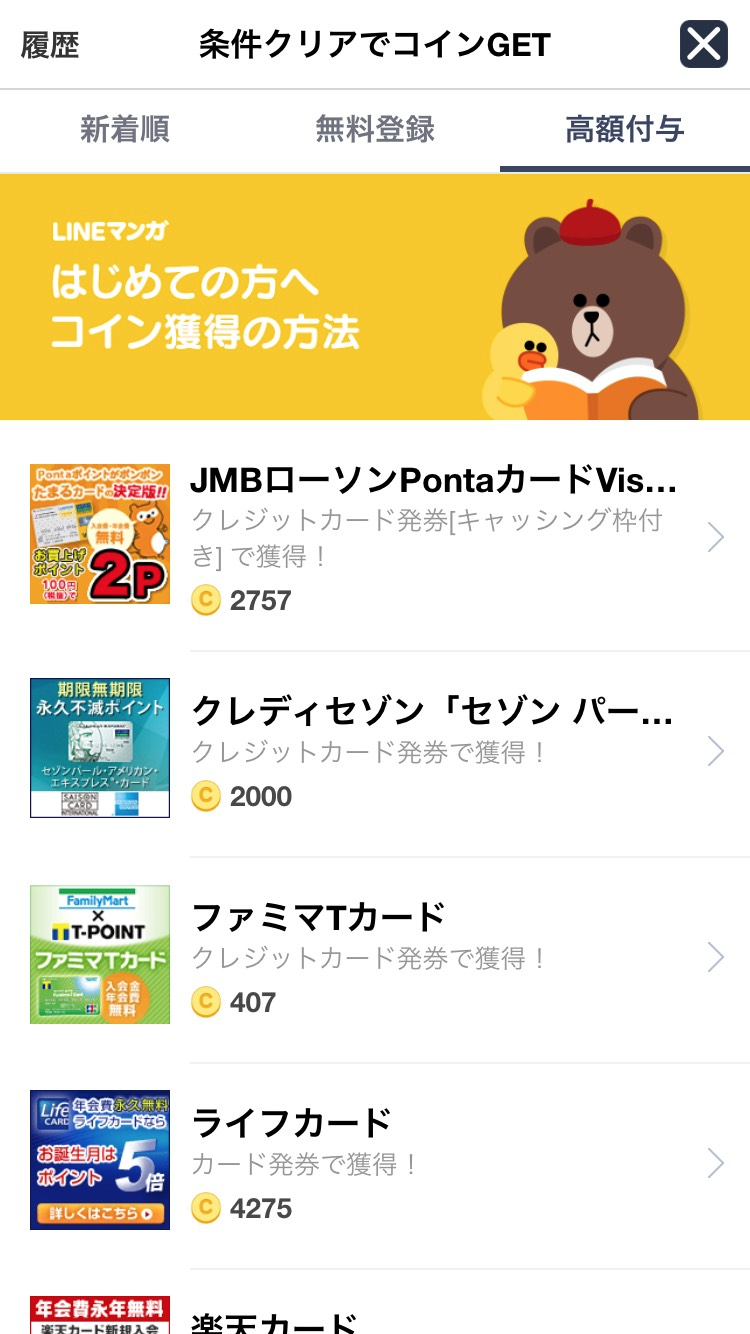 In LINE Manga, users are incentivized to perform select tasks in exchange for coins, which can then be used to purchase comics.
Monetizing Outside the App: Utilizing IPs to Create a Virtuous Cycle
In addition to in-app monetization strategies, comic apps are also actively attempting to monetize outside of the app stores. For instance, Comico, Naver Webtoon and Daum Webtoon have all simultaneously pursued strategies focused on multimedia.
Comico launched its service in 2013 by offering original content, and considers comics key to its IP strategy. More recently, Comico found considerable success with one of its recent smash hits, ReLife, which will be made into an animated movie.
Elsewhere, Naver Webtoon has masterfully capitalized on the massive popularity of webtoons, many of which have also been repackaged into television shows and movies. It's a virtuous cycle: The success of the TV programs has in turn increased the popularity of the original webtoons.
Daum has followed a similar strategy. A TV drama titled  Incomplete life (Misaeng) took Korea by storm, and was also based on a popular Daum webtoon. Moreover, character IPs are frequently used to produce related merchandises and goods, and this forms yet another revenue stream for both the platforms and the artists.
Users Respond Well When Given Choices, Especially With Monetization
Japanese and Korean app publishers have a deep and cultured understanding of the content potential in manga and webtoons. Capitalizing on this has enabled them to dominate revenue rankings. They have aptly demonstrated how, with the right strategy in place, it is possible to generate revenue from both within and outside an app in long-term and sustainable ways. While subscription models remain a powerful way to generate revenue, app publishers should look to manga and webtoon apps' ingenius ways of enhancing their businesses by catering to different preferences to earn solid revenues.