Sports apps are surging as several major sports seasons ramp up throughout spring and summer. In the United States, April is a prime time as Major League Baseball (MLB) starts its season and the National Basketball Association (NBA) enters the playoffs.
Last year, MLB.com At Bat was the top-earning US Sports app by iOS and Google Play revenue combined and third by iPhone usage. The app is poised to repeat history as it's been climbing the grossing ranks since the start of the season.
In this post we'll examine what helped MLB.com At Bat soar and what other Sports and Entertainment app publishers can learn.
The New Major League Season Scores Big on Mobile
The first game of the 2016 MLB season aired on April 3. Viewers could watch the game via MLB.com At Bat and the integrated MLB.TV streaming service (in addition to a few local television stations). MLB.com At Bat allows in-app purchases of the app's monthly and yearly subscriptions — $2.99 and $19.99, respectively — as well as direct renewal of MLB.TV, its annual full league package priced at $109.99. In the US, since the start of the season, MLB.com At Bat has stayed within the iPhone top 20 grossing ranks overall and number one in the Sports category.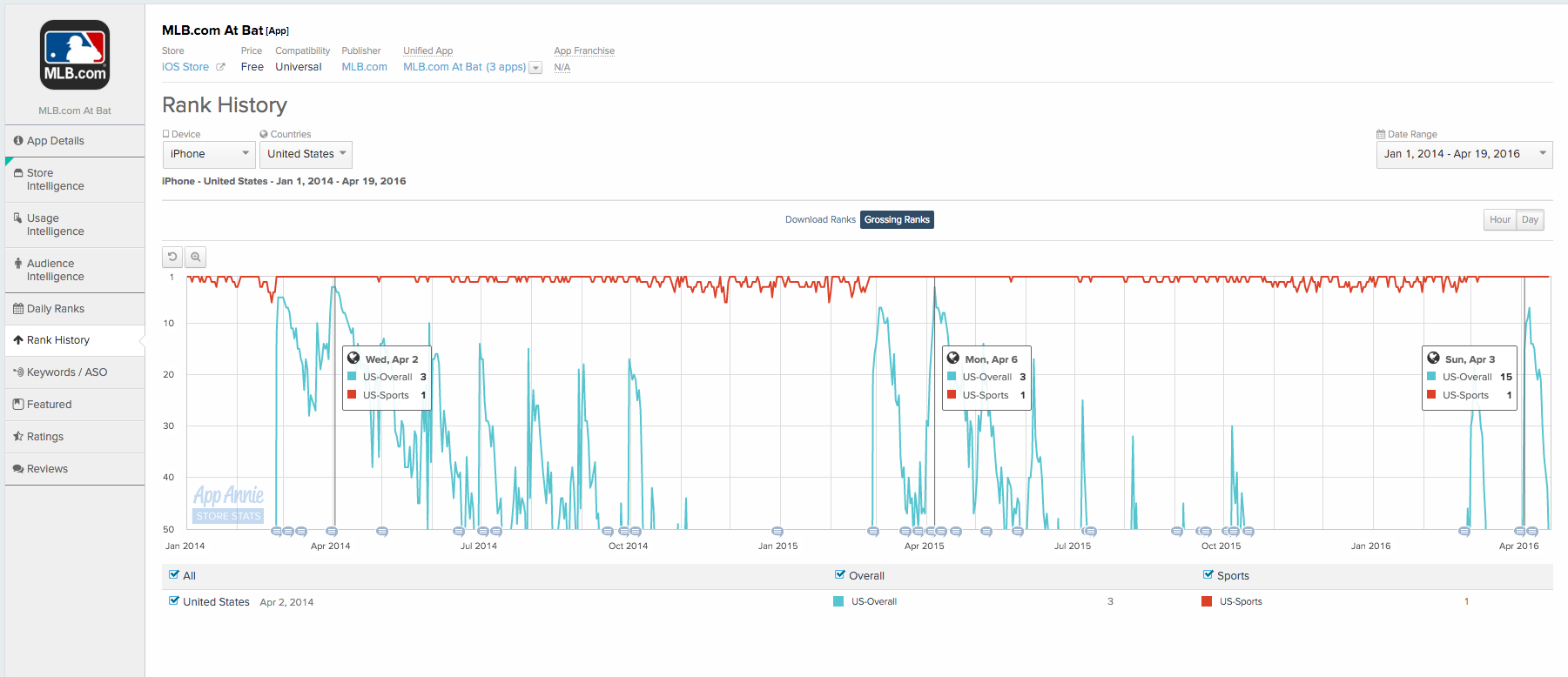 Year after year, during the start of the season in April, MLB.com At Bat quickly rose in overall grossing rank on US iPhones.
The app received significant updates during February and March 2016. Features include video streaming at 60 frames per second (FPS) on various iOS and Android devices, along with multitasking split view and picture-in-picture streaming on select iPads. MLB told TechCrunch that split view increased average minutes per day spent viewing live streaming by 20% over 2015.
Compared to its outstanding revenue, MLB.com At Bat's downloads were much more steady. Back in May 2015 T-Mobile heavily pushed the app to user devices and provided a free one-year subscription. This March T-Mobile offered free year-long subscriptions to MLB.TV, accessible through MLB.com At Bat.
While these two promotions gave a portion of users free access to MLB.com At Bat's premium features, the additional publicity possibly persuaded other users to subscribe to the app too.
Sports Fans Rally Around Streaming Mobile
As seen in our Mobile Video Streaming Report, sports broadcasting comprised a significant portion of the top 10 streaming apps by iOS and Google Play combined downloads and revenue in the US and by revenue in the United Kingdom from August 2014 to July 2015. During that time period MLB.com At Bat was the US's second-highest video streaming app by revenue, outmatched only by HBO NOW.
Baseball isn't the lone sports genre profiting off mobile users' affinity for streaming sports. From August 2014 to July 2015, NFL Mobile, UFC and NBA were also among the top 10 revenue earners in the US, while Sky Sports Mobile TV and Eurosport Player found success in the UK.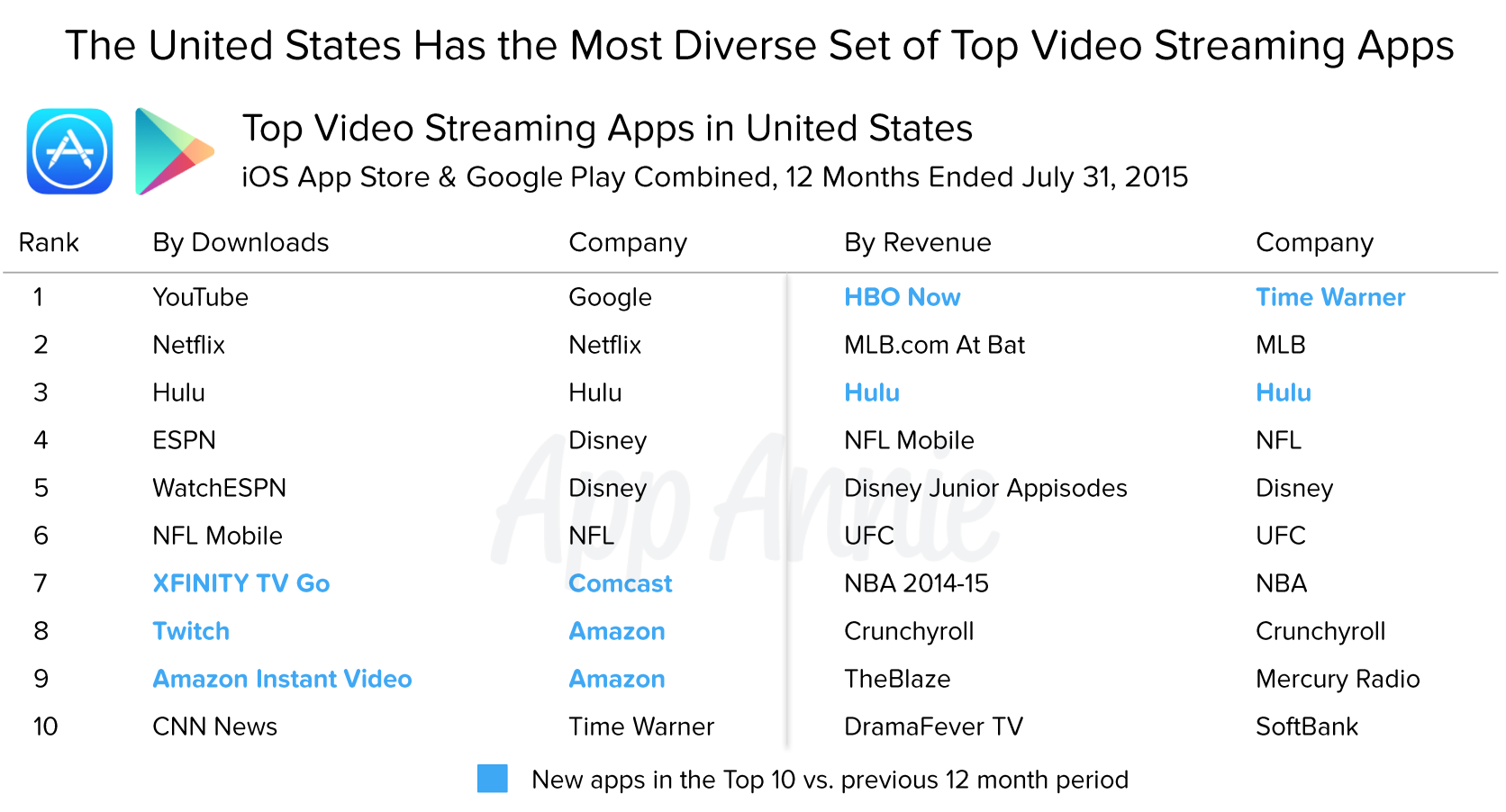 Sports apps made up 4 of the top 10 grossing video streaming apps in the US from August 2014 to July 2015.
From August 2015 to January 2016 the third most popular US iPhone video streaming app by monthly active users (MAU) among males and users age 13 and over was ESPN, following by streaming giants Netflix and YouTube.
MLB Advanced Media, the division in charge of MLB.com At Bat is even supporting other sports leagues. In an interview with Joe Inzerillo, chief technology officer for MLB Advanced Media, the company is partnering with the National Hockey League (NHL) to build their streaming and mobile products. By supporting other leagues, it's clear that sports streaming will continue to flourish in the mobile app space.
Seasonal Entertainment Will Ride the Revenue Wave
The seasonal nature of the MLB allowed them time to ready MLB.com At Bat with updates during February and March exhibition games and have a very refined app for the regular season. Other Sports app publishers — like the National Football League (NFL), whose season starts in September — should consider repeating this successful model to maximize revenue and usage.
It's not just Sports apps that should take note. Other apps with big seasonal releases — such as exclusive video streaming content — should carefully roll out key updates and push mobile marketing during the off seasons. Enhanced app features could easily entice users to download and purchase when their favorite programs return.
Start Building a Better App Business
Subscribe to see more app industry reports, conference updates and guides. Have something to add? Share your questions and comments on Twitter.
Want to take your app business to the next level? Create a free account to dive deeper into Store Stats or request an Intelligence demo.