Following paid downloads, in-app purchases and in-app advertising, in-app subscriptions are set to expand the monetization potential of mobile gaming.
In recent weeks, there have been a few major announcements in gaming, including upcoming launches of Google Stadia, Apple Arcade and Snap Games. As the market explores creative ways to generate revenue through gaming, companies are accelerating innovation not only through product development, but also growth through alternative revenue models. All the while, mobile is playing a huge role in increasing the industry's success.
Gaming has always been one of the foundational categories on mobile. When mobile adoption picks up in a new market, games are often the first apps to take off in terms of download and revenue growth, and in the last 10 years, mobile gaming has matured dramatically. Global app store consumer spend reached $101 billion in 2018, and games accounted for 74% of that spend — enough to exceed the combined game spending total on home consoles, PC and Macs, and handheld consoles by 20%. While games account for a massive share of revenue, there is still ample room for growth — particularly as mobile continues to take over market share with consumers.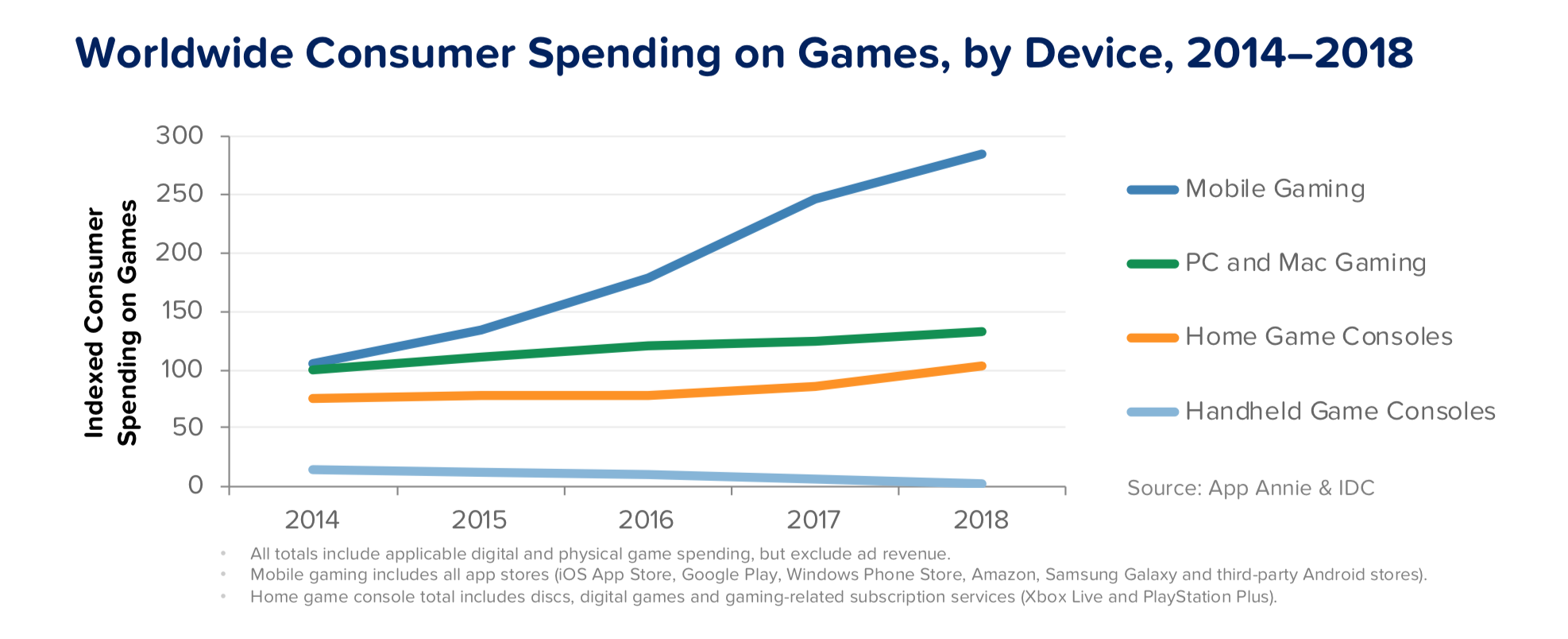 Gaming Monetization Has Evolved Greatly Over the Years
As mobile games have progressed over the years, the monetization of gaming has also evolved greatly. Early on, many of the most successful games monetized primarily through paid downloads (e.g. Angry Birds, Plants vs. Zombies, Scrabble) — porting over the most common monetization strategy from other gaming platforms. Apple started allowing in-app purchases for free apps in 2009, but the freemium boom was still a couple of years away (e.g. Candy Crush Saga, Clash of Clans, The Simpsons™: Tapped Out). This enabled publishers to increase revenue by creating long-term revenue opportunities from a few whales — by and large the biggest spenders — instead of a one-time purchase from every purchaser. In 2018, over 95% of consumer spend on mobile gaming still came from games that offered in-app purchases.
By 2014, in-app advertising further enabled casual gaming to monetize, especially in markets with lower propensity to spend. In-app advertising allowed publishers to reach a mass audience and offset the cost from the gamers to the advertisers. In turn, studios like Ketchapp started making a vast portfolio of short session games (e.g. 2048, Stack, Knife Hit) that they could move gamers in-between and therefore, increase their monetization potential across their portfolio. In 2018, battle royale games — such as Fortnite, PUBG MOBILE and Knives Out — became extremely popular. The strong social component in this genre not only helped break down cross-platform barriers, it also morphed games into another form of social messaging.
---
" In 2018, over 95% of consumer spend on mobile gaming still came from games that offered in-app purchases."
---
As we head into Q2 2019, the addition of subscriptions to a game publisher's repertoire presents the next wave of mobile gaming monetization. Google Stadia and Apple Arcade are at the frontier of subscription-based gaming platforms.
Subscription Gaming Creates New Pathways to Revenue for Publishers and Engagement for Gamers
Subscriptions have long been part of the growth of app store revenue, primarily via music and video streaming, launching in 2011 on the iOS App Store. Monetizing through subscriptions in gaming not only expands the overall pie for mobile, it also enables various types of gaming to reach and engage users in new ways. For instance, games that weren't designed for short sessions or in-app purchases will now have a chance to achieve greater success on mobile. This should help further blur the line between mobile and PC/Console where traditionally gamers would subscribe or pay for a copy of the game. Subscriptions could also be an avenue through which new audiences can try out VR/AR gaming, as consumers won't have the barrier of purchasing games with high production value prior to trying them out for a relatively new mode of consumption.
The subscription model, with its consistent monthly payments for a wide range of experiences, is also a more stable source of revenue that would remain under control of the app stores themselves. This would help offset the app stores' loss from a few major players deciding to monetize outside of the established app store ecosystem. More direct platform involvement could lead to a surge in accessibility, quantity and quality of non-traditional games and gaming mechanics, as well as a rise in exclusive platform-specific content that exist with video and music streaming. Motivation to subscribe to these services could also extend beyond content, such as through evolutions in connected gameplay, social sharing and streaming to build communities of engaged users.
What's Next for Mobile Gaming
Mobile gaming continues to take the market by storm. Even for an app category that has been a key pillar since the dawn of mobile, there are always opportunities for growth and innovation. While the adoption of the subscription model in gaming has long since been rumored, it will be interesting to see how this model of monetization will help shift the gaming landscape along with the game content themselves.
To learn more about the state of the gaming industry, check out App Annie and IDC's latest joint Gaming Spotlight Report:
This is part of our ongoing Mobile Minute series that will feature App Annie's perspective on how mobile is impacting current events and consumer trends. Tune in weekly for our take on the latest news cycles and how mobile transformation will shape industry outlooks.