Smartphones and tablets are getting in more and more hands each year. Mobile device ownership continues to rapidly expand in both developed countries and emerging markets, which is causing massive growth in mobile app store and in-app advertising revenue.
Publishers and developers need to carefully evaluate potential business models, target markets and growth plans to set up their apps for success. With the right data, all these decisions can be strategically decided and executed.
App Annie, in partnership with International Data Corporation (IDC), is pleased to announce the release of its latest report on mobile app advertising and monetization: App Annie & IDC Mobile App Advertising and Monetization Trends 2013-2018. This report will inform you how and where apps are monetizing. Inside are market-level findings and insights gathered directly from developers you can immediately put to action in your business.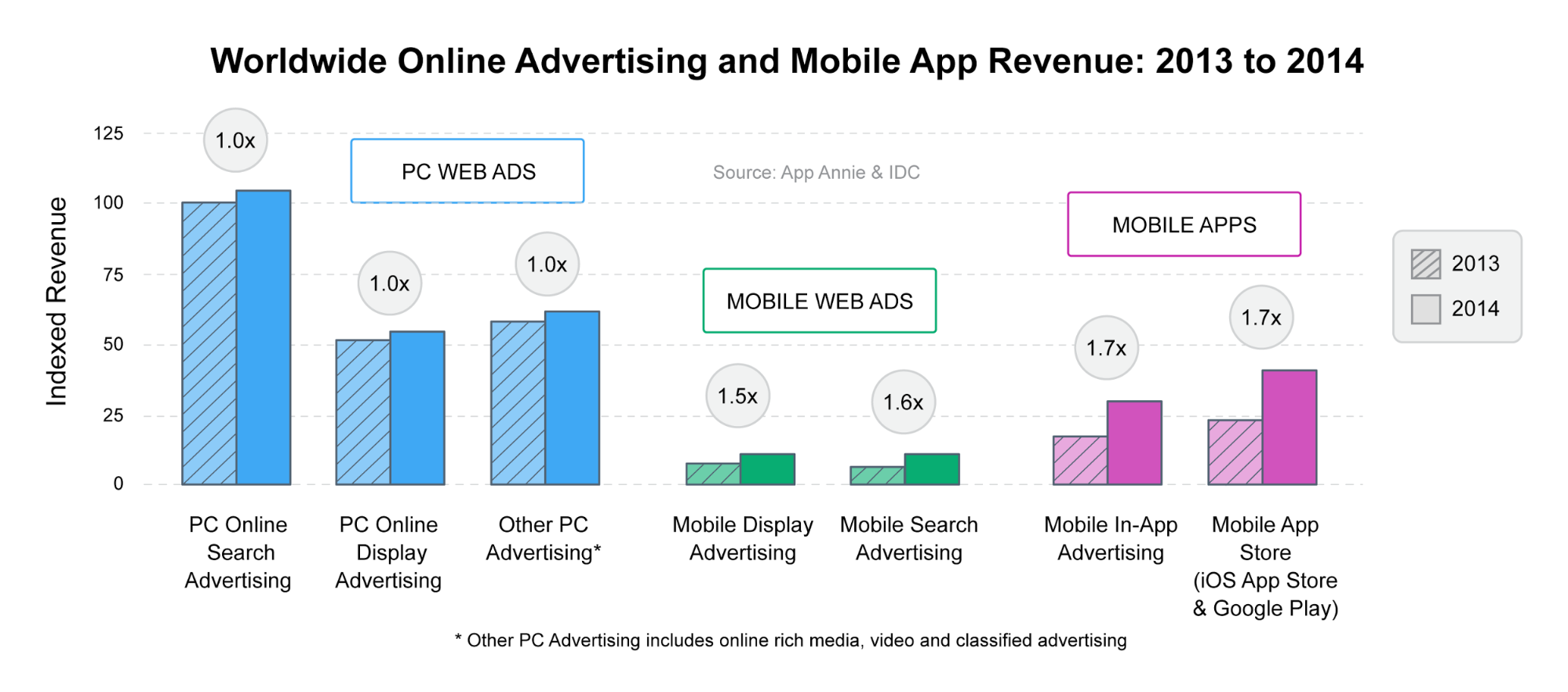 Mobile app revenue is growing fast, outpacing both PC web and mobile web advertising.
Below is what you can learn from our free report:
Understanding Current App Monetization Opportunities
As smart mobile devices proliferate across the globe, we see a resulting massive growth in mobile app revenue. Learn about the drivers helping increase the growth curve.
Picking the Right Monetization Model for Your Apps
There is a variety of business models to choose from, but it is up to you and your team to select the right one for your app. Picking the model suited for your app and user base is crucial, and our report features real examples — and popular monetization methods — for some top apps.
Selecting Your Apps' Target Markets
Not all countries are the same when it comes to app monetization. Learn which country's app markets are the largest, which are growing quickest, and where mobile apps are deriving their revenue — be it from the app store or in-app advertising. Strategically picking your markets is critical.
Planning for the Future
See projections out to 2018, where IDC highlights how large in-app advertising revenue will grow.
To gain access to the full 25-page report, click the download button below:
Want More? App Annie Has It
Subscribe to our blog to see more app industry reports, conference updates and product news. We love hearing from our readers, so share your questions and comments below or on Twitter.
Want to perform your own analysis? Create a free Store Stats account or request an Intelligence demo today.