Pricing your app is always a challenge. Should you have customers pay to download? Or should you entice them with $0 upfront and the option to advance and improve through one of the two most successful mobile monetization models, in-app purchases.
Our Monetization Tips series will explore how to hone your revenue model. In this first post we will explore the beginning stages of selecting in-app bundle pricing specifically for free games, and how to turn users into big-bundle purchasers.
How to Bundle Your In-Game Currency
So you have a new game, but what's the best way to monetize? The "freemium" model is a good way to turn a free app into a money magnet. Freemium games have taken over all ten spots of the top-grossing rankings on the App Annie Index overall from November 2014 to July 2015. Our Monetization Trends report showed that during 2014, freemium apps had a 72% revenue increase, while the paid model decreased by 19% and the paidmium model by 24%.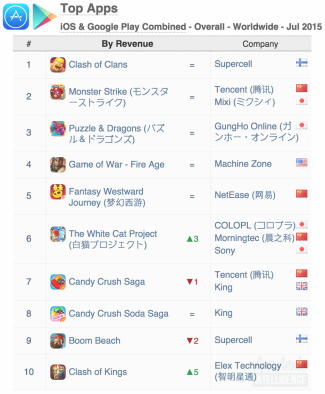 In July 2015, all ten top-grossing apps worldwide were operating within a freemium business model.
After you pick your business model, the next step is to design your overall in-game economy. There are two ways to set up purchases: building in-app payments for each new item you want to introduce (eg: a specific gun or level) or establishing a virtual premium currency. The latter, which we recommend, enables more flexibility in terms of content offerings and promotions.
If you select the premium currency path, like Game of War's gold or Boom Beach's diamonds, your next step is to then select the in-app payment price point for each In-App Purchase (IAP) bundle.
Know Your Target Audience's Price Points
Our Monetization Trends survey showed that 2%-5% of monthly active users (MAU) were most likely to purchase in-app goods. A good distribution of prices to attract the different types of potential buyers (whales, dolphins and minnows) is key for your game's success. The table below shows recommended bundle price points, the target audience they cater to and revenue/volume expectations for your game.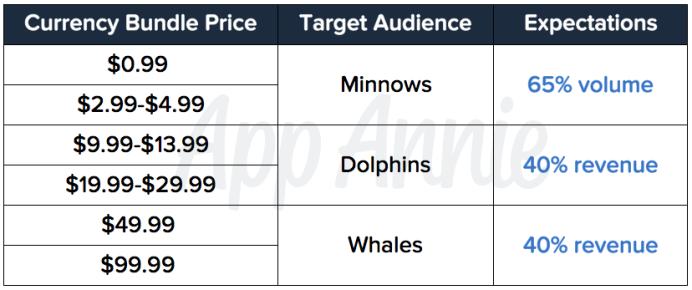 Figure A: Six key price points, recommended targets, and revenue/volume expectations.
There are three main groups of app spenders that tend to prefer different price points:
Minnows: buyers that spend very little but represent up to 65% of the total IAP bundle purchases. They have potential to adopt higher price points later on eventually converting into dolphins. For these users, stick to small price points, $0.99 USD and another bundle priced between $2.99 to $4.99 USD for users more likely to transition to dolphins.
Dolphins: medium-range customers. Those who may contribute a sizeable portion of your app revenue, up to 40%, and may be willing to purchase bigger IAP bundles. $9.99 USD is a good minimum price point for them and between $19.99 to $29.99 is a good maximum.
Whales: those very big spenders providing up to 40% of your total revenue, and who are willing to spend $49.99 USD to $99.99 USD on a single in-app bundle.
Further In-App Bundle Success
Knowing these six recommended price points to cater to all type of potential paying users is just the start of planning your in-app content pricing. In future posts within our Monetization Tips series we will explore discount strategies and how to increase your ad monetization per user.
Sticking to our six ideal price points is a good way to help convert minnows to dolphins and eventually, to whales. Follow our blog and we'll share more tips to monetize your app.
Want More? App Annie Has It
Subscribe to our blog to see more app industry reports, conference updates and product news. We love hearing from our readers, so share your questions and comments below or on Twitter.
Want to perform your own analysis? Create a free Store Stats account or request an Intelligence demo today.