Our survey of over 1,200 app professionals reveals key insights behind how publishers monetize in the ever-evolving app economy
The app economy is booming in every respect. Downloads and consumer spend hit record levels in Q3 2017, with no signs of slowing down. Apps dominate the amount of time people spend on their smartphones while mobile retail continues to skyrocket, which is just one of many signs of how the app economy continues to mature. Apps now play an important role in almost every industry, with each taking a different approach to apps.
The app economy continues to become more diverse, with publishers from a variety of industries achieving success in many different ways. This is particularly true for monetization where there are many approaches available, but one size does not fit all. As the overall landscape becomes increasingly complex and competitive, it is more important than ever that app publishers leverage data and insights to develop their strategies and make decisions. To that end, we surveyed 1,200 app professionals, from over a dozen industries and across the globe, regarding how they generate revenue from their apps.
Here are a few of the key insights presented in the App Economy Survey Part 2: Monetization Insights from App Professionals.
Monetization methods vary across categories and industries
In-app purchases (IAP) and in-app advertising were selected as the two most popular methods of monetization overall. Each was selected by 59% of respondents. Next up were paid downloads.
But when you drill down into the differences between gaming and non-gaming companies, there are some stark differences: Gaming companies were much more inclined to rely on IAP and in-app advertising (to the tune of around 80% for each), while subscriptions and commerce models were much more popular among non-gaming publishers.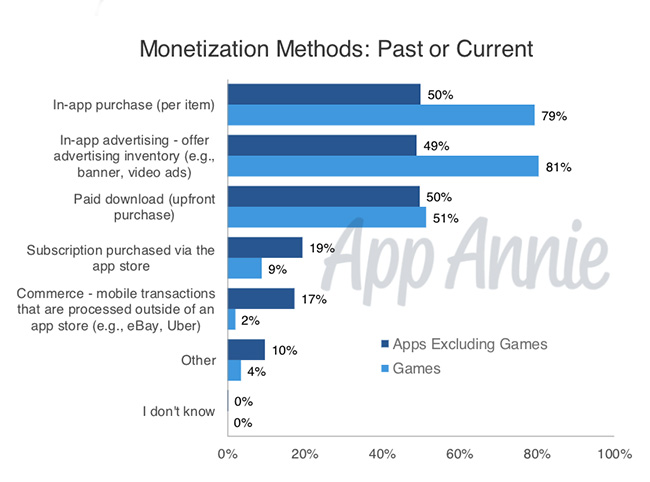 That said, when we asked companies how they might alter their monetization strategies, it was clear that change is in the air: Subscription and commerce models were projected to become more popular, while upfront paid downloads were expected to become less popular.
Video ads aren't necessarily the be-all and end-all
While it's certainly true that video ads generate a tremendous amount of revenue compared to other formats, and they ranked the highest overall, the picture gets more complex when you take a closer look. In gaming, 57% of respondents indicated that they're the top revenue generator among ad formats, while for non-gaming, static banner ads ranked first, with 35% of respondents noting that they generated the most revenue.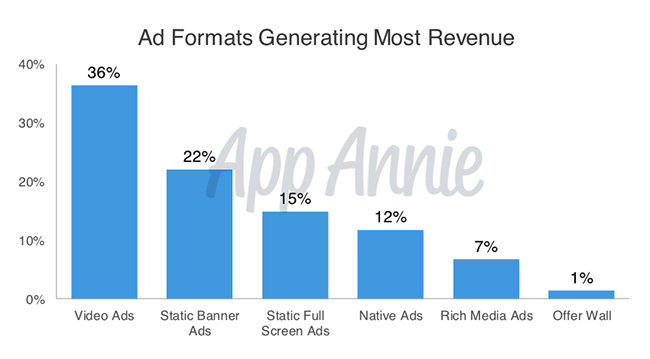 Then there's the fact that video ads and static full screen ads, are perceived as being the most likely to negatively impact user experience. It's therefore important to always monitor and test how different ad formats affect user engagement, and, for any type of ad that renders an app temporarily unusable while shown, make it clear to users how and when they can dismiss the ad.
These are just a few highlights of what we learned from the app professionals that we surveyed. Read the complete report and you'll also learn about the variety of freemium techniques that app publishers use, companies' overall goals for their mobile apps (it's not just about direct monetization) and much more.
To download the full report, Monetization Insights from App Professionals, fill out the form below. Customers who log-in will be able to download the report immediately below.