The iOS App Store turns 5 years old in a few months, and what an exciting 5 years it has been!
At App Annie, we've got products like App Annie Intelligence and App Annie Index to help you keep up with the latest app store changes and trends. These give you excellent visibility on how the app stores are changing from the top down.
But what if you want to see how the app stores are changing from the ground up?
That's why it's so important to look at individual apps. Apps - just like the app stores where they live - are constantly evolving, changing and iterating with constant updates and patches.
Track App Evolution with Store Stats
The App Annie Store Stats team has just released new features which help track this evolution for all iOS apps.
You can now see the full release history, including release notes from the publisher on the App Details report in Store Stats.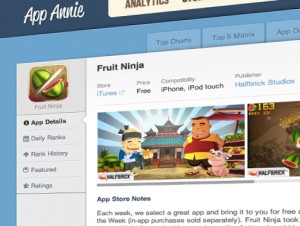 Let's look at one of my favourite games, Fruit Ninja. I think it was the first game I downloaded when I made the jump to iPhone and it's kept me occupied on many boring subway rides.
With the new features in App Annie Store Stats, I can now learn more about the game that's been keeping me sane on my commute:
It turns 3 years old next week (Happy birthday!)
Fruit Ninja has been updated 23 times over the last 3 years
The word "Fruit" appears 111 times in their release notes (or 4.82 times per update).
You can also get other interesting info like when an app added support for iPhone 5, the release cycle velocity (time between updates), how often new content is added, or how long it takes bugs to get fixed.
Tracking an app's evolution with App Annie Store Stats can bring you on a nostalgic trip down memory lane...or can lead you to a veritable goldmine when it comes to competitor analysis!
Versions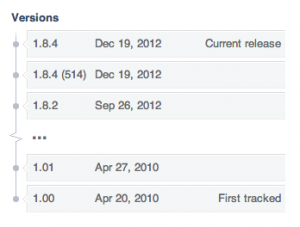 A quick summary table where you can see each version, from when we first tracked the app, right up to the current release.
What's New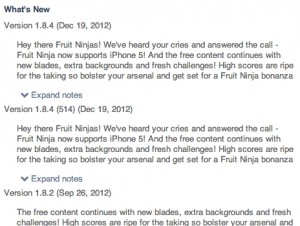 The full release notes for each update, which includes everything from new features to bug fixes.
We're continually improving App Annie Store Stats to make it one of the best tools for app market research.
We love your feedback - if you have any comments or questions, just leave your reply below or tweet us (@appannie).
Cheers
Nick McIntosh
Product Manager - Analytics & Store Stats