We're committed to delivering the most complete market data on the app industry, and today we're eager to share our latest premium product – Usage Intelligence – now available in beta.
Every app publisher knows how important it is to closely track usage and engagement metrics to help define app success and project future potential. These metrics allow you to understand your user behavior, make informed development decisions, plan product strategy, and set internal benchmarks.
Usage Intelligence estimates reach, engagement and retention metrics for thousands of apps. With access to precise app usage estimates you can analyze your competitors' apps, identify potential investment opportunities, or qualify advertising targets. Metrics provided within Usage Intelligence include active users, frequency of use, duration of use, total sessions, total time and more!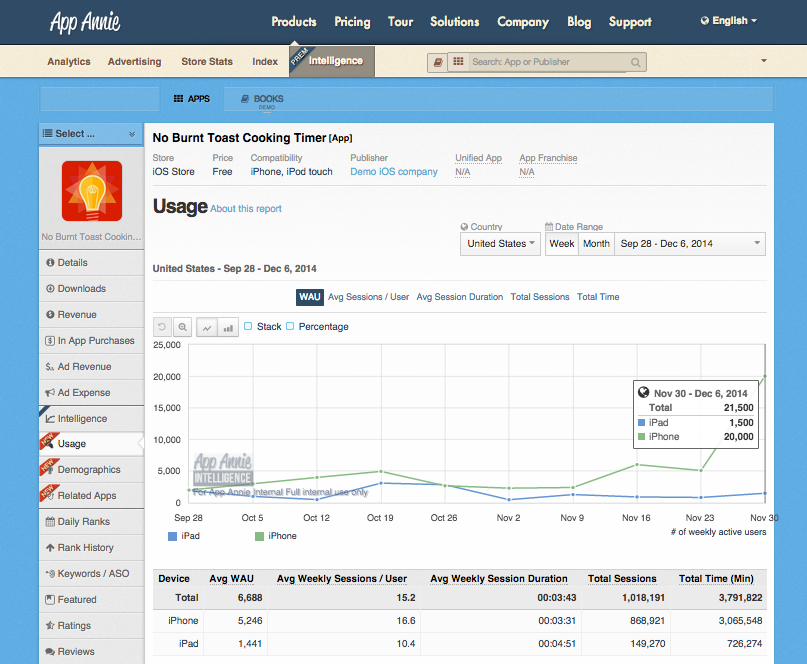 Demo data -- for illustrative purposes only.
Get Unparalleled Insight Into the Success of an App
With Usage Intelligence you can see estimates for how people use an app to answer questions such as:
How many active users does Snapchat have?
What % of the total U.S population is a Pandora Music active user?
Which social networking app has the longest average session time?
How many times does the average Uber user launch the app each day, week or month?
Enhance Partnerships, Product Development and Valuation Due Diligence
Whether you want to gauge the strength of a company by analyzing its active users, identify the apps with the greatest market penetration, quantify the impact of a version release on average session time for a competitor, or verify a valuation analysis by adding active users to your assessment of performance, Usage Intelligence can inform your decision making.
To track the trajectory of an app's ability to monetize each user, or uncover their user retention rates, Usage Intelligence can be combined with download and revenue data from our Store Intelligence product, or combine Usage Intelligence with our Audience Intelligence product to track the total number of males and females using an app over time.
Take a Closer Look at Usage Intelligence
Usage Intelligence is delivered in an easy-to-navigate web interface and is designed to seamlessly integrate with both our free and our enterprise-level Intelligence product suites. Check out our demo video below:
Powered by Real App Users and Proprietary App Annie Data Sets
Usage Intelligence combines anonymized and aggregated data collected from real users, proprietary App Annie data sets, and advanced data science to produce the most reliable and granular usage data on the market for each country we support.
Find Out More About Usage Intelligence
Usage Intelligence is in beta and available immediately, with priority for select existing customers. Find out more here.
Usage Intelligence Joins the Complete App Annie Intelligence Product Suite
App Annie Intelligence is the #1 enterprise app market data solution, now comprised of three powerful products - Store Intelligence, Usage Intelligence and Audience Intelligence.
Store Intelligence: unparalleled insight into app sales and revenue performance by app, publisher, country and category, for all major stores.
Usage Intelligence: determine how users actually engage with the apps on their phone with precise app-level estimates.
Audience Intelligence: app-level estimates on user demographics, cross-app adoption, and users' opinions of app quality.
Together, our Intelligence products deliver the data you need to inform every aspect of your mobile app strategy, anticipate threats and uncover new opportunities.
2015 is going to be an exciting year, so keep up-to-date on our blog, Facebook, Twitter or Weibo pages.
Best,
The App Annie Intelligence Team
*During beta, Usage Intelligence is available for apps on iPhone and iPad for the United States. We will soon expand coverage of countries, platforms and devices.