In our annual rankings, we take a look at the publishers who led the app economy in 2017
Today, we're pleased to announce 2017's top publishers in Southeast Asia for the first time.
App Annie's Top Publisher Awards started seven years ago to recognize the top publishers by global revenue annually. This year, we are announcing the top publishers from Southeast Asia by global downloads, as well as the top apps in select APAC countries for the very first time.
Check out the Top 5 ASEAN Publishers of 2017 list here
Check out the Top 30 Apps by Downloads in select APAC countries here
In conjunction with this announcement, join us on March 2 as we gather Southeast Asia's top publishers together for a webinar with App Annie's Regional Director of Southeast Asia, India and ANZ, Jaede Tan titled, "2017 in Southeast Asia: Who Are the Region's Top Publishers and How Did They Get There?" The webinar will review the year's biggest stats and stories, and find out from the region's top publishers what strategies and insights they used to climb to the top of the Southeast Asian rankings in 2017.
Sign up above to save a place, and come prepared with questions for our experts. Even if you can't join us on March 2, 11 am Singapore / 2 pm Sydney, register to receive a recording of the webinar and listen whenever you want.
The Top 5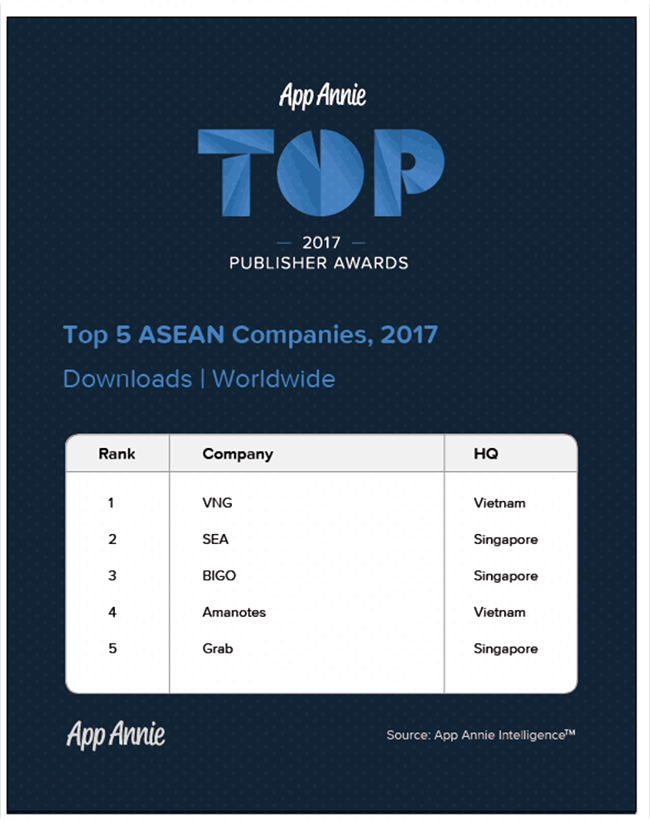 Top 30 Apps by Downloads in Select APAC Countries
The Data Behind the Awards
App Annie's Top Publisher Awards in Southeast Asia, Australia and India is based on combined iOS App Store and Google Play downloads from January 1, 2017 to December 31, 2017 inclusive. We source our data from the App Annie Intelligence Platform, which generates the industry's most accurate market estimates for the app stores. Additionally, our proprietary technology enables us and our customers to get a company-level estimate to create the rankings which are inclusive of companies' subsidiaries.
To track downloads and revenue for the world's top apps, and millions more, be sure to sign up for a free App Annie Intelligence account today.