App Annie Announces Its Top Publisher Award Winners of 2020 Blog
In our blog featuring The Top 52  most innovative and successful publishers from around the world, Asia-headquartered publishers dominate the list, making up more than half (27) of The Top 52, including five of the top ten ranks. The United States had the most top publishers of any country, with 17.
In addition, we also looked at publishers based in Southeast Asia that are driving success worldwide via app downloads and saw a diverse group from Vietnam, Indonesia and Singapore in the Top 10 list. These publishers are leading the mobile transformation journey by disrupting traditional brands and as they join the ranks of other more established global players to become household brands.
Key highlights:
Southeast Asia is increasingly a mobile-first region and more and more activities are migrating to mobile - from gaming and entertainment to communications, finance and payments

Gaming and entertainment were at the core of mobile apps success coming from Southeast Asia, as evidenced through games like

Free Fire

by

Sea

, and video editing tools like

Likee

by

BIGO

to enhance social media posts, both of which have done well at the global level.  

Singapo

re has emerged as the headquarters for mobile app companies from where they expand in the region as well as to India which is emerging as a high growth market for mobile publishers owing to an increased adoption of smartphones




The mobile-first market of Vietnam has gained an edge over its Southeast Asia peers with four of its publishers

in the top 10 ranking including

Amanotes

,

OneSoft

,

VNG

and

BACHASoft

 

Sea

has found success not only in its home markets in Southeast Asia, but also in the high growth regions of India and Latin America. The Singapore-headquartered  publisher has taken the top spot in Southeast Asia by downloads and ranked 37th in the Top 52 by consumer spend globally

Taking a cue from

WeChat

's diverse features and functions, homegrown brands like VNG and

Grab

have both seen their core offerings expanded into other services such as media and entertainment or payments, as competition intensifies and publishers strive to gain dominance in the market by boosting engagement. As a result, both companies have seen tremendous success in app downloads last year.

Gaming and entertainment were at the core of all activities in India with

Reliance Industries

maintaining a clear lead over others. The conglomerate ventured into the world of start-ups via its Jio-branded apps with at least

13 different apps

on its app store.

Australia's Top 10 list of apps by downloads saw the three media giants:

Nine Entertainment

,

Telstra

and

Australian Broadcasting Corporation

leading the ranks while Aristocrat, whose portfolio includes mobile games,

followed closely behind ranking in the 4th position
Top Publisher Ranking by Downloads - Southeast Asia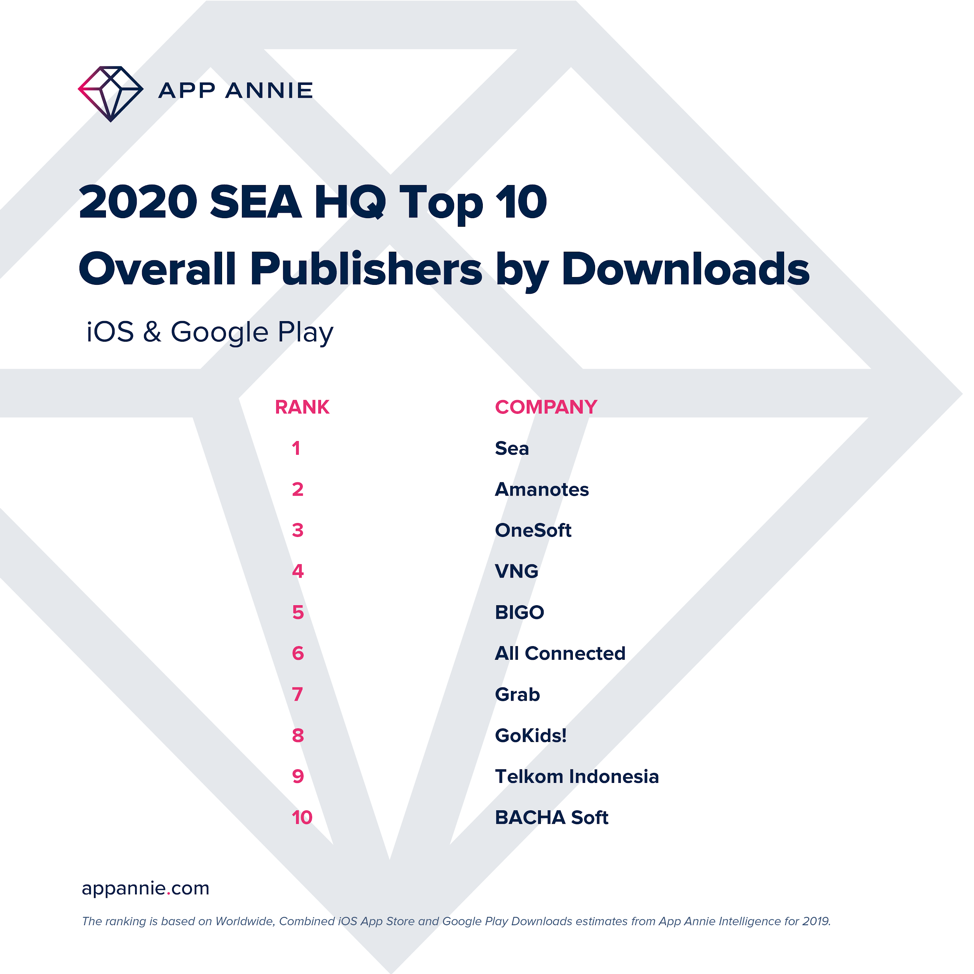 This year's TPA has come in at a crucial time when the worldwide economy is reeling from the shocks of Coronavirus. We have seen people turning to mobile for communications, productivity, entertainment and many other services.  
What is apparent is that Southeast Asia is increasingly a mobile-first region and those looking to be successful in this region must launch mobile-first initiatives to win the hearts and minds of its users and to remain relevant in the new decade.
Typically, App Annie celebrates its winners with gala events. This year, due to coronavirus concerns, App Annie unveiled a Top Publisher Awards microsite that features top publisher announcements across countries, regions, and industries. It also features videos from App Annie executives and customers, and will be updated with new articles and videos over the next few weeks, showcasing winners and their tips for success.
Want to take your mobile strategy to the next level? To track downloads and revenue for the world's top apps, and millions more, sign up for a free App Annie Intelligence account today.
*Methodology: The list is comprised of the top 52 mobile publishers by combined iOS and Google Play revenue estimates from January 1, 2019 to December 31, 2019. These rankings do not include revenue earned from in-app advertising, commerce, or payments outside of the app stores.