Learn about the latest releases for our own mobile app team and uncover best practices to apply to your own app redesign.
We spend a lot of time looking at mobile app leaders and the features and marketing driving their success. We haven't spent as much time talking about our own app, App Annie. (Didn't know we have an app? Download it now for iOS or Google Play.)
As the leader in app market data, we have a unique vantage point when it comes to picking out best practices in mobile app development. Naturally, we've worked to weave these lessons into our own app.
With that being said, we're excited to share that we've just launched a big update to our iOS app. Key highlights include:
A tab bar to navigate the single app level
The ability to compare up to four countries in our Rank History report and Analytics Dashboard
Store Intelligence and Usage Intelligence data have been brought into one view so metrics can be accessed on the same page
Major improvements to our app details, reviews and ratings pages
The introduction of gesture-based interactions
I sat down with Jenna Milano, our Senior Product Manager, Mobile, to learn more about how the team approached this new release. If you're a product manager, you'll definitely want to read through for inspiration. And if you're an App Annie customer, you can learn more about what we're doing to make it easier to surface and interpret the insights you need to inform your business decisions.
Hannah Bastian: What prompted this redesign?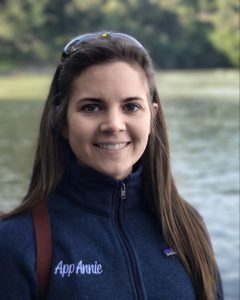 Jenna Milano, our Senior Product Manager, Mobile
Jenna Milano: We face the same situation that our customers do: People are relying more and more on their mobile devices. That's not limited to activities like messaging or shopping — it includes accessing the latest data on your app's performance and the marketplace.

As our product capabilities expand, and our customer base continues to grow, we need to scale our product experience to accommodate more on-the-go scenarios. That means finding ways to bring the most pertinent data into the app, so customers can access it whenever and wherever.
We also looked at it as a bit of a design challenge. In-app experiences have become so sophisticated — new technologies, design patterns and interactions are being introduced all the time — so we wanted to push ourselves to bring more modern thinking to our experience.
HB: What were some of the core challenges you faced?
JM: For starters, we have a lot of data and report views. Bringing that amount of data to a small screen while making it easy to access, navigate and understand is no simple feat. At this point, it wouldn't make sense to try and replicate the full web experience. We had to do a lot of quantitative and qualitative research to hone in on the data and reports that best fit an on-the-go context.
We also needed to consider how different app stores function. Some make more data available than others, or the data has different characteristics. For instance, Google Play organizes reviews by language, while the App Store organizes reviews by country. Or how only select platforms offer ratings and reviews. So not only did we need to find ways to bring those basic experiences into our app, we had to make sure that differences in data availability didn't negatively affect the user experience.
HB: So how do you go about approaching a project like this? We have so much data at our fingertips  — where did you start?
JM: It was really a balance of quantitative and qualitative analysis. First we examined our mobile app usage data. We focused on where users spent the most time and where they got tripped up. Then we examined our app ratings and reviews. This let us tap into the unfiltered thoughts of our existing user base to get a better sense of what they loved about the current app build and where we needed to improve usability.
From there, we were able to utilize in-depth user research that was conducted mid-2016. This research outlined the app's primary personas and key use cases. Using this as a guide, we began to sketch out which features we felt were the highest priority for a new release.
Once we'd mapped out our direction, it was time to start testing our user base to validate our approach. In total, we did three rounds of user testing, during which we shared proposed workflows, designs and options for data visualization. In the end we ended up with a product we were proud of and that our customers raved about.
The approach was certainly time intensive. But when you're powering the dashboards businesses reference when creating their app strategies, you have to be methodical and thoughtful.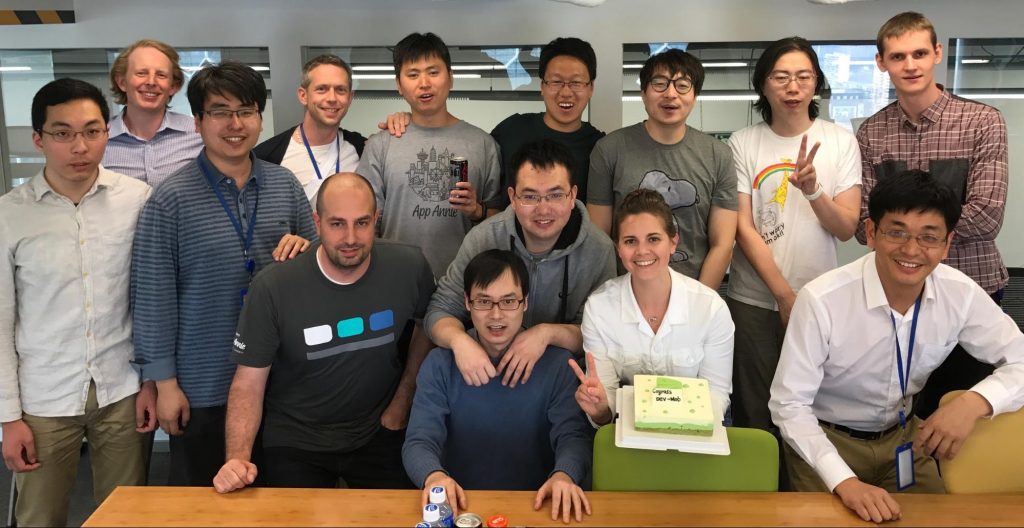 The full team behind the App Annie mobile app.
HB: So what was your release approach? Did you try and perfect the new release before launch, or did you focus on shipping?
JM: While we definitely aimed to have our release be as close to perfect as possible, it's unrealistic to hold a release until it's absolutely perfect. You'd never make it to market! Once we validated our build through user tests, we did continue to iterate and focus on small improvements before launch. Moving forward we'll continue to make small adjustments in subsequent releases.
HB: Let's dig into some of the major changes included in the recent release. Can you walk us through a few examples?
JM: Sure. There were three major changes in this release. The first one is related to navigation. We moved from a drop-down menu to a tab bar to bring more relevant information to the forefront and improve usability.
During our research, it was clear that customers wanted more ways to slice and dice the data. So we redesigned the Rank History, Analytics and Intelligence reports to bring in more data and offer more ways for customers to analyze it. Best of all, this new redesign is scalable, so it tees us up to add more data and segmentation options in future releases.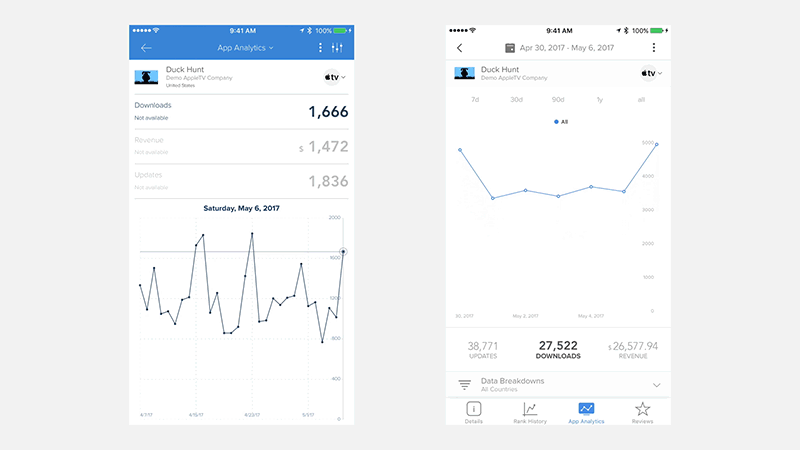 Finally, we focused on reducing the number of taps it takes to find interesting insights. To do this, we needed to bring more data to the forefront. For example, we combined Store Intelligence and Usage Intelligence into one page. Now customers can swipe through a carousel of metrics to surface key metrics, like downloads, revenue and daily active users. We also introduced common date ranges for all chart views (e.g., 7 days, 30 days, 90 days, etc.) to keep the same date ranges while navigating between reports.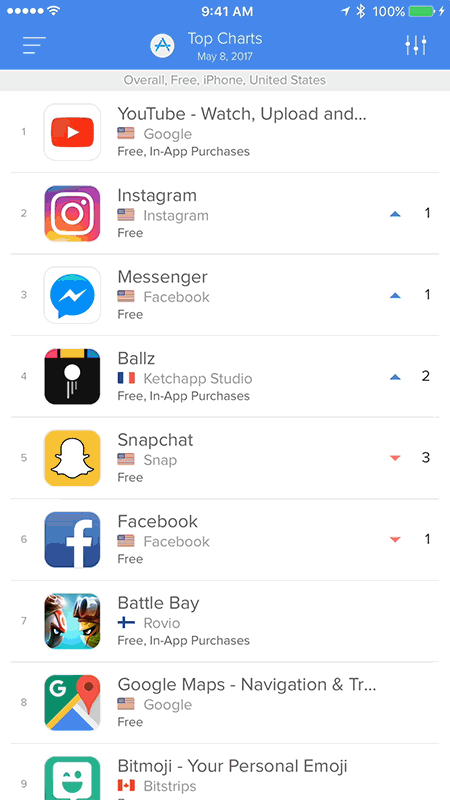 HB: That all sounds awesome. I noticed the new release is only available on iOS. What drove that decision?
JM: It was a strategic decision. Given how significant the changes were, we wanted to test thoroughly our main use cases, receive customer feedback and make the necessary changes before bringing it to Android. Doing this on both platforms concurrently would be double the effort.