The App Annie 52 celebrates the app world's top earners of 2015. Since we're on our fourth year with these awards, we're changing things up. This year, we're spotlighting the publishers that mastered the app stores — with the goal of uncovering how they've been able to rise (and remain) among their many competitors.
Today, we're spotlighting King (#2) and Supercell (#1).
King Turned Candy Crush Into a Household Name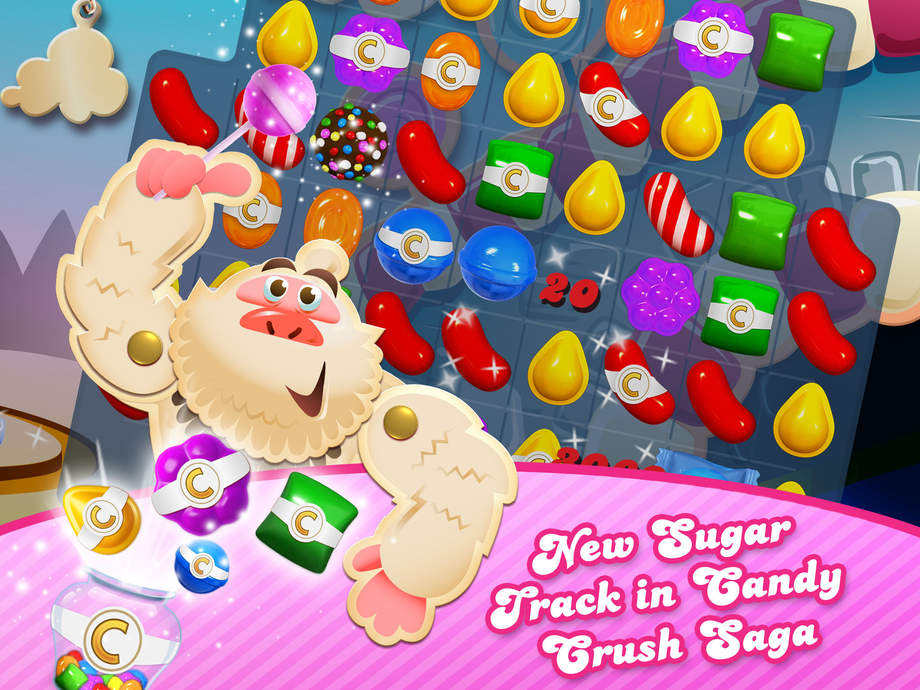 While King is mostly known for its Candy Crush Saga franchise, the company successfully managed to extend its game portfolio over the course of 2015 in the pursuit of new revenue sources. In 2015, King — recently acquired by Activision Blizzard for $5.9 billion — expanded beyond match-3 games by releasing titles such as Paradise Bay and AlphaBetty Saga.
Still, the juggernaut Candy Crush franchise was the key driver in both revenue and downloads for King. In 2015, Candy Crush Saga was ranked #2 by downloads and #5 by revenue worldwide, while its sequel, Candy Crush Soda Saga, ranked #4 by downloads and #7 by revenue. What is most interesting is the franchise's longevity — despite the ever-decreasing lifecycle of mobile games, Candy Crush games have managed to stay at the top of the charts for long periods of time.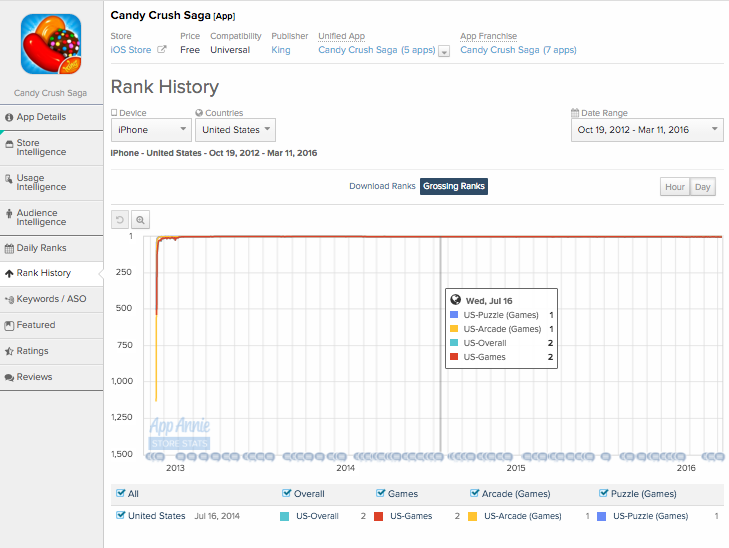 Candy Crush is still in the top 10 in the iOS App Store in the US nearly 4 years after its initial release.
But Candy Crush Saga is not the only game from King to enjoy an extended lifespan — franchises like Pet Rescue Saga and Farm Heroes Saga also stayed in the top charts for over two years.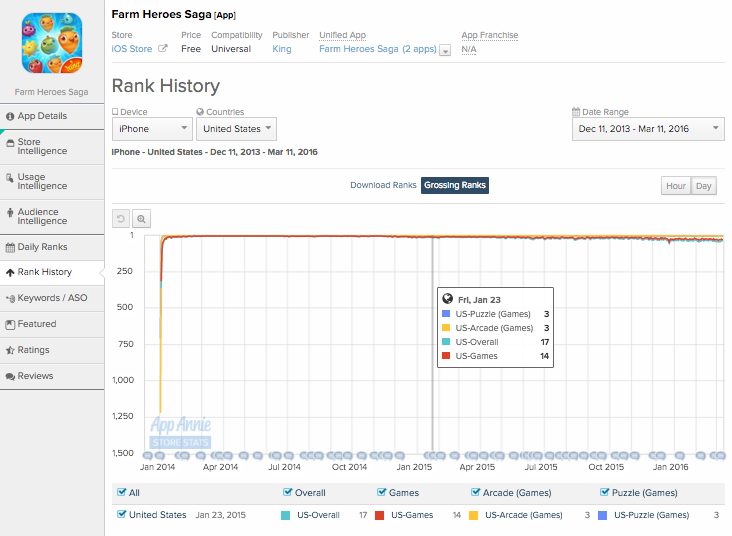 Farm Heroes Saga, another match-3 hit from King, also stayed in the top charts for more than 2 years.
In order to make its games a long-term success, King resorts to a vast array of tactics to keep players engaged. for example, the company uses machine learning to understand players' behaviors and keep them hooked, similar to how gambling games operate. In addition, they strive to continually acquire new users with heavy marketing spend and cross-app promotion.
Although ad-free, King games are systematically promoting the publisher's portfolio in many different ways. (Source: Quibb.com)
What Does King Have in Store for 2016?
In January, the company successfully launched the third sequel of the Candy Crush series, Candy Crush Jelly Saga, which ranked #2 in downloads on both the iOS App Store and Google Play Store in January 2016.
The company is currently soft-launching sequels for Pet Rescue Saga and Farm Heroes Saga in an attempt to capitalize on the success of their predecessors. One thing seems clear: King's hit franchises are the company's most valuable assets and they're being smart by working to make the most of them.
Supercell Reigns Supreme for Freemium Strategy Games

Taking the top spot on the App Annie 52 for two years running, Supercell's success is all the more impressive considering its small portfolio. In 2015, the company didn't launch a new game, but rather concentrated its efforts on maximizing its existing franchises.
The cash cow of the company, freemium strategy game Clash of Clans, is the main revenue driver for Supercell, although its other games are also doing well. The publisher's games are most popular in the US and China, but they're played nearly everywhere.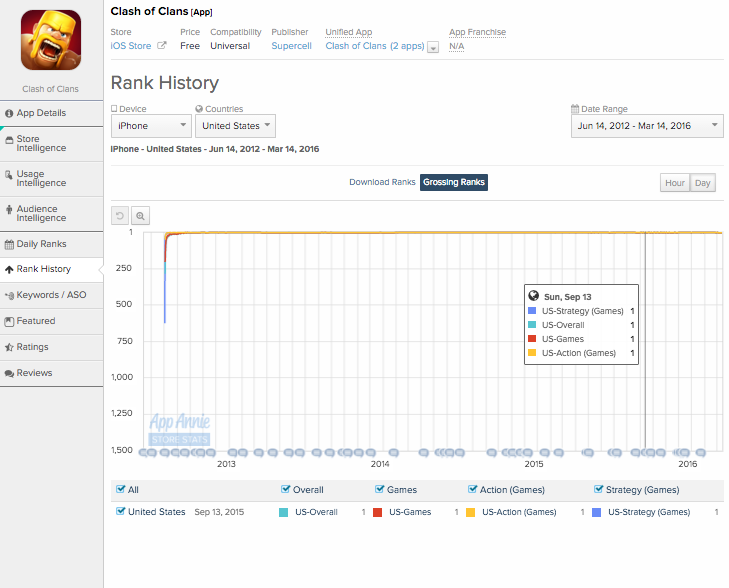 Clash of Clans and Candy Crush Saga have one thing in common: their exceptionally long app store lifespans.
On March 7, 2016, Supercell announced an impressive $2.3 billion in revenue and $930 million in profit. The company claims 100 million daily active users worldwide. They've found ways to push the envelope with user acquisition thanks to all the revenue they've saved up — including a $9 million Super Bowl TV spot.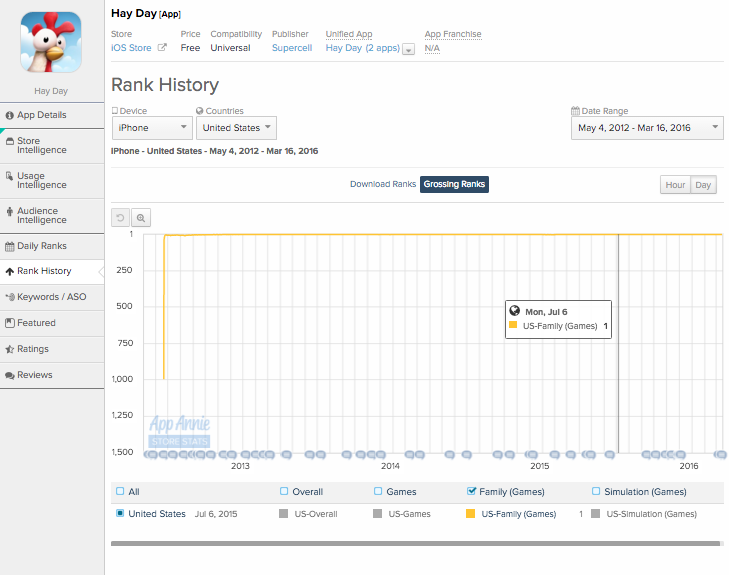 In addition to Clash of Clans, Supercell's apps have staying power years after launch. Here, Hay Day is still #1 in Family (a Games sub-category) on iOS in the US almost four years after launch.
What Is Supercell's Strategy in 2016?
After a successful soft launch in early 2016, Clash Royale, the company's fourth mobile game based on Clash of Clans' characters, stormed the charts in March. With this new title, the company aims to make lightning strike twice — as it's become the go-to reference in strategy mobile games.
We spoke with Ilkka Paananen, CEO of Supercell, to get his thoughts on making the Top 52 yet again. "We started Supercell to make games that people would play for years. So it's a real honor to be part of App Annie's Top 52 again, and to be #1 for the second year in a row. I feel that if we stay focused on this very idea, with some luck, even better games will follow over the years to come."
Playing a Royal Flush in the Global App Economy
King and Supercell are poised to fight for #1 in 2016. Given how much they have in common, it's sure to be a battle worth watching:
Both draw their success from small and strategic portfolio: you don't necessarily need 200 apps to reach the top.
Both focus on the long-term: they concentrate their efforts on maximizing the lifespan of their franchises.
Naturally, these efforts have a high cost, and they each spend a significant amount on user acquisition.
And that wraps up our highlights for 2015's App Annie 52. To see our other features, click below:
Start Building a Better App Business
Subscribe to see more app industry reports, conference updates and guides. Have something to add? Share your questions and comments on Twitter.
Want to take your app business to the next level? Create a free account to dive deeper into Store Stats or request an Intelligence demo.