The App Annie 52 celebrates the app world's top earners of 2015. Since we're on our fourth year with these awards, we're changing things up. This year, we're spotlighting the publishers that mastered the app stores — with the goal of uncovering how they've been able to rise (and remain) among their many competitors.
Today, we're spotlighting InterActiveCorp (#38) and Caesars Entertainment (#15).
InterActiveCorp (IAC) Monetizes Singles' Social Networks

When you think of online dating, one of the first names that probably comes to mind is Tinder. But did you know Tinder's parent company, InterActiveCorp (also known as IAC), controls apps that span a range of categories like Photo & Video (Vimeo), Reference (Dictionary.com Dictionary & Thesaurus) and more? Its dating apps are housed under Match Group (whose Head of User Acquisition we interviewed last week), and it's showing the world just how lucrative the dating market can be.
When it comes to monetization, dating apps are far and away what fuels IAC's monetization machine. While its cumulative dating app revenue comes primarily from the United States, it's also seeing success in other regions, particularly the United Kingdom and Brazil.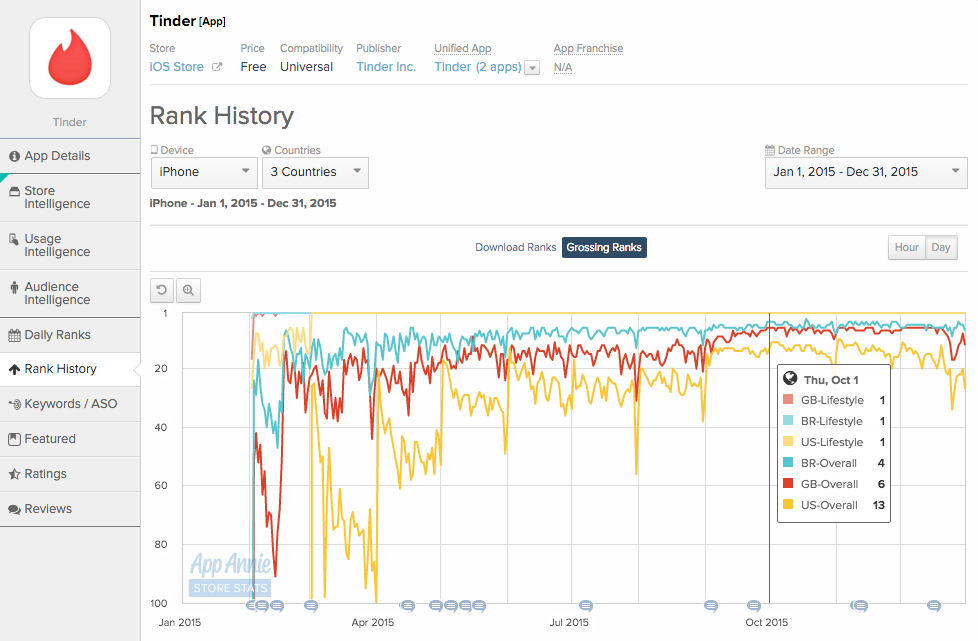 Soon after introducing its subscription model on February 2, 2015, Tinder became a top-grossing app in many app stores, including the United States, Brazil and the United Kingdom.
Tinder drove a large portion of this revenue in 2015 (which stayed within the 50 top-grossing apps on iOS in the aforementioned markets for most of the year), but POF Online Dating, Match.com and OkCupid Dating all helped IAC reach #38. Once Tinder introduced its subscription model in February 2015, we saw the publisher break into the App Annie Index as a top-grossing company.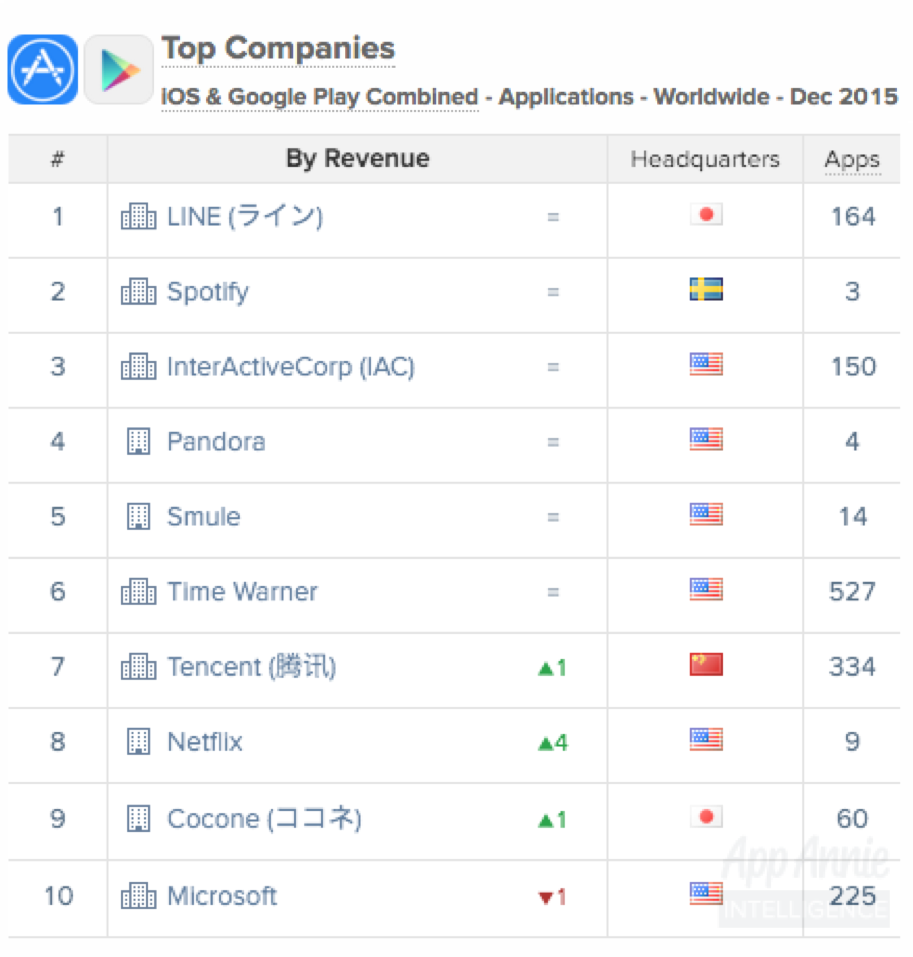 IAC's dating app portfolio helped it break into the App Annie Index.
IAC is a great example of a publisher that gets how to succeed on the app stores:
It knows how to build — and cross-promote — its biggest brands to leverage network effects. In fact, Audience Intelligence shows there is a strong affinity for Tinder users to also use other dating apps, including others from IAC.
It hasn't settled for just dating apps — it's expanding its portfolio into categories exhibiting both high and long-term growth.
It's thinking about all layers of monetization: in-app subscriptions, in-app purchases, advertisements and more.
This is a publisher to watch in 2016 as it continues to expand — both regionally and across categories — and continues its mission to be the biggest (behind-the-scenes) name in dating.
Caesars Entertainment Holds All the Right Cards

Switching gears from dating — yet something that can be just as social — we're spotlighting Caesars Entertainment. The company, best known for its Las Vegas casinos and resorts, has been making a name for itself among mobile users for a while now. Its popular social casino games helped the publisher make the App Annie 52 for the third year in a row, this time at #15.
Caesars Entertainment holds some of the best-known names in casino gaming under its Playtika umbrella, including Slotomania and World Series of Poker. Like IAC above, the publisher is realizing most of its revenue from the US, with other Western markets like Canada and Australia contributing as well.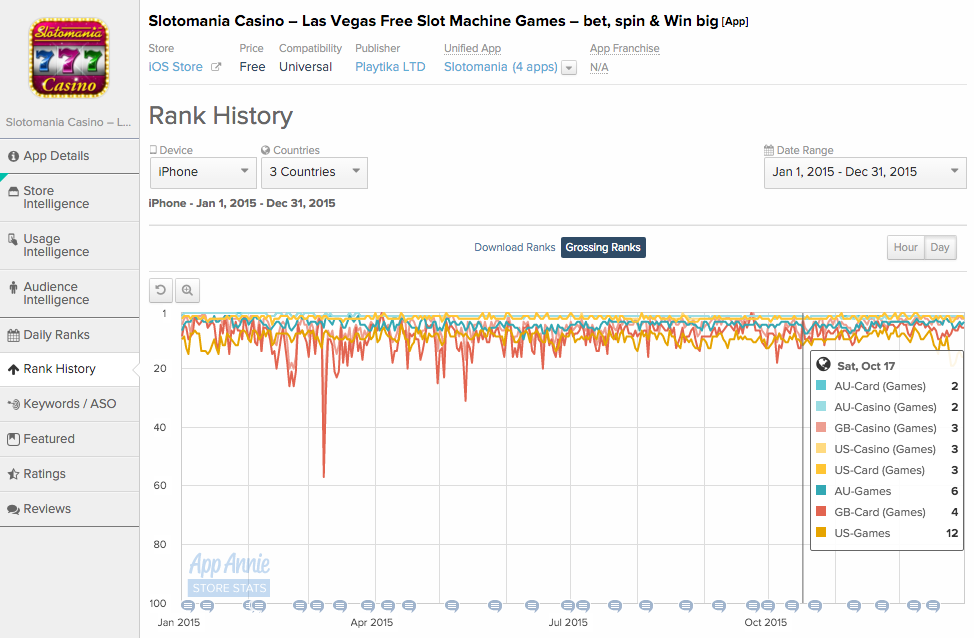 For most of 2015, Slotomania remained a top-20 grossing game (and top-5 Card or Casino game) in the US, Australia and the UK.
These two brands drove the lion's share of revenue, but even more important is how much mobile games contributed to revenue and overall division growth. According to the company's Q4 earnings report, its Caesars Interactive Entertainment division was up 30.6% year over year for 2015, and it attributed 95% of Q4 2015's $209.2M revenue to its social and mobile games.
Caesars Entertainment credited this growth to focusing on player conversion and monetization, turning free players into paying users through clever mechanics and UI optimizations. Yoni Ushin, VP Creative at Playtika, released a 2014 presentation that dives into how the publisher approached this challenge — which obviously paid off.
There is plenty of unclaimed territory in social casino gaming, and Caesars Entertainment is poised to claim even more in 2016.
Playing a Royal Flush in the Global App Economy
InterActiveCorp and Caesars Entertainment have what it takes to succeed in the mobile games space. A good strategy — encompassing product, marketing and more — is essential to make our monthly App Annie Index rankings, and in turn, rank in our annual Top 52. Apply these lessons and maybe your company will appear on our Top 52 list in 2016!
Stay tuned to our blog, as in the coming days and weeks we'll be featuring more of the Top 52 mobile app publishers.
Start Building a Better App Business
Subscribe to see more app industry reports, conference updates and guides. Have something to add? Share your questions and comments on Twitter.
Want to take your app business to the next level? Create a free account to dive deeper into Store Stats or request an Intelligence demo.