In our annual rankings, we take a look at the publishers leading the app economy.
Today, we're pleased to announce the top publishers of 2016. Earning a spot on the Top 52 is a special honor, reserved for the top-earning publishers on the iOS and Google Play stores.
This year saw some major shake-ups as well as a few fresh faces. Check out the full list below.

The Analysis Behind the Cards
Big Changes in the Top 10
Typically the top 10 undergoes very little change year over year. However, this year proved to be an exception, with three new entrants to the top 10. Additionally, we saw some shifts in the ranks, with Tencent climbing to the top spot (up from #6 in 2015) and NetEase jumping from #9 to #3. Most notably, Niantic made its first-ever appearance on the charts, due to the record-shattering success of Pokémon GO.
The United States and Japan Led the Pack
Year over year we see that Asian-Pacific publishers dominate the Top 52. This year was no exception, with 30 of the top publishers hailing from that region. But when we look at the country breakdown, it's clear that the United States and Japan are producing some of the most influential and successful publishers.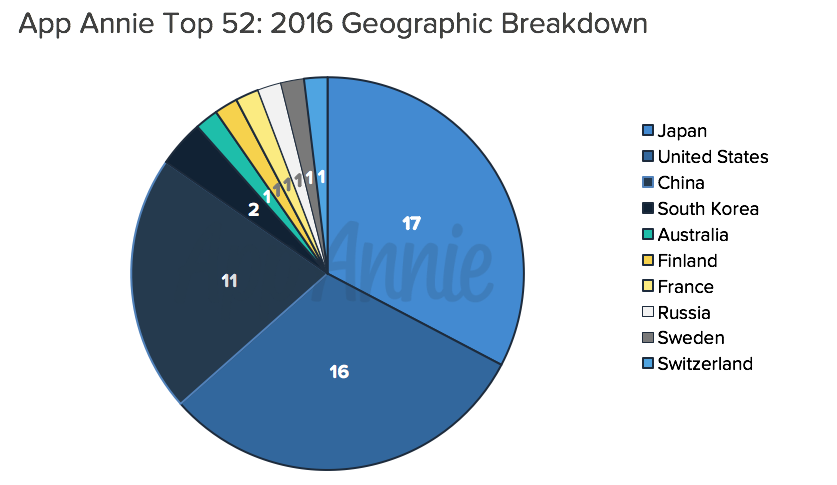 The Data Behind the Cards
The App Annie 52 is comprised of the top 52 earners by combined iOS and Google Play revenue from January 1, 2016 to December 31, 2016 inclusive. Revenue rankings are based on revenue earned from paid downloads and in-app purchases on the iOS App Store and Google Play Store. They do not include revenue earned from in-app advertising or subscriptions outside app store channels.
We source our information from App Annie Intelligence, which generates the industry's most accurate market estimates for the app stores. We then tie everything together with our DNA technology to get a full picture of whole companies — including their subsidiaries.