Today we're excited to announce the release of a brand new App Annie Intelligence product - Audience Intelligence.
Defining the user profile for your own app, and understanding the user base of your competitor, is a significant challenge within the app industry. Knowing your app's audience often involves aggregating fragmented, disparate and incomplete data sources, while insight into the competition can only be gathered in-part from press and earnings releases, or inaccurate triangulation from other sources.
Audience Intelligence for iOS and Google Play delivers demographic estimates and cross-app adoption rates for thousands of apps. Comprised of two proprietary data sets named Demographics and Related Apps, Audience Intelligence allows you to analyze an app's customer profile and identify other apps that customers with this profile also use, be it for your own app or your competitors'.

Improve Your User Acquisition, Business Development and Product Management Strategies
With Audience Intelligence you can:
Gain a deeper 

understanding of the users you want to acquire, so you can get the most from precise targeting on major ad platforms such as Facebook or Twitter.

Identify apps with a strong shared user base outside of your category to leverage partnerships or direct advertising deals.
Improve your product strategy by conducting competitor analysis to identify demographic groups you may be under-serving.

Great-Looking Reports Deliver Actionable Data
The Demographics dashboard delivers user profile estimates by app, country, month and store with metrics on gender, age, income, family size and more.
Demo data - for illustrative purposes only
In Related Apps, you can select a specific app and see which apps share a large portion of users with it, with data filtered by month, country and store.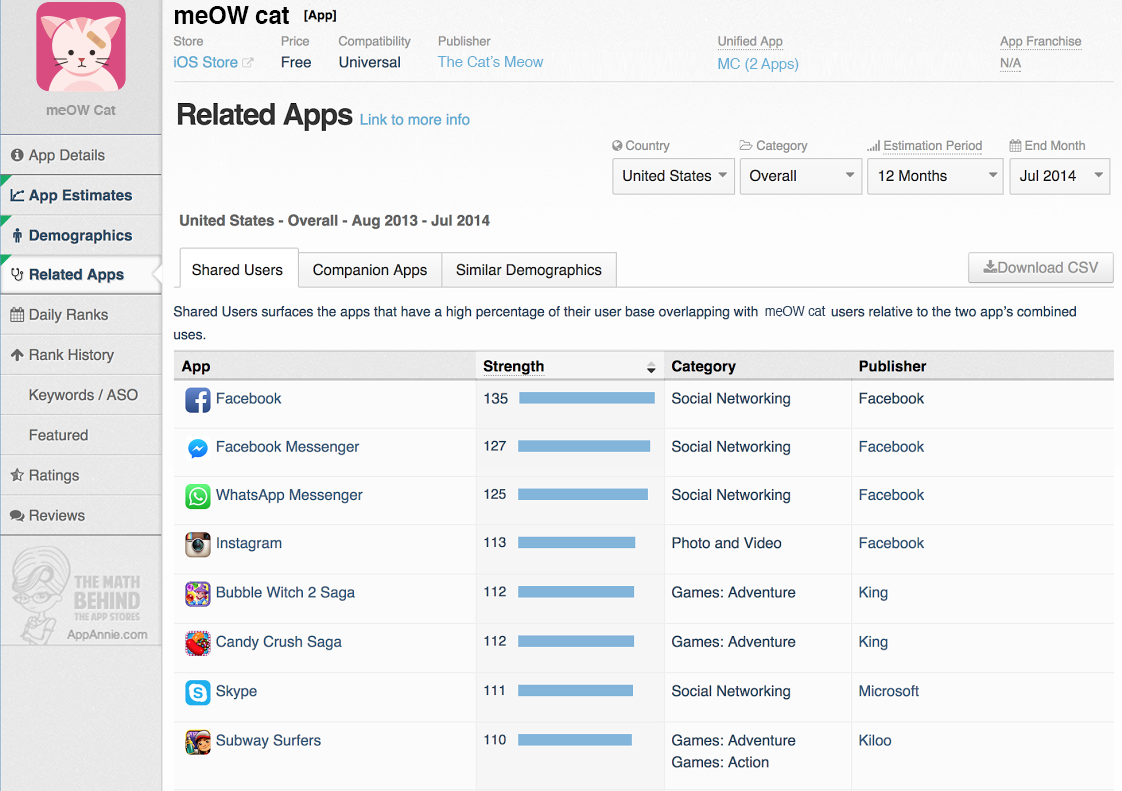 Demo data - for illustrative purposes only
In Sentiment Analysis, you can measure which apps perform best on metrics such as stability, usability and stickiness - coming to Audience Intelligence later in 2015.

Rely Only on the Most Comprehensive Methodology
As individuals download apps, leave reviews and comment on social media, they are generating billions of footprints that show where they've been and what they've done. App Annie has spent the last few years building a big data infrastructure that aggregates, anonymizes and analyzes these footprints in order to construct a clear demographic profile of a mobile app's user base. This allows us to deliver the industry's widest and most granular data set for more apps than any other mobile analytics company.

Find Out More! 
To find out more about Audience Intelligence check out the video below. Or schedule a free demo with our team here.

Looking for More App Market Insight?
Store Intelligence is the industry leader in app market data, delivering unprecedented insight into the app economy with the most accurate estimates of app sales and revenue performance by app, publisher, country and category, for all major stores.
Find out more at www.appannie.com/intelligence.
Keep track of all the latest feature announcements here on our blog, we've got plenty on the way soon!
Best,
The App Annie Team