So you watch the app store rankings every day using Store Stats. But did you ever wonder which app publishers are actually making the most money in the world today? Sure, you can assume that the Zyngas, EAs and Rovios of the world are all up there. But what about smaller independent developers like Nimblebit and Andreas Illiger? Who really are the app publishing elite?
Well, we were wondering the same thing. And we decided to use the advanced market data we have from App Annie Intelligence to share with you and the wider app developer community, the "All-Stars" of the app publishing world, based on their total 2011 grossing revenue for iOS worldwide. Furthermore, we decided we'd make them into a premium collection of baseball-style cards that you can collect, analyze and share with all your game developer friends. Have a look below.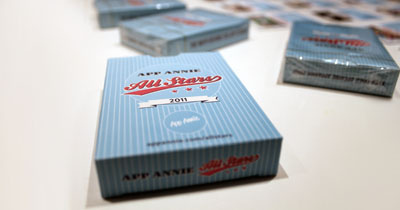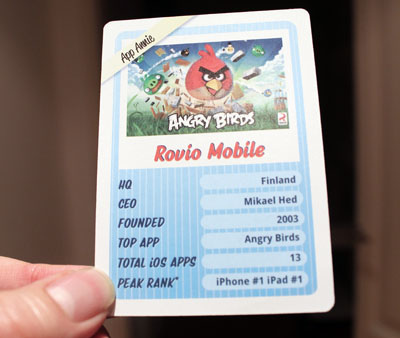 Who are the All-Stars? Show me the money.
The question everyone wants to know. Who are the Top 50 app publishers in the world today? Who's making the most money? If you aren't lucky enough to get your grubby hands on the cards themselves, we'll be releasing them digitally via this blog over the next couple of weeks.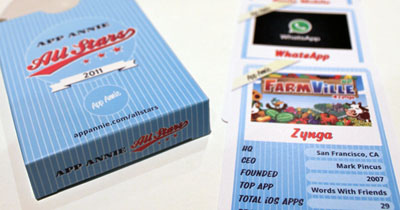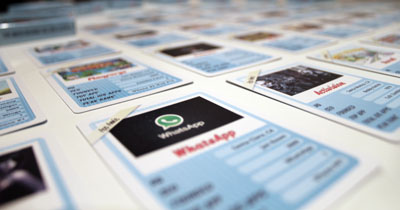 What kinds of apps feature in the All-Stars?
The least surprising insight is that the majority are game publishers. In fact, 36 of the top 50 to be precise. Interestingly, navigation and productivity app publishers also earned healthy revenues this year. And even some of the more successful apps in music, social networking and photography made it into the list. Check back to this blog to find out who the mystery app publishers are.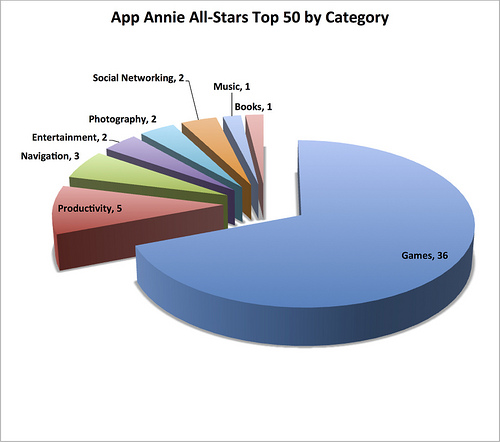 What are all the stats on the cards?
On each and every card, you'll find unique information about that app publisher. This information is all based directly on Apple ranking data which can be monitored, crunched and analyzed in our Store Stats product.
HQ
CEO
Year Founded
The company's most downloaded app
Total number of iOS apps
The company's peak rank in the App Store for iPhone and iPad US Grossing Charts during 2011
Top 50 app publishers? What data is this based on?
How do we know which app publishers earn the most money? Math, statistics and data. Our premium service App Annie Intelligence utilizes advanced statistical models combined with anonymized datapoints to generate the most accurate market estimates available for app stores today. We then define the Top 50 in terms of total worldwide iOS revenue from January to December 2011 inclusive. If you'd like to stay abreast of app store economy trends, click here to learn more about App Annie Intelligence.
App Annie All-Star 2011 Collection, available at GDC Smartphone & Tablets Summit, 5-6 March @ Moscone Center
We've teamed up with the lovely folks at GDC to bring you more App Annie goodness. Come visit the App Annie tabletop. You can pick up a deck (one per person) at our booth in the Smartphone & Tablets Summit.
I won't be at GDC, but I really want those cards! Don't worry, we serve app publishers worldwide so we plan to make the All-Stars available in some way to all of you. Look out for App Annie at future events around the world in 2012, and if you're lucky you can pick up more packs of All-Star cards. If you really really really want the cards, please let us know on our App Annie All-Stars Facebook post. Petition us, and we could think of something here.
That's all for now folks. We'll be back over the coming days to bring you more in-depth information about the All-Stars.
See you at GDC!
- The App Annie Team