Learn more about data.ai Intelligence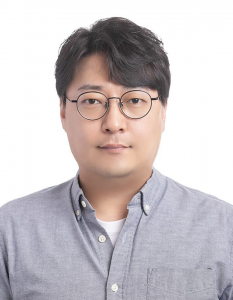 Wemade Play has been an innovator since its formation in 2009. Throughout its history it has paid close attention to player, technology and market trends. 
It still does. And today, it relies heavily on data.ai to unearth the insights that make its games more compelling and its marketing more productive.
We talked to Dongha Shin, head of business development at Wemade Play, about the company, its approach to data and its use of data.ai tools.
How significant is data-driven decision-making to Wemade Play?
It's incredibly important. Mobile gaming is challenging. There are so many trends to get your head around – the need to diversify your content, changes in the user base etc. You have to know what the users think, and data is the best way to find out.
Can you give an example?
Well, if you think about something simple such as user sentiment. It's difficult to tell from reviews and sales alone, which content is most popular, which content is losing its appeal, or what the users response was to a particular event or change. It's only through data that you get a true picture.
What are the key data points you look at? 
We're analyzing the data at all phases of a game launch: the initial market research phase; the pre-launch period; post-launch when we are trying to secure as many new users as possible; and finally the stage where the game is established and we are trying to promote user re-engagement or in-game purchases. 
But to give a more focused answer of how we use data, I would narrow it down to two things:

The first is

trend identification

. We check the data to see which games are popular in which region, analyze changes in the rankings, explore the concepts being used in new games and track games that have undergone big changes or altered their structure in some way. 

The other category is

engagement

. Obviously, we look at user numbers and sales, but

the data I find most useful is user retention and session numbers

. We make puzzle/casual games, so first we need to attract a lot of users – and then we need those users to play the game again and again. It's why I frequently analyze whether we managed to get the user to come back to the game the next day, and how many times they started a session in 24 hours.
Can you share any tips on how to make good data-driven decisions? 
During the market research stage, check the metrics by country and assess the performance of other games in the same category as your planned game. This way, you can get a good indication of the overall potential of the genre.
During the development stage, look into the characteristics of games that are doing well. Monitor which game elements are present in those titles and what type of BM it contains.
Before and after launch, look at the data on user acquisition. You can get a lot of insight from studying user acquisition numbers resulting from paid or organic promotions. Also, look carefully at the effects of changes to ASO. 
Could you share an example of how you applied data-driven decision-making to a particular title? 
Although we are known for Anipang, our biggest success globally was actually Disney Pop Town, a game we made in collaboration with Disney.
We checked and analyzed a lot of data while developing this game. We used data.ai tools to assess the popularity of similar genres and IPs by country, and then honed our main target countries based on this analysis. It played a big part in how we were able to achieve the great results we did.
How do you use data.ai? 
I use data.ai daily. I'd say Game IQ is what I use the most. It's really useful because it shows data such as market size, top companies and games all in one place, and lets you filter content by genre and features etc. I use it daily.
data.ai saves us a lot of time and human resources by checking popular game genres and functions of competitors or countries without the need to download the apps. Before data ai, we used to spend 4 weeks on market research to enter new markets. Now it just takes us one week.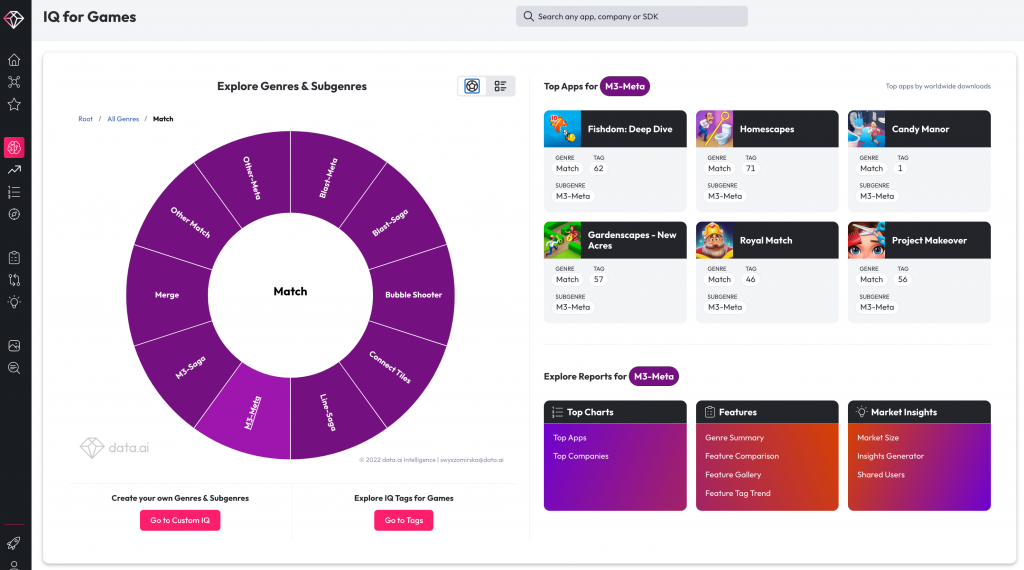 To be more specific, I really like the  features analysis (that provides engagement metrics per genre, subgenre; feature tag popularity; assess feature difference by viewing head-to-head comparisons, and more), which is available only on the data.ai platform. I use it to compare features, styles and Business Models across all content, and it helps us to understand if we are lacking something in our products.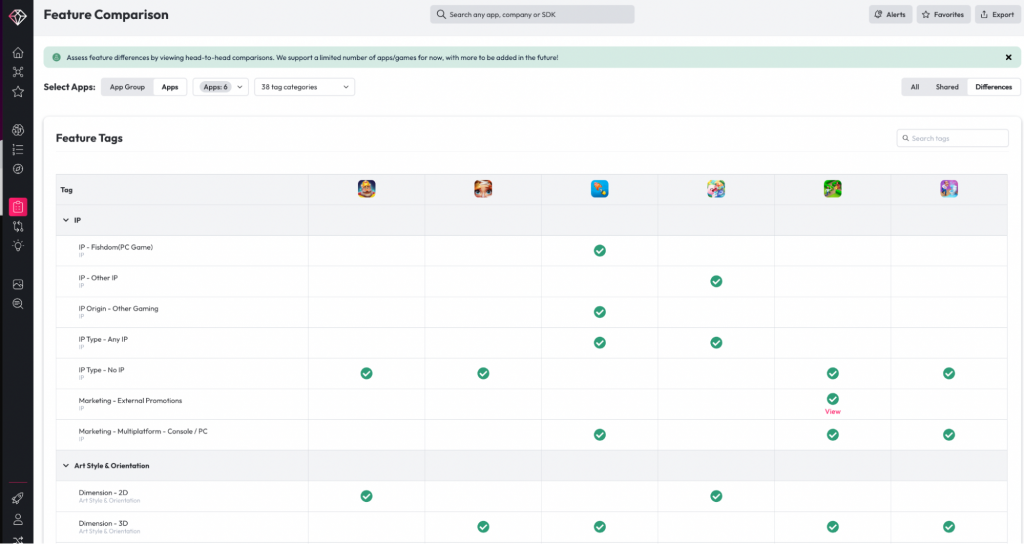 We've also been very interested in First Time User Experience" (FTUE) lately, a feature that has proved incredibly useful for us to monitor this relevant metric.