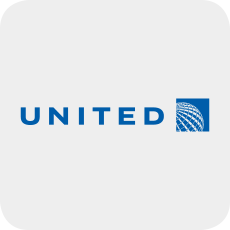 Industry:
Travel
Headquarters:
Chicago, Illinois
Most popular app:
United Airlines
Learn more about data.ai Intelligence
Overview
United Airlines, headquartered in Chicago, is the world's third largest airline measured by revenue. In 2016, United Airlines and United Express operated over 1.6 million flights carrying more than 143 million customers to airports across five continents. The airline prides itself on having the world's most comprehensive route network, including service at 338 airports and U.S. mainland hubs in Chicago, Denver, Houston, Los Angeles, Newark/New York, San Francisco and Washington, D.C.
Challenges
United Airlines is committed to providing its customers with a level of service that makes it a leader in the airline industry. Its goal is to make every United trip a positive experience for its customers, from start to finish, including streamlined booking and boarding and on-time departures and arrivals. To clearly articulate its dedication to customer service and company performance, the airline developed its 12-point United Customer Commitment to share with customers. That dedication to customer service extends to United's mobile app.
"We understand that travelers want a hassle-free, seamless and intuitive experience," explains Matt Lincoln, United's Manager of Digital Strategy and Insights, "and we are committed to delivering a continuously improving experience for our customers that empowers them by leveraging mobile technology. To that end, we've created and are constantly working to improve the United Airlines mobile app." The United app provides access to the most frequently used travel tools including booking, check-in, flight status and access to MileagePlus account information.
While United's mobile app furnishes travelers with a great deal of functionality designed to help it deliver on its Customer Commitment, the company knows that in today's market, a good app is often the differentiator among competing companies. Apps are also an efficient way to respond to customers' evolving expectations for seamless transitions between a digital and physical experience.
To guide its mobile product strategy for customers and to extend mobile app functionality to its employees, United's digital planning and development team relies on information from data.ai Intelligence. Specifically, data.ai Intelligence provides United with critical information that allows it to:
Understand how its app is performing compared to those of its competitors
Capture customer app reviews to prioritize new feature development
Track app usage to gauge the value customers place on specific features and to identify features that need to be more user friendly and engaging
Results
Within United's IT department and eCommerce team, both product managers and the engagement and marketing teams use data.ai Intelligence products to:
Understand user engagement through metrics such as active users, market penetration, duration and frequency of use
Analyze and maintain its lead in active users
Gain visibility into its mobile app user base by demographics and cross-app usage patterns to steer its product development and marketing efforts
Analyze downloads by app store platform to inform its app store strategy
Determine which notifications contribute to retention and open rates
Get started
Want to know what data.ai Intelligence can do for you? Sign up for free and start tracking the performance of millions of apps across app stores, devices and countries.