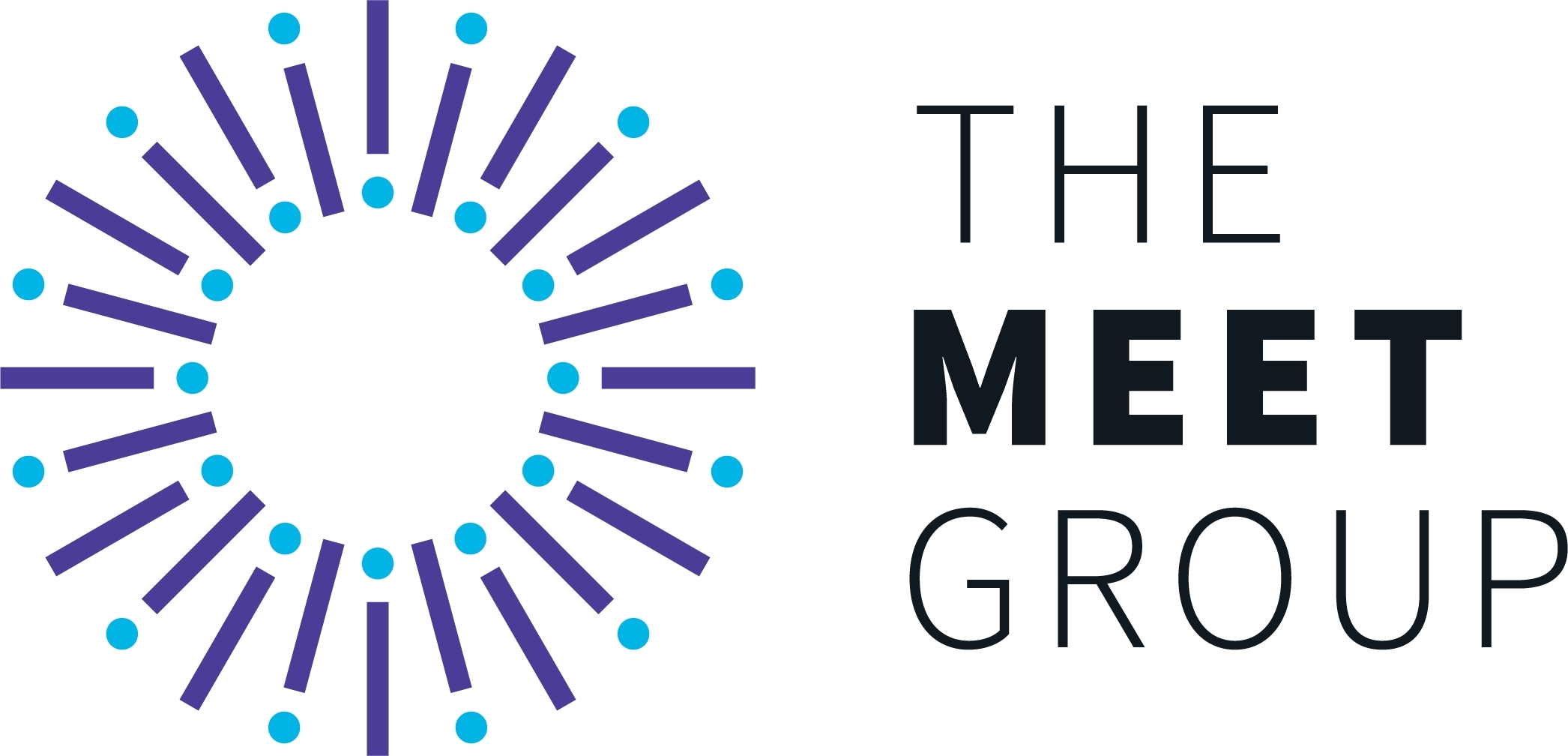 Industry:
Social Networking
Learn more about data.ai Intelligence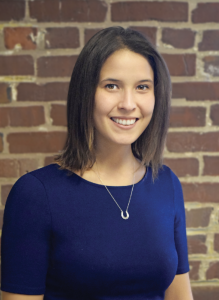 Live video streaming is powering the ascendancy of social apps. It is creating a new economy – providing opportunities for live entertainment and direct creator compensation. Indeed, our numbers show that the market's top 25 live video streaming apps supported a $3.8 billion economy in 2021.
This is great news for The Meet Group. Why? Because this US-based company is a leading player in both markets.
The Meet Group was a very early pioneer in the digital dating space. It launched in 2005 and built a portfolio of consumer-facing mobile apps and services over the next decade.
In late 2016, The Meet Group developed a livestreaming video platform to support these services. It quickly realized other companies needed this capability too, and that it could re-sell this platform to serve the fast-growing social, dating, and influencer markets.
Just over five years later, its Livebox offering connects brands with nearly one million creators and a potential audience network of approximately 30 million global users every month. The company says it produces more minutes of video per day than Netflix has in its entire catalog.
The Meet Group is now in a slightly unusual position. It runs its own services and also partners with third parties. It is active in both the B2C and B2B app spaces.
To stay on top of its strategy in such fast-moving markets, The Meet Group relies heavily on in-app and industry-wide data insights. Which is why it works closely with data.ai.
In this exclusive interview, we talk to Catherine Connelly, co-founder and SVP of Marketing at The Meet Group.
The Meet Group has a pretty broad remit. How do you summarise your offering?
We are the go-to provider of livestreaming video and creator economy solutions for some of the world's top social apps. We connect millions of people every single day — while also giving brands new opportunities to monetize and engage their audiences.
And on the consumer side, we have a portfolio of apps that span digital experiences from virtual coffee shops to friendship finders, adventure planners, dating icebreakers, and more.
Your Livebox business puts you in the B2B space, which has different dynamics from B2C dating and social apps. Can you describe the thought process behind that?
In 2016, we began acquiring similar social apps to our own MeetMe product. We wanted to double down our bet on livestreaming video. We believed video was the right way to go, and we wanted to be ready to expand the product to bigger audiences and scale to a larger footprint.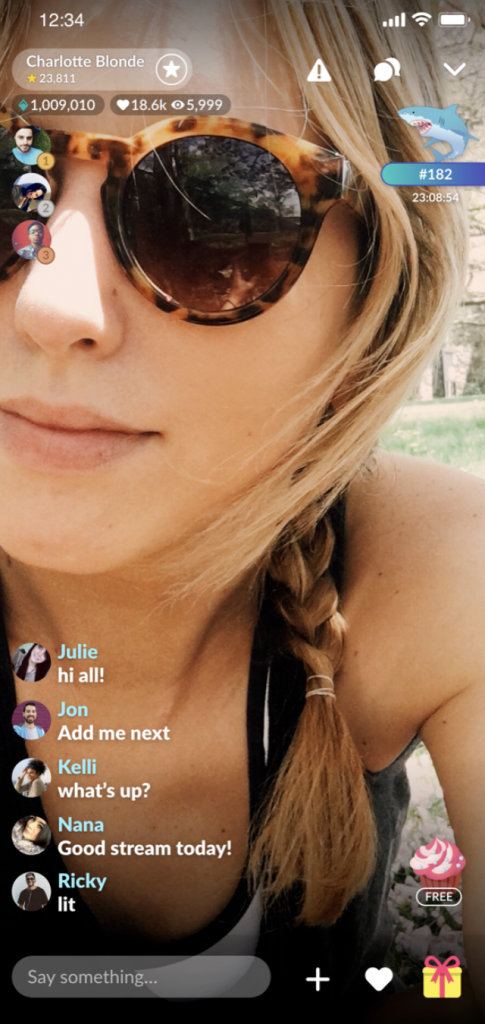 What part does data analysis play in your B2C and B2B operations?
The Meet Group is obsessed with learning as much as we can about the industry. It's the best way to grow, innovate and meet emerging customer needs. For B2C, the important thing is to be able to benchmark our performance against our competitors. To be more specific, to understand how we compare in terms of retention, visibility, downloads, active users, ratings, and creative.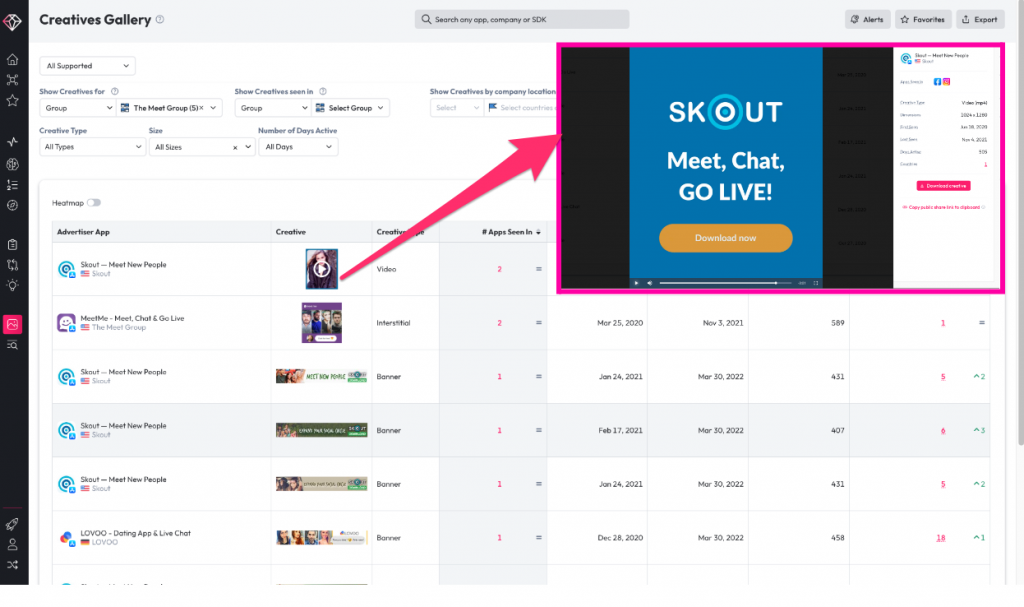 In a B2B context, we use data.ai to research prospective Livebox partners, assess new opportunities, and create partner communications/models that will be well-received. 
Our Livebox partners do provide us with data on their apps. But in some cases, where partners don't provide metrics, we find data.ai to be really useful for supplying hard-to-get metrics such as DAU.
Why did you choose data.ai as your data partner?
We've been working with data.ai for many years. We find its estimates for downloads, DAU, and revenue tend to be closest to the 'real' data we've seen from competitors. It's a robust tool and also captures many use cases in one.
What does data.ai offer that is a critical differentiator for you?
Cross-app usage and cross-app affinity data is particularly helpful. I can't think of other tools that supply this. It is so useful for seeing how many of an app's active users are also active users of another app – and how an app may over or under index on that measure. 
It's especially useful for us because it helps to identify potential Livebox customers, marketing partners, and to judge what types of features may best resonate with a particular audience.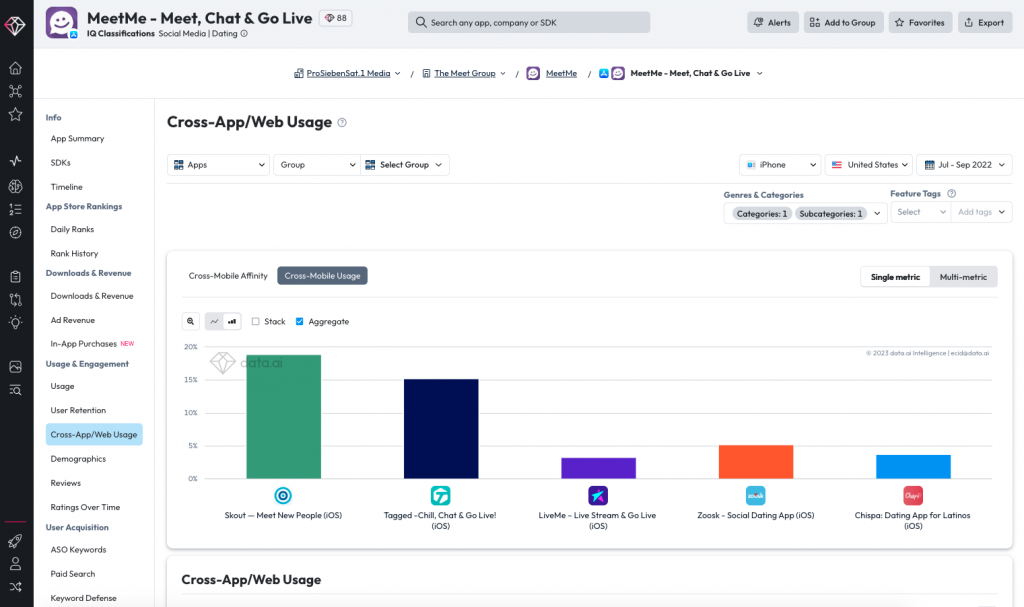 How does the team use the tool on a day-to-day basis?
Most often to craft our performance marketing strategy. It's useful to see the creative ideas other apps are using and note changes in their share of paid and organic downloads and SOV for different terms. 
Can you think of a time when data.ai helped with a specific marketing campaign?
Recently a competitor did a rather splashy marketing promotion. It was similar to something we had considered in the past. So we were curious to see if it resulted in downloads. Since we knew the rough costs associated with it, we were able to use data.ai to see if the campaign did in fact drive meaningful results in the weeks after launch.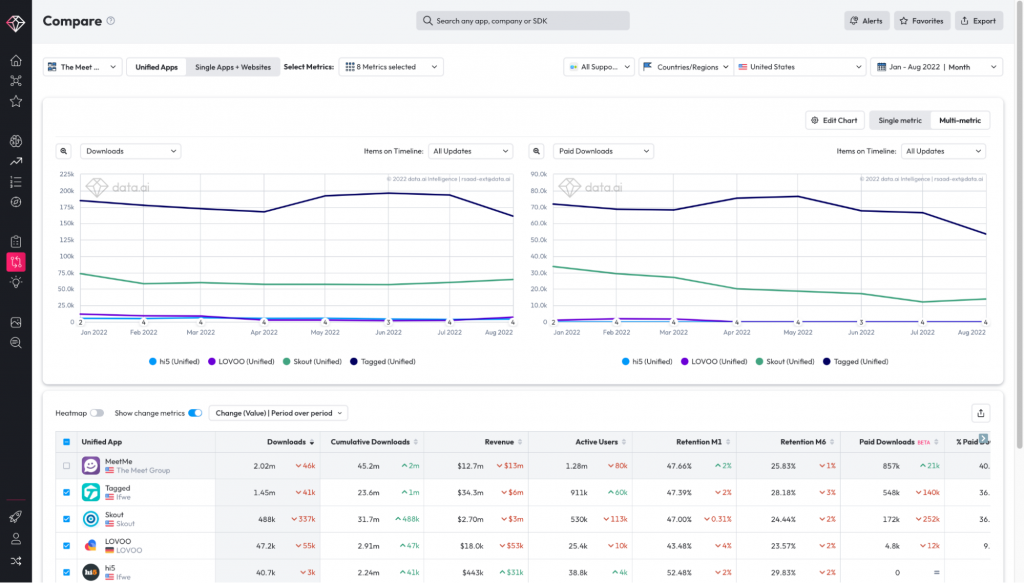 You talked about data.ai being especially useful for competitor analysis. What metrics are you most interested in?
To summarize, I'd say reviews of an app's active users, time spent, downloads, and revenue – and changes in those numbers over time in comparison to our apps and other social apps. data.ai also helps us forecast and model what adding a potential partner could mean for our own reach and revenue.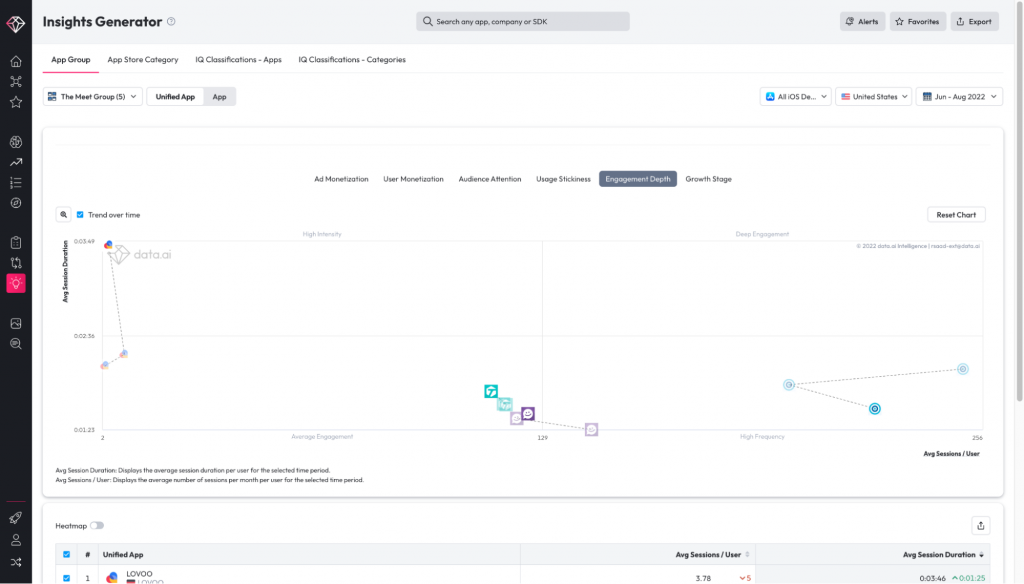 How has data.ai helped you to find high-value partners? 
It supports our analysis of the market and potential partners. It's been really good for acquisition targets. Though we had a good idea of who our high-value targets were, we used the cross-app usage data to better understand the unique reach of the acquisitions at different points.
On the Livebox side, data.ai has proved useful for vetting whether a company has enough mobile active users in the best geos and demos to make the partnership meaningful.