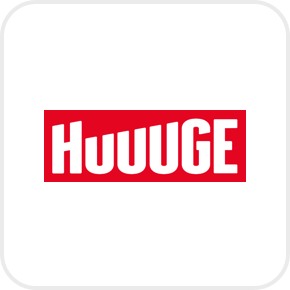 Industry:
Games
Headquarters:
Berlin, Germany
Most popular app:
Huuuge Casino
Learn more about data.ai Intelligence
Who
Huuuge Games develops and publishes leading mobile games across multiple geographies and game genres. Huuuge is best-known for its successful free-to-play social games: Huuuge Casino & Billionaire Casino.
The company now has offices in 10 cities worldwide and represents 26 different nationalities. Its games are played in 194 countries, by more than a million active users on a daily basis. 
The Challenge
Huuuge Games considers every metric in equal measure, so the challenge was to find a solution that covered every KPI for both the short and long-term, with optimum accuracy. Data is an intrinsic element to the creative development process at Huuuge Games. Used by many teams across the business, data is harnessed for almost every decision-making process, from product performance evaluation to opportunity validation.
"In games, it's rare to be able to define relative success with a single KPI. CPIs affect reach, monetization and trajectory. Monetization affects retention and usage. Usage affects all of the above."
Huuuge wanted to harness data to:
Strengthen the opportunity analyses conducted across the business.

Identify market white-spaces and opportunities. 

Track high-level trends across the industry.
The Solution
The team relies on App Annie Intelligence on a daily basis to inform the decisions they make, the opportunities they pursue, and the product changes and improvements they make.
App Annie Intelligence is a vital tool which is relied upon by almost every department at Huuuge.
"In fact, the number of utilized seats on the platform continues to grow and App Annie data is working its way into more presentations, pitches and conversations by the day."
App Annie's data was used to monitor and measure a range of core metrics, from app specific success to in-app advertising performance:
Downloads

Revenue

Purchases

Active Users

Sessions

Time Spent 
Whether it's KPI analysis and benchmarking for a pre-release product developed internally, competitive analysis of a publishing pitch, or M&A opportunity review, evaluating the core metrics aforementioned is almost always step 1. Whilst App Annie's more domain-specific capabilities play a significant role in decision making for different teams and use-cases, the evaluation process almost always begins with a foundation built on these core KPIs.
The Results
By using the full range of metrics available from App Annie Intelligence, Huuuge Games has been able to accelerate their evolution as a games publisher in a highly competitive industry, without compromising on creativity. 
Despite the fact mobile game creation is a huuugely creative process, the success of mobile games relies on having a holistic and accurate understanding of the impact on the games' users. In fact, usage and downloads/revenue data is now at the core of most product-centric work-flows.
App Annie Intelligence aided Huuuge to successfully achieve its initial goals by:
Providing benchmarks and parameters when comparing opportunities to their peers in the industry.

Establishing market sizes and relative activity or density by genre and geography.  

Enabling teams to monitor custom groups of apps and verticals over time.
Most recently, the Game Classification feature has had a material impact on the ease of evaluating sub-genres and categories holistically. 
"We're excited to see the feature promoted beyond "experiment" status and fleshed out with unified app analyses etc".
The strategy team, which regularly relies on App Annie Intelligence, is primarily responsible for evaluating business opportunities sourced from both internal and external teams. Each decision is now underlined by reliable data and sculpts the pathway of the multi-year outlook for the business.