Learn more about data.ai Intelligence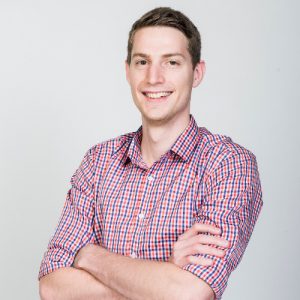 Ten years ago, Canva launched with the idea that everyone in the world should be empowered to design anything – from presentations, to social media graphics, logos, websites, and more – and publish anywhere.
It's been a successful mission.
Today, Canva's global customers are creating more than 200 designs … every second! A success that only happens when a brand knows how to shake up a huge market and change the lives of millions, while they're at it. 
What's more, in the three years Canva's been working with us, their global downloads have tripled. And we're guessing you'd be interested in hearing a bit more about that.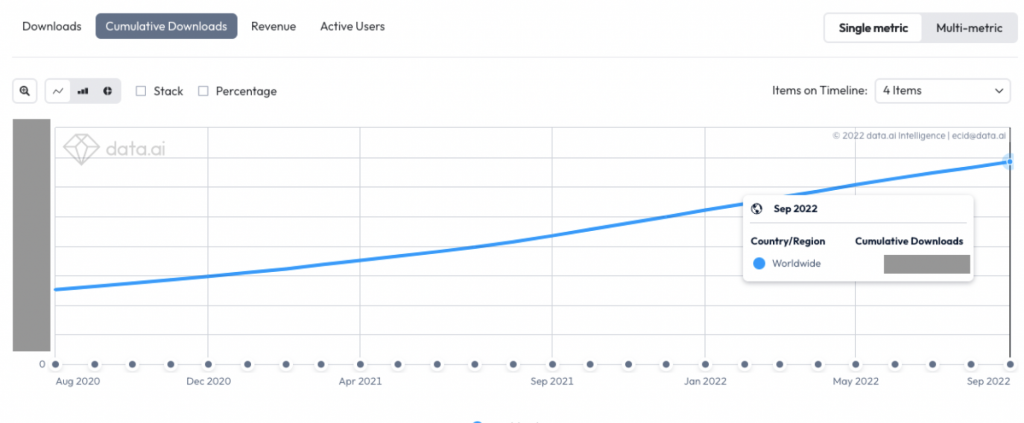 To find out more about how Canva uses data.ai to better understand its customers – and its competitors – we chatted with Yann Fasbender, Canva's mobile user acquisition lead.
Tell us about yourself and your role at Canva
I am currently the Mobile User Acquisition Lead, and oversee both paid and organic mobile growth initiatives across a global audience.
How do you define the Canva mission?
We enable people to easily take their ideas and turn them into a design with as little friction as possible. We're disrupting several industries at once, by bringing together content, design, video and photo editing, collaboration, and publishing into one simple platform, regardless of people's prior design experience. In doing so, we're empowering 100 percent of the world to communicate in a way that was once limited to one percent.
How important is mobile to the Canva product set?
We offer both desktop and mobile apps. But it's the mobile product that has really powered more recent growth. We launched the native iPad app in 2014, the iPhone app in 2016, and the Android app in 2017. Today, a large portion of our global community use these apps, with many being mobile-only users – especially in Asia and Latin America.
What challenges were you facing before you teamed up with data.ai?
We had data that gave us great insight into how our own products were performing, but we needed the help of data.ai to develop a clearer understanding of the competitive landscape and the wider market. More specifically, I could summarize the goals as follows:
Develop a deeper understanding of the competitive landscape and how we rank across certain key metrics

Identify key players in new markets and app categories we were entering into in order to make more informed decisions

Establish the best strategic marketing and product roadmap to fit the competitive landscape
Why did you choose us as your data partner?
data.ai has helped us to develop a clearer understanding of the competitive landscape and how we compare to the broader market. We can see top apps in each category, split by market which helps us understand how to win new audiences. This is extremely important as the Canva platform is now extending across video, photo editing, print, whiteboarding, presentations, document creation and more.
Can you give a specific example of where the partnership delivered? 
We saw in data.ai that users were using photo and video editing apps alongside Canva, and we recognized that this was a growth opportunity for us. So in 2021, we launched a range of Photo and Video editing tools including the Canva Video Suite. This moved us from the 'Art and Design' app category to 'Photo and Video'. data.ai helped us to better understand this category and to analyze who its key players were to set us up for success.  Through data.ai, we could:
Segment the top photo editing apps per market and uncover new apps to include in competitive research that we had not considered previously. This helped us to identify table stakes features, as well as assess which features our competitors were offering for free vs paid. 

Get an understanding of open rates and usage stickiness among photo editing apps and how we stack up against competitors in this space. This helped us to identify opportunities to re-engage with our users.
How do you and your team currently use our data estimates?
We use data.ai across our Product Marketing, ASO, Growth Marketing, International Growth Marketing, and Localization teams to answer the following questions:
How are people using the Canva app compared to the rest of the market?

How are people using competitor products?

Are Canva's marketing and promotions delivering?

What strategies are competitors pursuing?

How is Canva performing against the competition?

Where are new market opportunities emerging?
The product marketing team members identify new trending apps in our space and look at the apps' reviews and ratings. They are able to filter by sentiment and compare metrics such as key user feedback, open rate, usage stickiness, demographics, and more.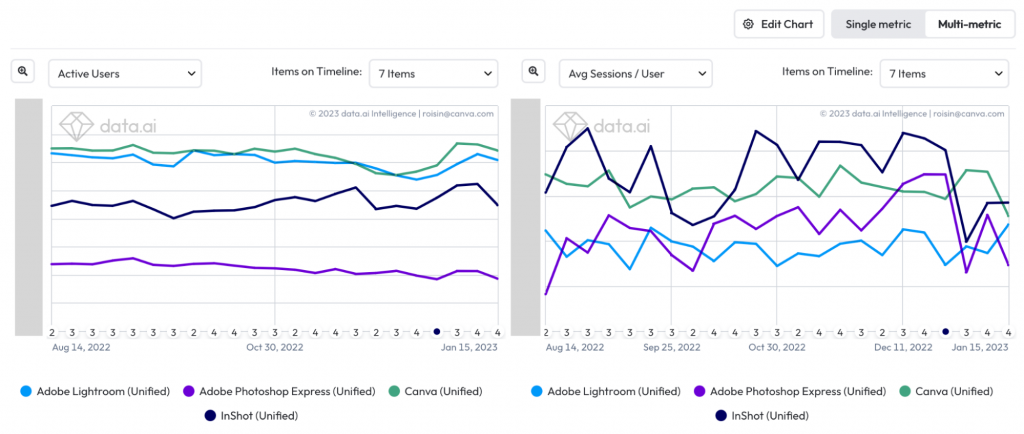 For the ASO and performance marketing teams, the main tasks revolve around keyword research, downloads, and the impact of seasonality on downloads by app category, and in comparison to competitors.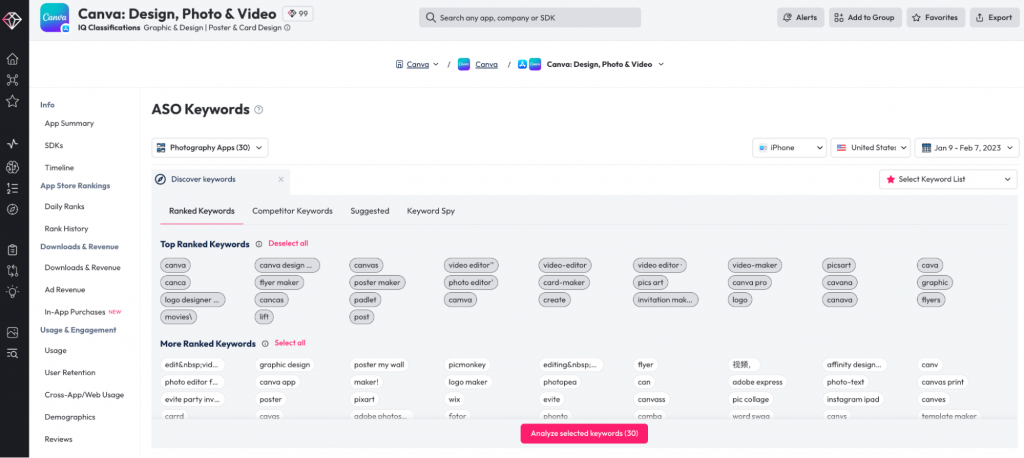 The mobile brand designers focus more so on the creative tools by checking the type of mobile ads which are running in the Photo & Video space – particularly around seasonal events – and understanding general trends.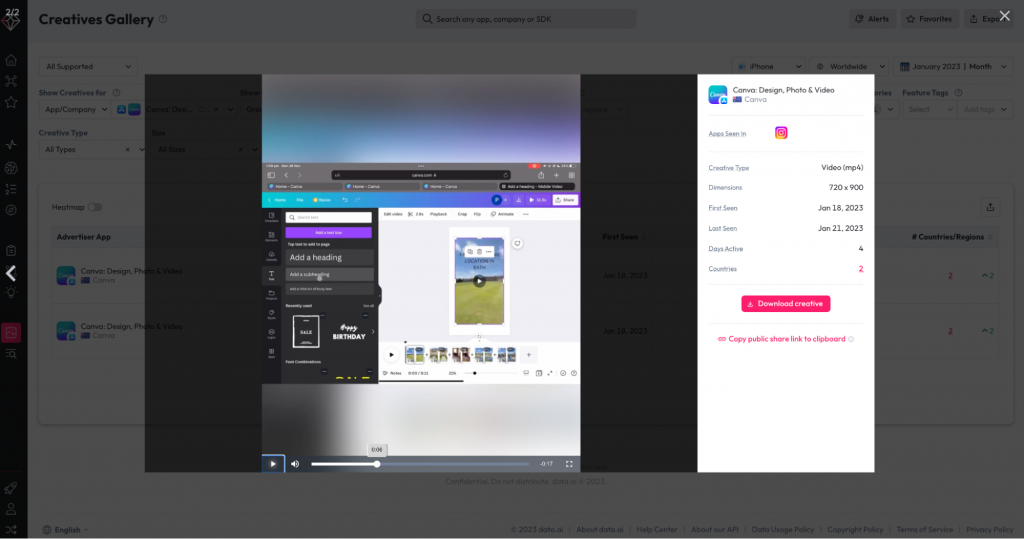 The international growth marketing team is mostly interested in market-specific competitive analysis, to make strategic decisions regarding where to launch, what features specific countries care about and where we should be spending our marketing resources.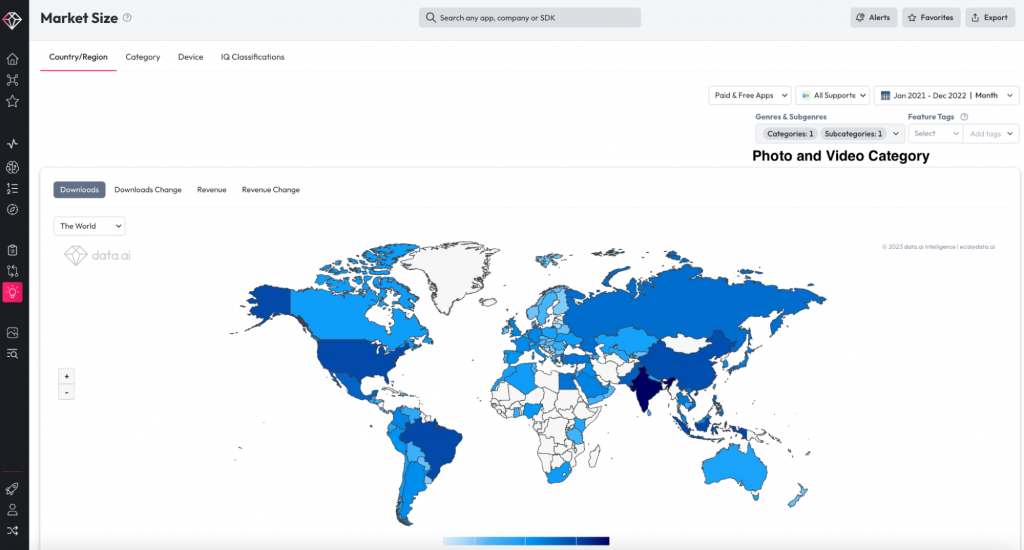 The localization specialists are looking to identify new template opportunities for Canva based on the top app and social media tools in the market. For us, this localization piece is really imperative. If we want to truly empower the world to design, we have to ensure our library is full of high-quality, culturally relevant content.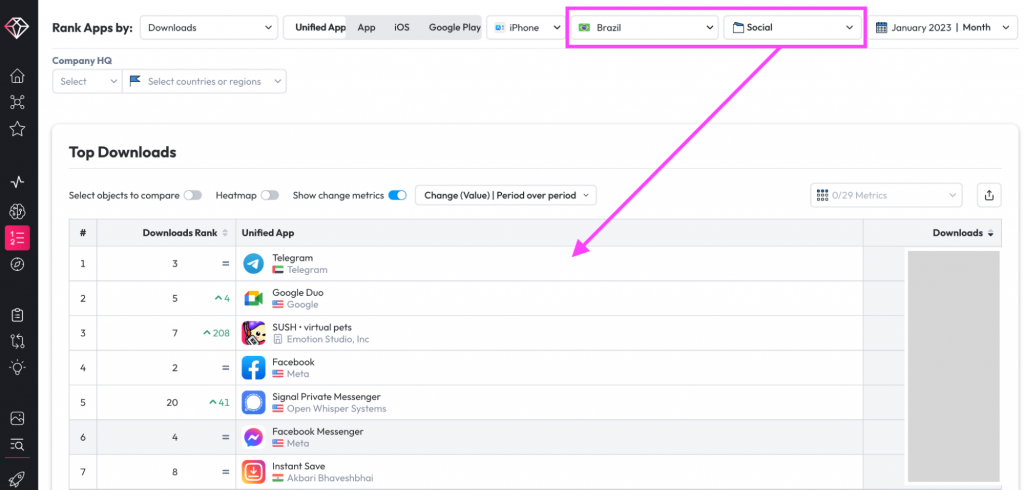 How important is data analysis? And what part does it play in Canva's B2B operations?
Data really is at the heart of everything we do. We enjoy finding answers to the problems users have so that we can continue to build innovative products that cater to their needs. data.ai and data analysis helps us to do this. It helps us make the informed decisions that have fuelled our growth.