App Annie's new Paid Search capabilities and Keyword Defense reports reveal which of your organic keywords are under attack and help you set a better paid strategy.
Seeking to boost downloads in the app stores? Mobile marketers can no longer leave things to chance. Because it's not uncommon to search for an app in the app stores only to see a competing app pop up at the top of the organic results. That's because the competitor is attacking that keyword through targeted bidding.
Ensure that your apps remain top of mind with the latest release of App Annie Intelligence. The new Paid Search capabilities ensure that mobile marketers understand how competitors are using app store advertising and when competitive campaigns are disrupting their organic search strategies. The app market moves fast, so getting insight into the right timing for ad buys and strategy modifications can lower customer acquisition costs (CAC). 
Quickly Build a Smart Offense with Paid Search's Competitive Intel 
Your ads don't exist in a vacuum; competitors are working hard to steal share of voice and discover new and high impact keywords to bid on. With App Annie's new Paid Search capabilities, you can uncover competitor strategies and improve your own. With App Annie's Paid Search metrics you can:
Gain a complete list of which competitors are running Apple Search Ads and Google AdWords.

Drill down by country and region to see where your competitors are running ads.

Uncover all of the keywords competitors are bidding on.
Using this information, you can set and optimize your own ad strategy. And, to be sure all of your bases are covered, our Paid Search capability also covers your defensive strategy. 
Protect Your Strategy with Keyword Defense
One new critical component within Paid Search is Keyword Defense. Your competitors are likely using paid search to upend your organic keyword strategy, and our Keyword Defense reports reveal which of your organic keywords are under attack. When you know which of your organic keywords are at highest risk, you can quickly ward off the competition.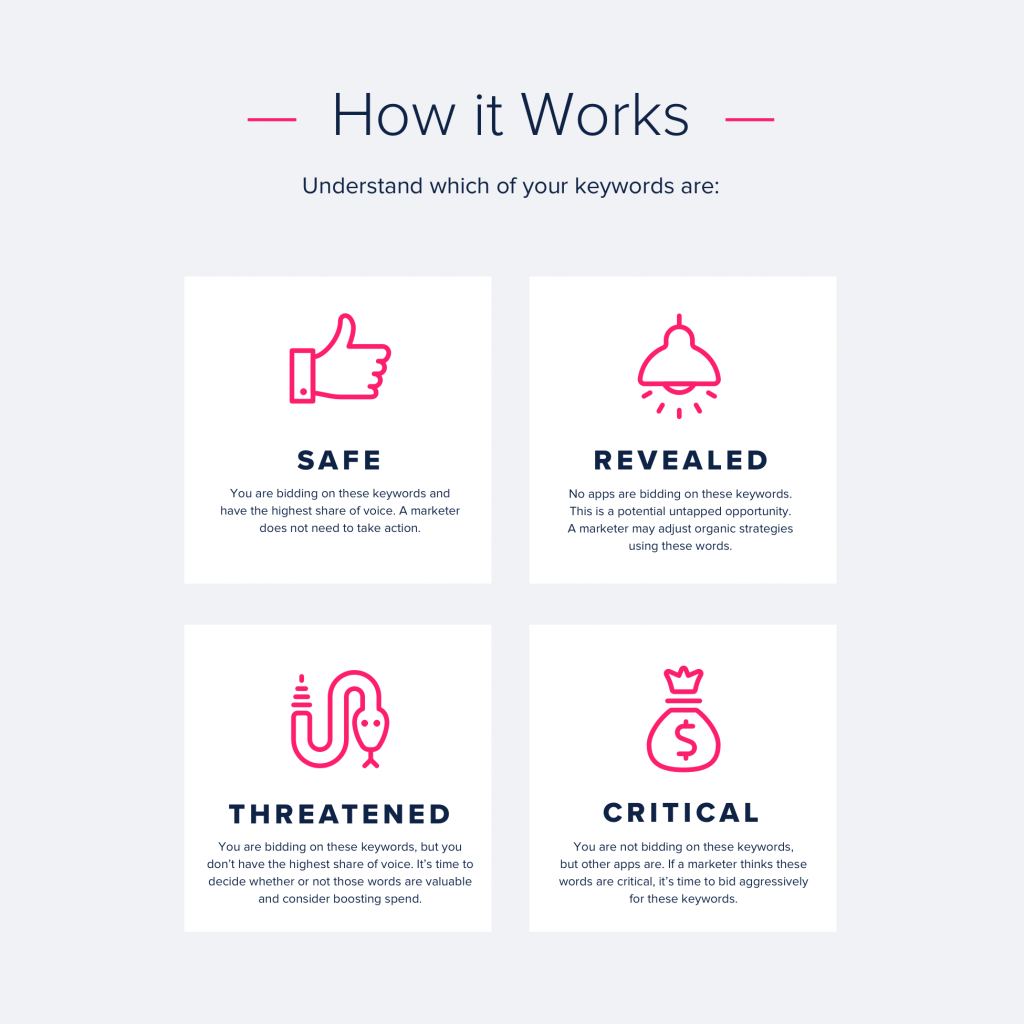 Paid Search and Keyword Defense are at the core of a comprehensive app marketing strategy supported by our fully redesigned user acquisition capabilities.  Keyword Defense is part of the Paid Search set of capabilities, available as an add-on for App Annie Intelligence customers. 
It's a Full Offering Across the App Ecosystem
Competitor Bidding:

Uncover your competitors' paid search strategies and dive deep into the keywords they are bidding on. 

iOS App Store & Google Play Data

: If you want to compete in the Google Play Store, using App Annie is a must. We are the only provider of holistic app advertising data, while others only focus on iOS data. The world's best app publishers deserve an easy way to understand how their organic strategy is impacted by competitor ad buys across both app stores.

Automated Insights:

We reveal where your organic strategy is threatened by paid advertising. No manual searching required. 

Suite Success:

Paid Search capabilities are just one set of capabilities available within the full suite of marketing and market data capabilities of App Annie Intelligence. It's all part of helping our customers win with mobile.

Lower Cost of Customer Acquisition:

Effectiveness in the app stores is a key part of lowering your CAC.
To learn more about App Annie's Paid Search, get in touch with our sales team for a personalized walk-through to learn how it can unlock new opportunities and provide you with rich competitive intelligence.