As stores reopen, payment strategies have shifted to prioritize contactless and plan-based mobile payment options.
What's Happening: 
Since the COVID-19 pandemic began, merchants across the globe have faced unforeseen circumstances such as steep declines in foot traffic and even a coin shortage in the US. Because of this, retailers everywhere have had to pivot their strategies, including payments, to facilitate shopping. The result has been the implementation of contactless payments, prioritization of gift card usage, and the addition of flexible payment options — to name a few. We've seen consumers spend an average of 4 hours 20 minutes each day on mobile during the pandemic. Among video streaming, connecting with friends and family, video conferencing and playing games, mobile is also the portal to all things finance — whether shopping, banking, staying informed and active in the stock market and receiving and making payments. 
Why It Matters: 
In order to help maintain engagement with shoppers while simultaneously minimizing contact, businesses everywhere are finding these mobile payment solutions to be a necessary addition. While some retailers have eliminated cash exchange completely, keeping interactions purely digital. Following this trend, others have introduced Apple Pay and Google Pay. Payment provider Afterpay introduced an in-person Apple Pay option and Affirm recently partnered with Shopify to give shoppers more flexibility in their payments. By offering these mobile-first options, businesses are slotting into the shifting consumer behavior and opening themselves up to a larger user base and increased revenue streams. 
Consumers are looking to mobile for more than just merchant payments. We've seen that payments apps are top of mind for consumers, including peer-to-peer transfer apps Cash App, Venmo and Zelle seeing strong growth in downloads in Q2 2020. We've also seen government benefit apps including Fresh EBT, ebtEDGE as well as Go Program Way2Go Card, a debit card account facilitating unemployment payments rise in demand during the pandemic. American consumers are also looking to gamified fintech app PlaySpot, to receive gift cards.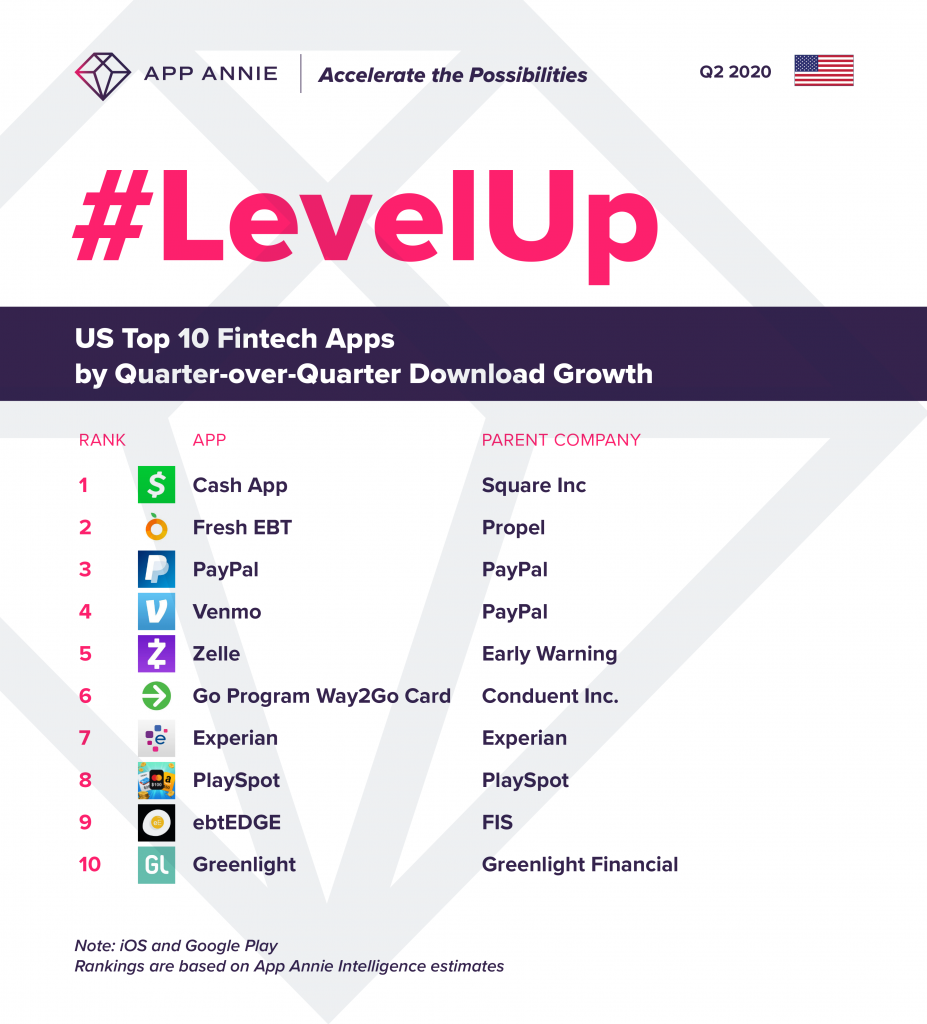 By prioritizing mobile in order to create and implement new payment options, businesses are sending the message that they not only prioritize the safety of their customers, but also want to foster an innovative, frictionless customer experience for the future. 
Go Deeper:
Even when social distancing is no longer the norm, mobile payments and other innovative payment solutions, such as Affirm, will remain a mainstay. This pandemic has proven that frictionless shopping and payment experiences are not only possible, but the best way to keep consumers engaged. What started as a safety-driven shift will provide the convenience of easier, faster, more varied payment options that consumers will become attached to — and come to expect. As retailers and other businesses modify their payment strategies for the future, prioritizing mobile will be a key factor to deliver the convenience consumers want, long after reducing contact for safety is a concern.
For more information on the impact of the virus on the mobile economy, please see our blog post here: The Impact of Coronavirus on the Mobile Economy.
To hear more from our panel of mobile experts — including a special guest from Snap, Inc. — on the impact of coronavirus on the mobile economy, watch our webinar. 
Looking to make more of the mobile opportunity? Talk to an expert today.
This post is the latest in a Mobile Minute series that features App Annie's perspective on how mobile is impacting current events and consumer trends. Check in weekly for our take on the latest news cycles and how mobile transformation is shaping industries around the world.
DISCLAIMER
App Annie is a mobile market estimate service provider. App Annie is not registered in any investment advisory capacity in any jurisdiction globally, and does not offer any legal, financial, investment or business advice. Nothing contained in this communication, or in any App Annie products, services or other offerings, should be construed as an offer, recommendation, or solicitation to buy or sell any security or investment, or to make any investment decisions. Any reference to past or potential performance is not, and should not, be construed as a recommendation or as a guarantee of any specific outcome. You should always consult your own professional legal, financial, investment and business advisors.