Black Friday, Cyber Monday and China's record-setting Single's Day capped off an eventful November and officially ushered in the holiday shopping season. Holiday shopping this year followed a familiar pattern as consumers increasingly avoided crowded stores in favor of online and mobile shopping experiences. As a result, mobile shopping enjoyed strong growth, even setting a new Black Friday record according to reports, at the expense of brick-and-mortar sales. This large-scale shift to mobile has had a noticeable impact on the platform split of retail app downloads and usage between iOS and Google Play.
Prevailing opinion on mobile commerce is that iOS users are more valuable than Android users because of their relative affluence and propensity to spend. While this remains true, Android is rapidly gaining traction this holiday season as smartphones have become increasingly important for the mass market.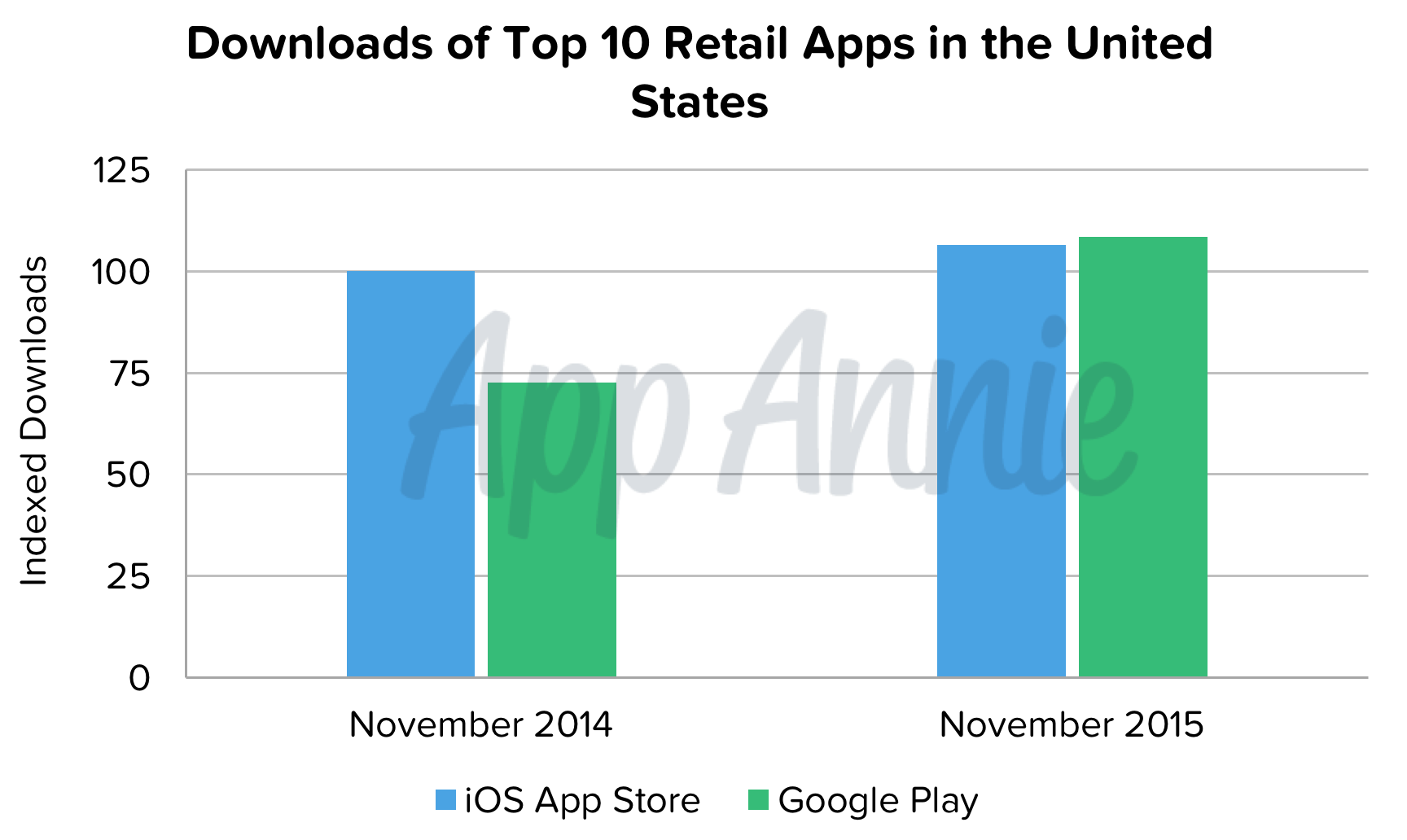 In the United States, downloads of the top 10 retail apps on Google Play edged out those on iOS in November 2015.
In the United States, downloads of the top 10 retail apps on iOS in November 2015 grew by roughly 10% year over year (YoY). In comparison, Google Play downloads grew by a healthy 50% YoY and narrowly edged out those on iOS.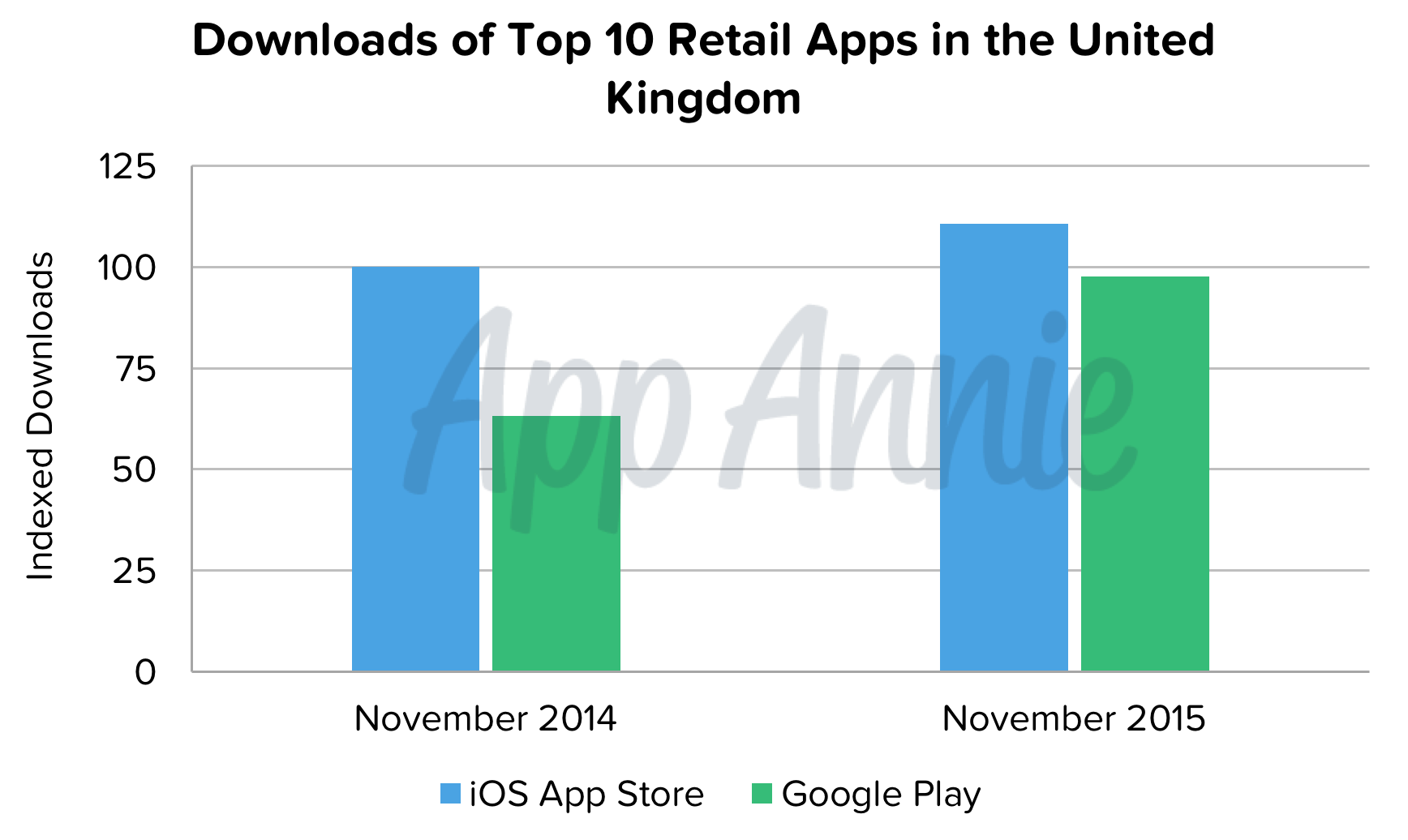 In the United Kingdom, downloads of the top 10 retail apps on Google Play significantly narrowed the gap with iOS in November 2015.
The pattern of retail app downloads in the United Kingdom largely mirrored that in the United States. Downloads of the top 10 retail apps on iOS grew by approximately 10% YoY while those on Google Play grew by 55%, nearly closing the gap with iOS.
These figures point to a maturing ecosystem for mobile commerce. The download propensity for affluent iOS users may have been lower as many could have their go-to shopping apps already installed on their devices. On the contrary, increased download activity on Google Play points to a significantly larger number of first-time mobile shoppers. Increased discounts and promotions during Black Friday and Cyber Monday may have also played a key part in enticing first-time mobile shoppers; e.g., "lightning deals" exclusive to the Amazon app. However, downloading an app is only the first step in the mobile shopping journey. The usage of these apps sheds even more light on shopping behavior of users on both platforms.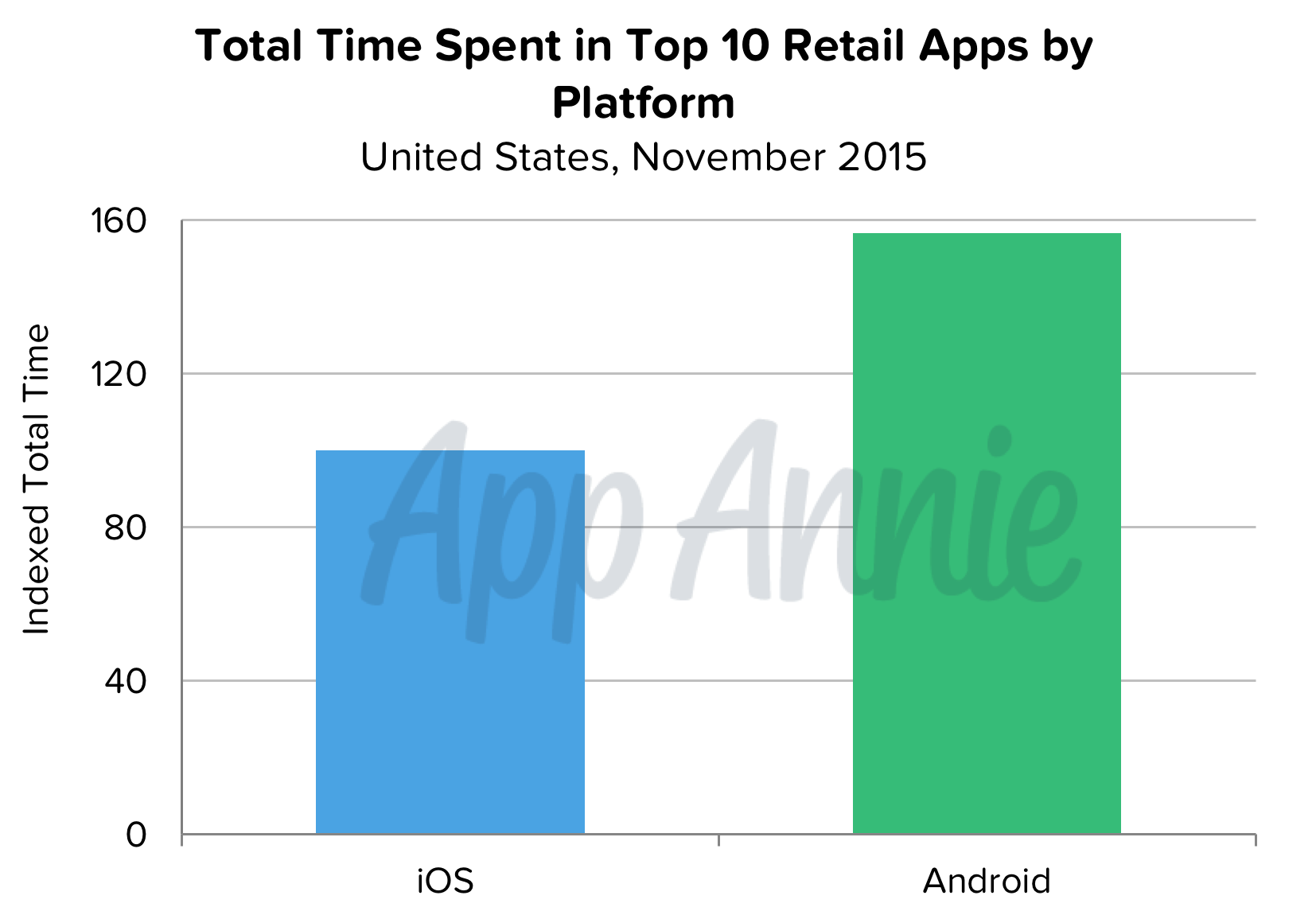 In the United States, time spent in the top 10 retail apps on Android was approximately twice of that on iOS.
In the United States, time spent in the top 10 retail apps on Android was approximately 55% higher than that on iOS. While this data only captures the performance of the top retail 10 apps by monthly active users (MAUs) on each platform, it is still surprising given that more than two-thirds of mobile sales continue to come from iOS devices. This implies that the conversion rate and transaction value for Android users is noticeably lower than iOS users. Given the nature of first-time mobile shoppers and the general growth of mobile devices research and shopping, it is highly probable that mobile apps are increasingly being used as a research and pricing tool. We believe this likely means that some of these purchases are happening in physical stores (a declining — but still significant — chunk of Black Friday sales) or online, but require more reviews and research before these buyers make their purchase.
Based on recent interviews with multiple US-based retailers, we know that in-app shopping carts have higher spend than their web counterparts. Therefore, retailers should aim to drive not just downloads, but engagement and ultimately purchases through their apps. Given the scale of consumer engagement with smartphones and retail apps, retailers need to continue refining their mobile app strategy as they have great opportunity ahead of them to convert mobile users and researchers into mobile purchasers.

The Technology Behind the Index
The information contained in this report is compiled from App Annie Intelligence, the leading market data solution for the app store economy. To see how our app store download, revenue, demographic and usage estimates can help guide your critical business decisions, request a demo today.
---
---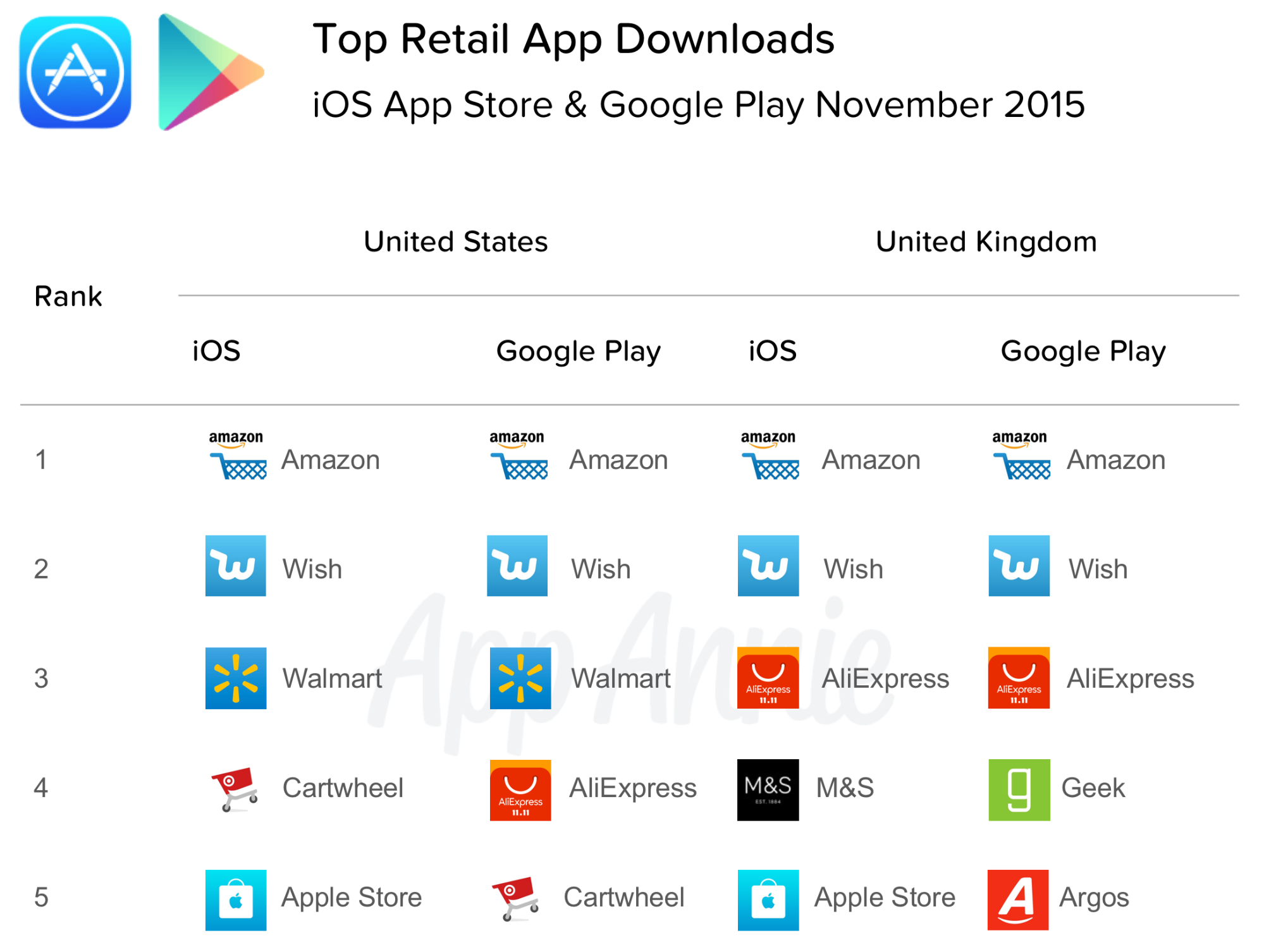 Amazon and Wish topped the download charts on both platforms in the United States and United Kingdom.
Notes:
The metrics reported in this article are based on data from App Annie Intelligence.
App Annie Intelligence is currently available for the iOS App Store and Google Play. It does not currently provide estimates for other app stores, such as the Amazon Appstore. While iOS and Google Play represent a significant portion of the app market in many countries, that is not the case for some countries. For example, China has a number of sizable third-party Android app stores.

Retail apps were identified by App Annie from the Lifestyle and Food & Drink categories on the iOS App Store, and the Shopping and Lifestyle categories on Google Play. Our analysis is limited to apps published by retailers, as well as apps that facilitate B2C transactions for goods. The analysis excludes apps that primarily drive C2C transactions, third parties providing vouchers and coupons, and apps not related to selling goods despite being from retailers.

App Annie Usage Intelligence data for Android smartphones and tablets was derived from mobile usage data collected from a large sample of real-world users, combined with additional proprietary data sets.

App Annie tracks usage at the device level using a privacy-protective hashed device ID. Data is only reported to third parties in aggregated format.

For the purposes of this report, an active user is defined as a device having one or more sessions with an app in the time period. A single person may be active on multiple devices in any time period, and will therefore be counted as one user per device in the total active users.

An iOS session as defined in this report starts when an app connects to the network, and ends when at least 5 minutes elapse with no network activity. Session length is computed as the time from the first network connection in a session to the last network connection of that session. An Android session as defined in this report is the period for which a user has a given app open in the foreground with the screen on. Background data usage does not contribute to session length. Please contact press@appannie.com for more information on our methodology.

Certain trademarks and/or images used in this report may belong to third parties and are the property of their respective owners. App Annie claims no rights in such trademarks or images.