With the winter holidays approaching, retailers are working overtime to woo shoppers with deals and savings. But as more and more consumers rely on mobile devices for making purchases, retailers should also focus on creating compelling mobile app experiences to increase loyalty, aid product discovery and drive revenue.
Black Friday has historically kicked off the US holiday shopping season, and retailers have worked hard this year to put their best foot forward. While overall Black Friday sales maintained steady growth, online and mobile are becoming the channels of choice signaling an important shift in consumer preferences. The National Retail Federation stated that more than 151 million people shopped online and/or offline this weekend — with over 103 million shopping online this Thanksgiving weekend.
Meanwhile, in the United Kingdom, Black Friday — which has only caught on within the last decade — continues to gain steam. It's estimated that British shoppers spent £1.1bn online during Black Friday, a substantial 36% increase from last year. This trend, when compared with the success of 11/11 in Asia, is showing a global movement toward more sales-driven digital experiences to bolster Q4 sales for retailers.
The Apps that Won Black Friday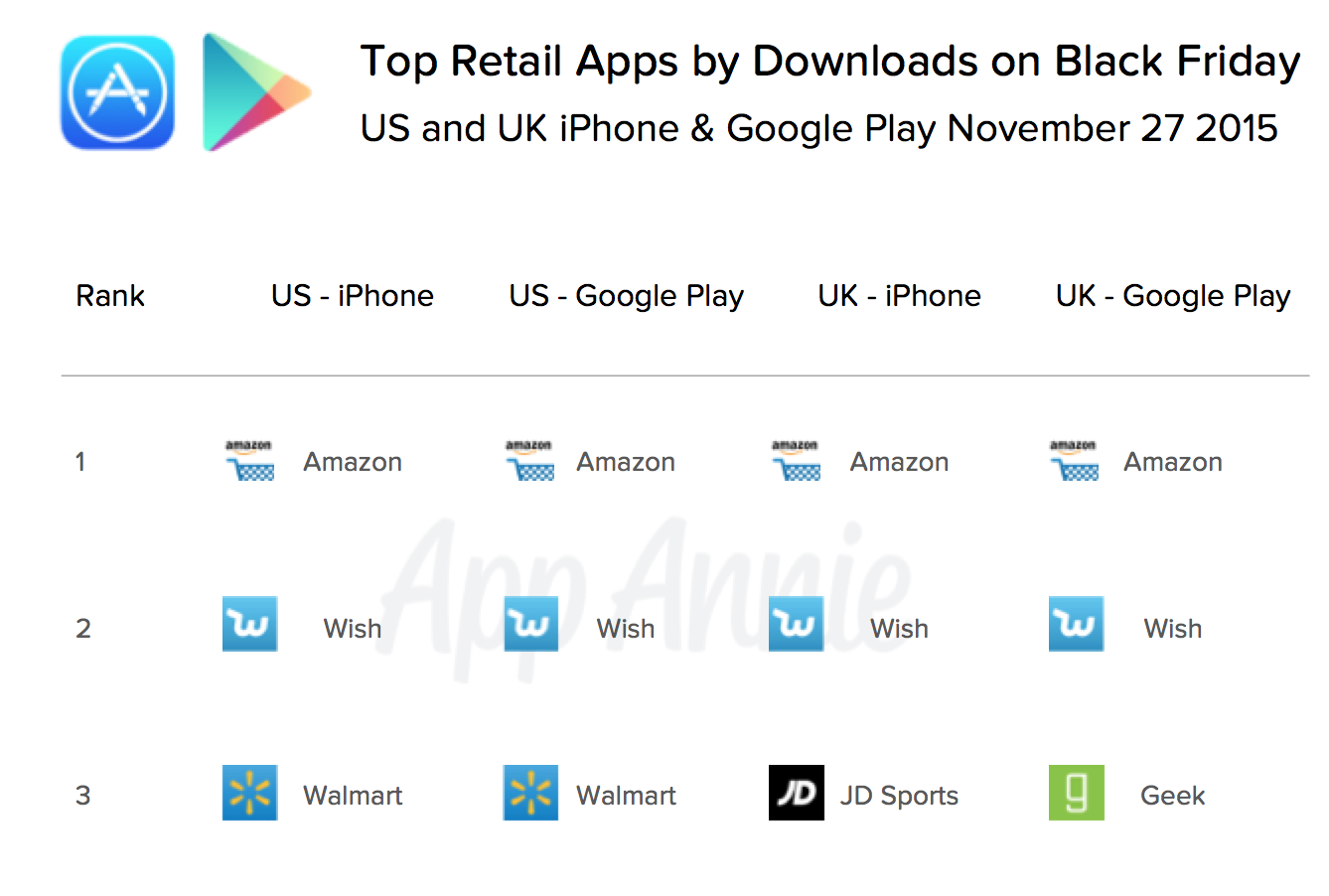 Using App Annie Store Stats, we examined which retail apps ranked highly on Black Friday in the US and UK across iPhone and Google Play. We then looked at how their rank changed November 1–29 to see how the lead up to the holiday weekend factored into their downloads. (For the full methodology, see the bottom of this post.)
The US saw three consistent winners on both iPhone and Google Play: Amazon, Wish — a mobile-first shopping app from ContextLogic —  and Walmart all held within the top 50 overall downloads. Cartwheel by Target and Kohl's also ranked well on Black Friday.
Things were similar in the UK's top three with Amazon and Wish taking the top two spots. Bricks & Clicks apparel retailer JD Sports claimed the #3 rank on iPhone, while Geek, another mobile-first shopping app from ContextLogic, took that spot on Google Play. ASOS and Argos were also strong on iPhone during Black Friday itself.
Amazon's Steady Rise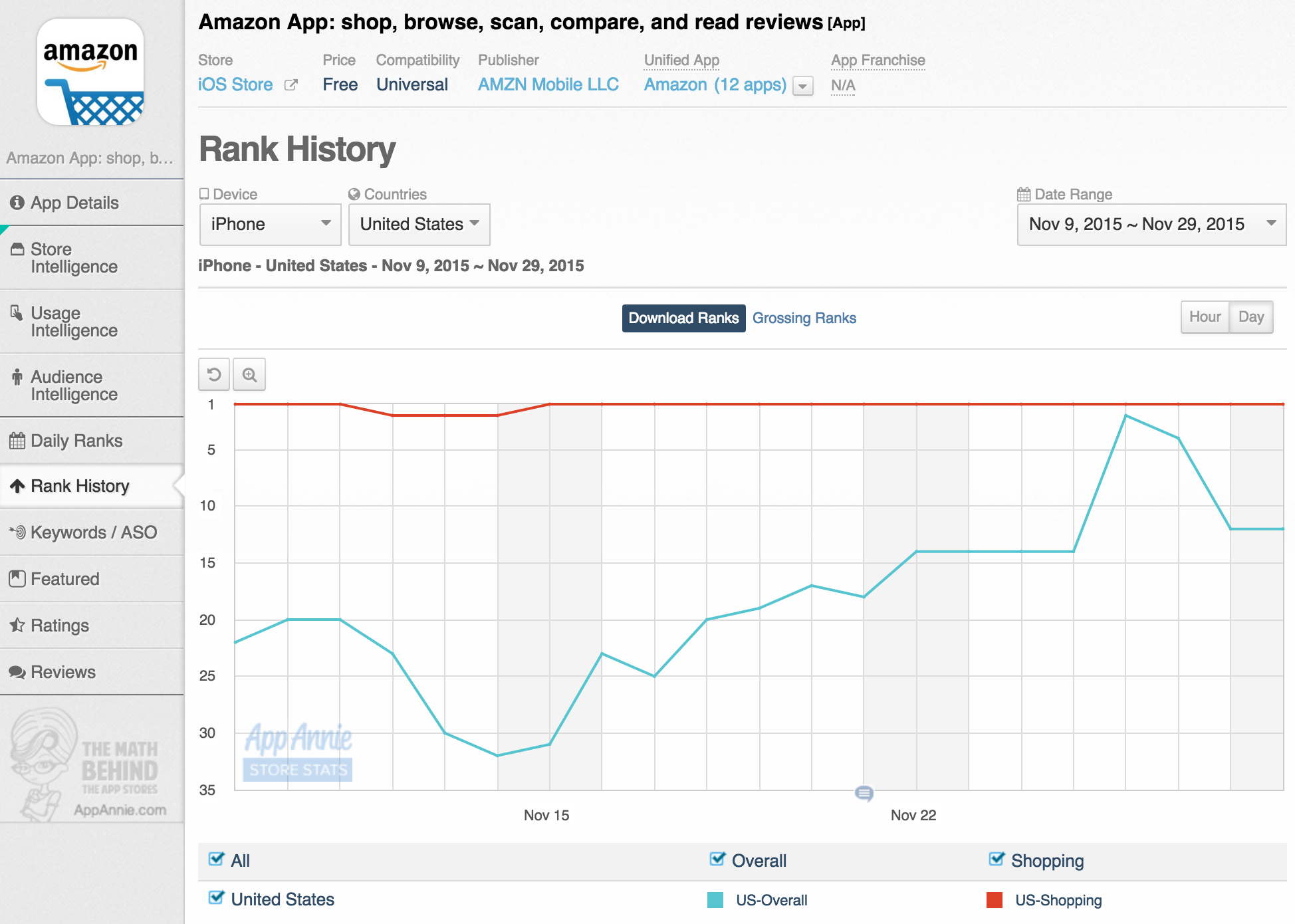 In the US, Amazon had a short dip in overall iPhone downloads at the start of the month, but quickly ramped up in the two weeks before Black Friday, peaking on Thanksgiving Day. Like many other retailers, Amazon kicked off Black Friday a little early, launching specials on November 20th and updating them up to Black Friday.
Wish Takes the Top Spot in the United Kingdom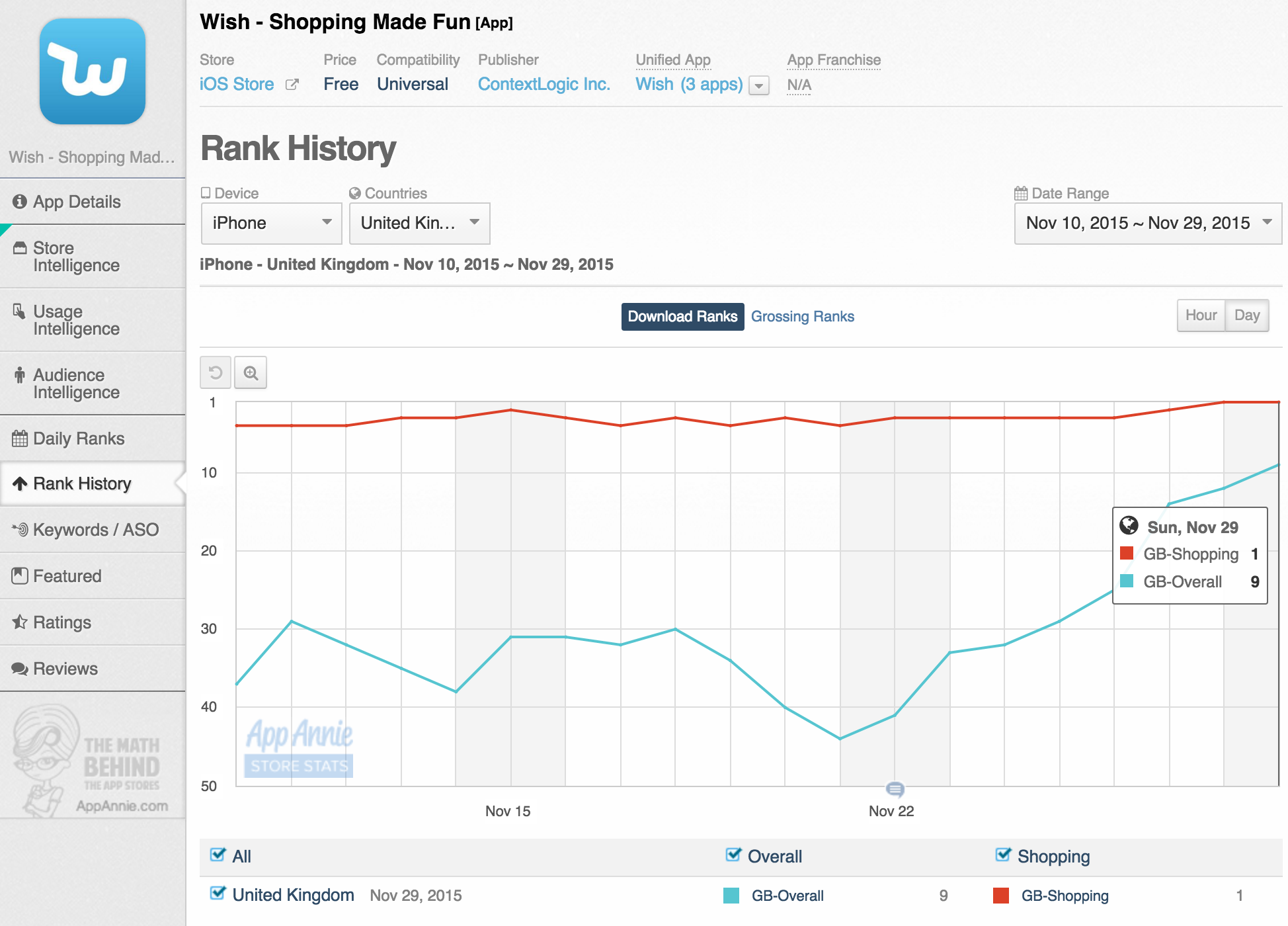 Wish proved popular in both the US and UK on iPhone and Google Play downloads. In the UK, Wish continued its ascent and ranked the highest retail app during the weekend after Black Friday.
What This Means for Retailers
While the data shows top retail apps gaining more traction in the run up to Black Friday, this isn't the end for brick-and-mortar sales. In fact, a recent report from the IAB shows that 57% of showroomers — consumers who compare prices on a mobile device while in a retail store — end up buying a product in a physical store.
The implication for app publishers is that, in addition to using deals and incentives to drive online purchases, there's an opportunity to support offline sales through mobile experiences.  Our most recent report — Retail Apps: Competing for the World's Most Valuable Shoppers — delves into some of the more innovative ways retailers are using mobile to personalize shopper experiences online and offline.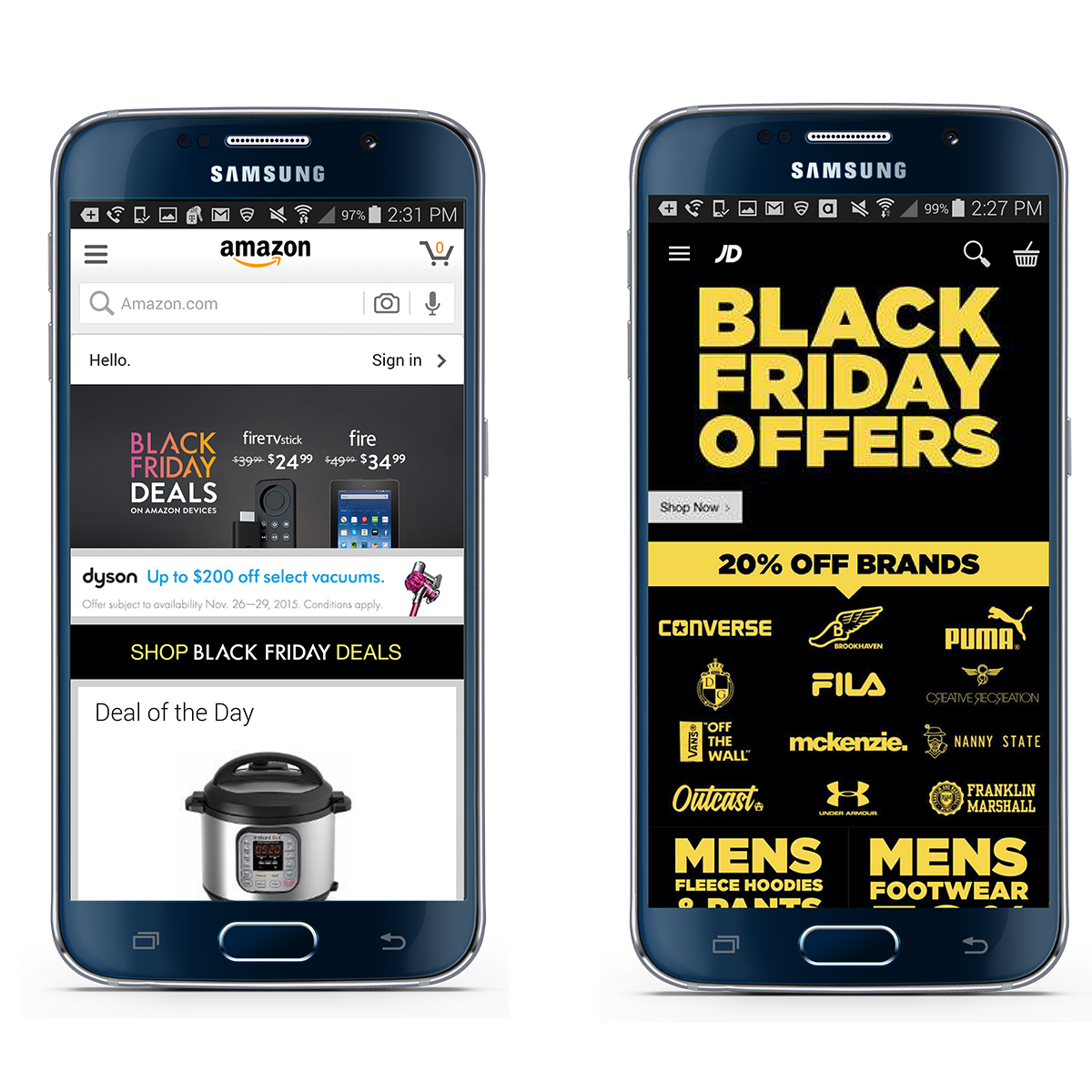 Amazon and JD Sports prominently featured Black Friday during November 2015.
While Black Friday and Cyber Monday featured impressive app downloads, many users may already had the previously mentioned apps on their devices for some time. What is much more telling is app usage data measuring user engagement and interest.
Cyber Monday is still ongoing in the US, but in the next few weeks we'll have all of the data to show how mobile apps are continuing to shape these two holiday shopping days.
Want More? App Annie Has It
Subscribe to our blog to see more app industry reports, conference updates and product news. We love hearing from our readers, so share your questions and comments below or on Twitter.
Want to perform your own analysis? Create a free Store Stats account or request an Intelligence demo today.
Notes:
App Annie Store Stats was used to see which retail apps ranked on Black Friday, November 27th 2015 on iPhone and Google Play in the United States and the United Kingdom.

Rank History examined the changes during November 1st 2015 to November 29th 2015.

Individual categories including Shopping, Catalog, Lifestyle and Food & Drink were compared to overall store ranks.

Primarily consumer-to-consumer apps (eBay, Gumtree) and third-party voucher and coupon apps (RetailMeNot, Groupon) were omitted from this list.