Downloads surge for at-home fitness apps like Nike Training Club and Asana Rebel as consumers stay inside to flatten the curve amidst an intensifying coronavirus pandemic.
Amidst the COVID-19 pandemic, much of our lives have shifted to mobile. Video conferencing apps were a first-mover in the space as businesses adopted work from home policies, oftentimes in advance of official government lockdowns and official social distancing measures. As more cities, states and countries adopt home quarantines to flatten the curve, we see a corresponding increase in demand for Health and Fitness apps. 
Health and Fitness Apps See 40% Surge in Downloads and Set New Records for Consumer Spend  
Health and Fitness apps set global records for the highest level of both weekly downloads and consumer spend at 59 million and $36 million, respectively during the week of March 22, 2020 — a growth of 40% and 10% from the weekly average of January and February 2020. This is particularly impressive because we typically see downloads and spend increase in January due to seasonality from New Years resolutions. In fact, the previous record-holding week for consumer spend was Jan 5, 2020 at $35.3 million worldwide. Amidst COVID-19 lockdowns, consumer demand for fitness instruction, motivation, accessibility and accountability — both for physical and mental wellness — reached new heights.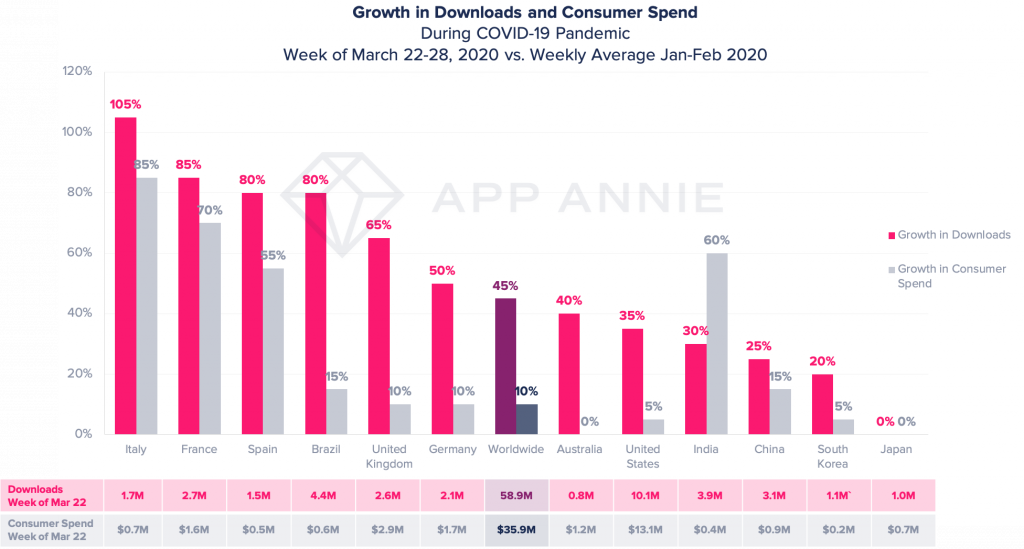 Italy saw the strongest growth among the markets analyzed in both downloads of Health and Fitness apps and consumer spend at 105% and 85%, respectively, during the week of March 22, 2020 versus the weekly average for the first two months of 2020. This is in-line with the timeline and developments of the coronavirus pandemic. Italy saw a surge in COVID-19 cases shortly after the main outbreak in China — quickly becoming the European epicenter for the virus and one of the first European countries to go into full lockdown.
Globally, Consumers Spent a Record 113 Million Hours in Health and Fitness Apps During the Week of March 22, 2020  
Health and Fitness apps were not only in demand from new users but also seeing increased usage among existing customers. Similar to downloads, Italy saw the greatest growth in weekly hours spent in Health and Fitness apps, up 70% during the week of March 22, 2020 compared to the week of Dec 29, 2019. It is interesting to note that the US peaked for time spent in Health and Fitness apps during the week of March 8, 2020. This could be an indication of changing habits and preferences throughout the shelter in place period. During this week, the top apps by time spent on Android phones in the US were Fitbit, Pedometer, MyFitnessPal, White Noise and SnoreLab, respectively.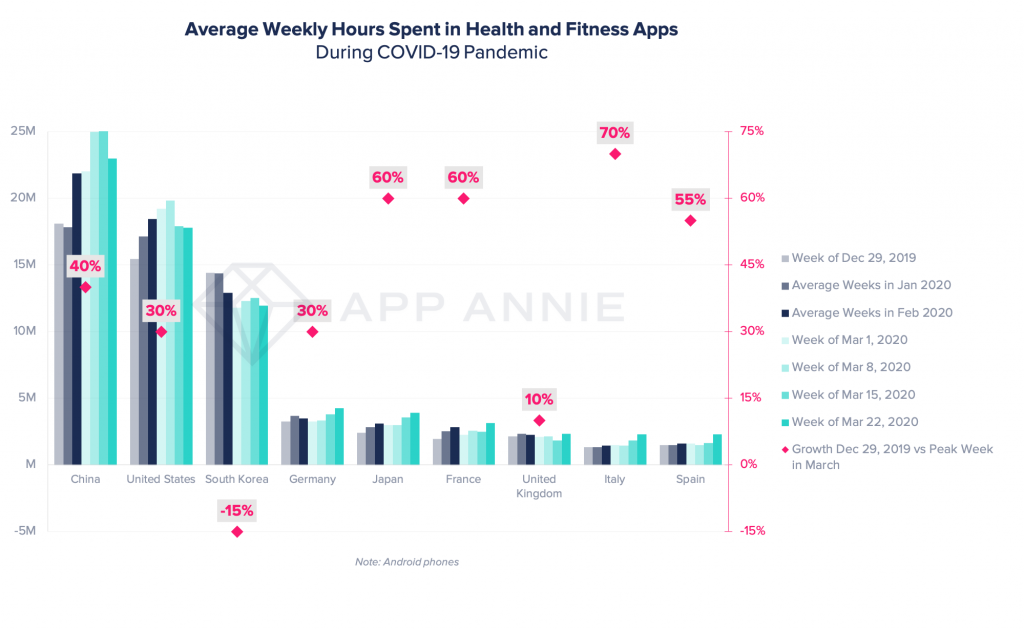 At-Home Fitness Apps Top The Breakout Charts 
We took a look at the Health and Fitness apps seeing the largest growth in global downloads during the week of March 22, 2020 compared to the week of Dec 29, 2019. Collectively, these 10 apps saw nearly 5 million more downloads during this time period, an impressive growth of 60%. Nine of the top 10 apps were fitness apps with 5 of these apps came from publisher ABISHKKING and focused on 30-day weight loss regimes done at home. 
On Mar 21, 2020 Nike announced free access to Nike Training Club's premium feature — helping fuel its surge in downloads to rank #2 by growth in absolute downloads globally during the week after the announcement. Meditation app Meditopia rounded out the top 10 — an indication that consumers are searching for ways of coping with anxiety and stress during this unprecedented time.  
It is important to note that 8 of the 9 fitness apps in the breakout list included "at home" or "home workouts" as keywords in their app store optimization (ASO) strategy — indicating a shrewd move to capture search traffic from consumers looking for home workouts while under lockdown.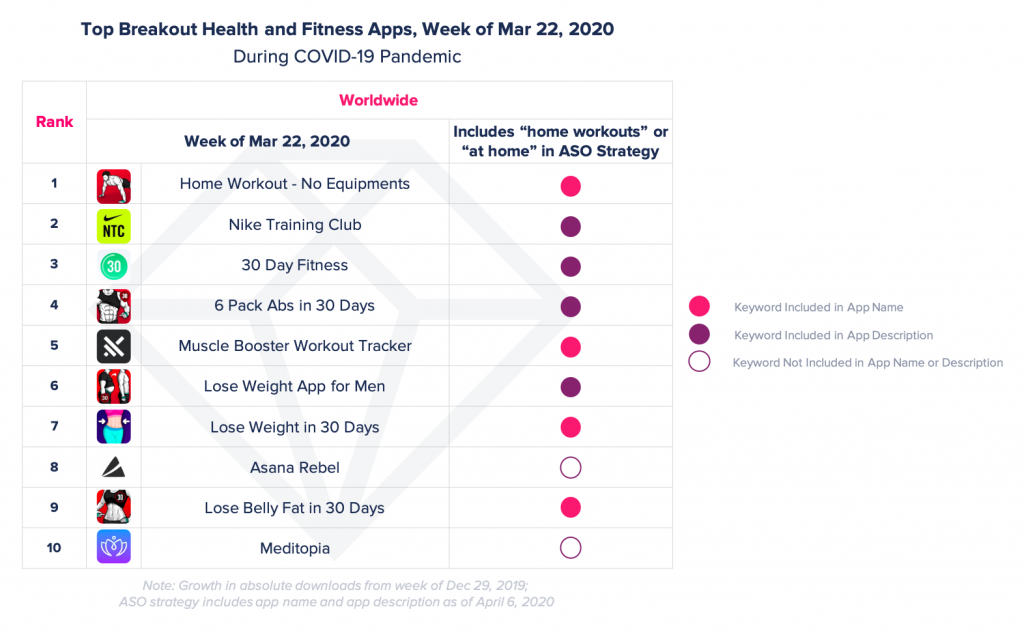 Amidst growing demand for at-home fitness apps, we also saw Peloton update its app name on March 16, 2020 from "Peloton — Live workout classes" to "Peloton — at home fitness" in efforts to capture some of the growing interest for home workouts while under increasing COVID-19 lockdowns. As a result, we saw positive sentiment surface in user reviews citing "COVID-19" during the last week of March 2020, with the overwhelming majority of these reviews coupled with a 5-star review of the app. This is an indication that mobile is serving a real need and providing strong value to consumers seeking ways to stay healthy and active while stuck indoors.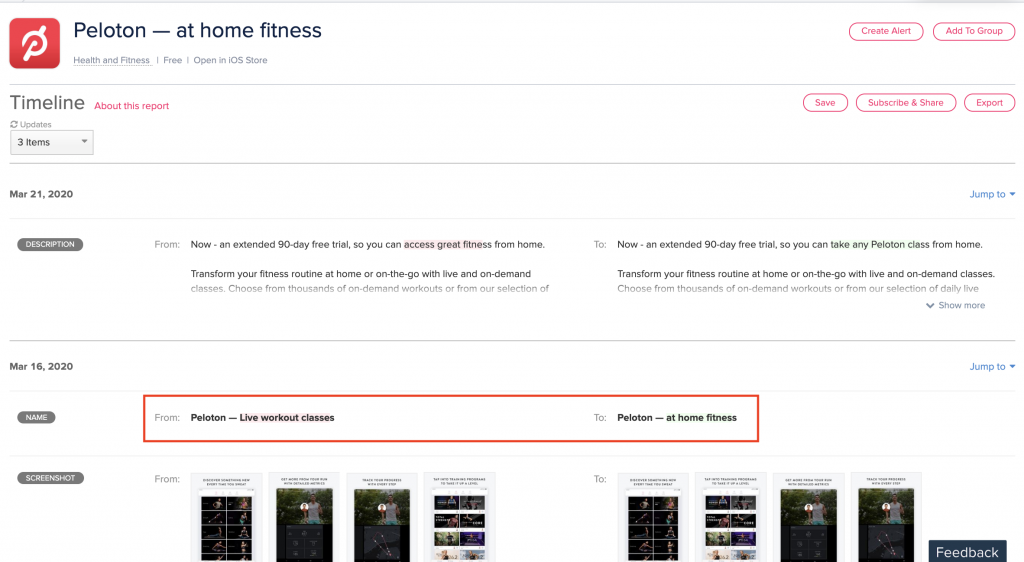 Mobile Is a Reflection of Consumer Demand During These Trying Times
More consumers than ever before turning to mobile to stay informed, connected, entertained and healthy. We are seeing shifts in consumer behavior surface daily across virtually every sector, and the impact on the mobile economy is far from over. We will continue to report on the vast impact coronavirus is having on the mobile economy as our mobile habits evolve, deepen and take on new meaning in the weeks to come. 
To hear more from our panel of mobile experts — including a special guest from Snap, Inc. — on the impact of coronavirus on the mobile economy, join us for a free webinar on April 8th at 11 am PT, 2 pm ET. If you are located in Europe please join us on April 8th at 2pm BST / 3 pm CET or 11 AM SGT on April 15th if you are located in Asia Pacific. We will also be taking questions from the audience. Sign up through the link below: