With the pandemic forcing voters to stay home, candidates target social media to connect
What's Happening: 
The COVID-19 pandemic has had an unprecedented impact on the US 2020 election – conventions were canceled, primaries were won by mail, and campaigning moved to digital. Consumer habits have also shifted to a mobile-first mindset, with the average user spending 27% of daily waking hours on mobile — up 20% from 2019. This convergence has prompted a new reliance on social media platforms, such as Twitter and Instagram, to connect with voters. 
Why It Matters: 
With US consumers spending more time than ever in social and comms apps each day in April 2020 — up 25% from January 2020 — politicians and their campaign staff are harnessing a variety of channels to reach voters. To understand the potential impact, we took a look at the presidential candidates' social media and mobile presence.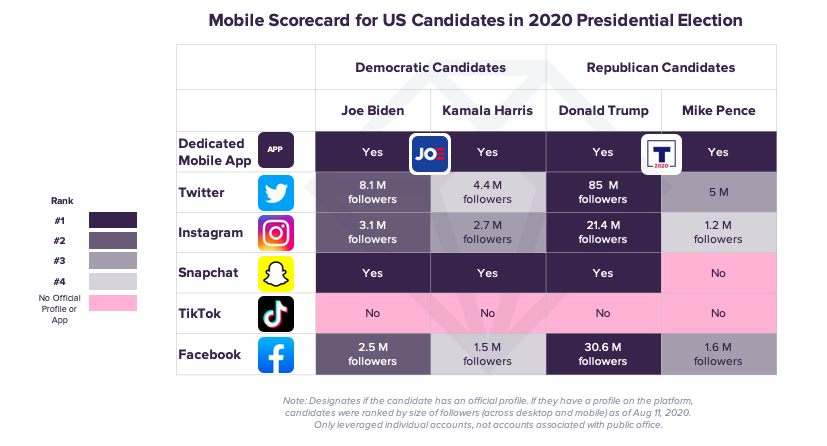 Among the candidates analyzed, Donald Trump ranks #1 for followers on Instagram (mobile-only), Facebook and Twitter, which is what we'd expect given his national and international platform as President. He, along with Joe Biden and Kamala Harris, also has official profiles on Snapchat — which could be a key platform in reaching Gen Z. As we head into November, there will be 15 million more 18 to 29 year olds eligible to vote since the 2016 presidential election, bringing the total voting power of this age group to 47 million. In the 2018 midterm elections, two-thirds of voters in this age group supported the Democratic candidate, which was the largest divide seen in a quarter-century. This emphasizes why both Democratic and Republican candidates are trying to reach the mobile-first Gen Z on their home turf: social media apps. However, it is important to note that among the Democratic and Republican candidates, none had an official TikTok presence. TikTok saw 50 million weekly active users in the US during the week of July 19 - 25, 2020 — up 75% from the start of the year (Jan 5 - 11, 2020) — and ranked #1 overall by iOS and Google Play downloads in the US during H1 2020. 
Go Deeper:
With the exponential growth of mobile across verticals, politics is the latest example of an industry harnessing mobile's potential. As we get closer to the general election in November 2020, candidates will continue to tap into the mobile market in various ways — may it be donation sourcing, partnerships with popular social media influencers, or sticker packs for Instagram content — particularly as they battle for the hearts and minds of Gen Z and Millennials on the device they always within reach: their smartphone.
For more information on the impact of the virus on the mobile economy, please read our latest report: How COVID-19 Has Changed Consumer Behavior on Mobile Forever. 
To hear more from our panel of mobile experts on the impact of coronavirus on the mobile economy, register for our webinar.
Looking to make more of the mobile opportunity? Talk to an expert today.
This post is the latest in a Mobile Minute series that features App Annie's perspective on how mobile is impacting current events and consumer trends. Check in weekly for our take on the latest news cycles and how mobile transformation is shaping industries around the world.
DISCLAIMER
App Annie is a mobile market estimate service provider. App Annie is not registered in any investment advisory capacity in any jurisdiction globally, and does not offer any legal, financial, investment or business advice. Nothing contained in this communication, or in any App Annie products, services or other offerings, should be construed as an offer, recommendation, or solicitation to buy or sell any security or investment, or to make any investment decisions. Any reference to past or potential performance is not, and should not, be construed as a recommendation or as a guarantee of any specific outcome. You should always consult your own professional legal, financial, investment and business advisors.