Leading advertising conference highlights shift in consumers' mobile consumption habits and the platform's ability for driving transactions
This week, the Interactive Advertising Bureau (IAB) Digital Content NewFronts takes over New York City. During the ninth annual event, the biggest names in digital media and entertainment will present their plans for upcoming original content and programming, as well as new opportunities for advertisers and marketers to reach consumers through their platforms. The event is similar to the Television Upfronts hosted by TV networks, where publishers such as Hulu, Viacom, Twitter and Verizon Media showcase their most innovative digital advertising offerings to entice advertisers to their platforms. The emphasis this year is on mobile, a space that is set to outpace traditional advertising, which includes print, TV and radio spend.
Smaller Screens Drive More Engagement and Increase Transactions
As consumers spend an average of 3 hours per day on mobile, it's no surprise mobile drove almost two-thirds of total digital advertising spend in the US in the first half of 2018. As a result, mobile will continue to see heightened interest from advertisers. This channel is particularly compelling for its ability to drive transactions. We found time spent in Shopping apps correlated highly with US digital sales, an indication that mobile is driving conversions.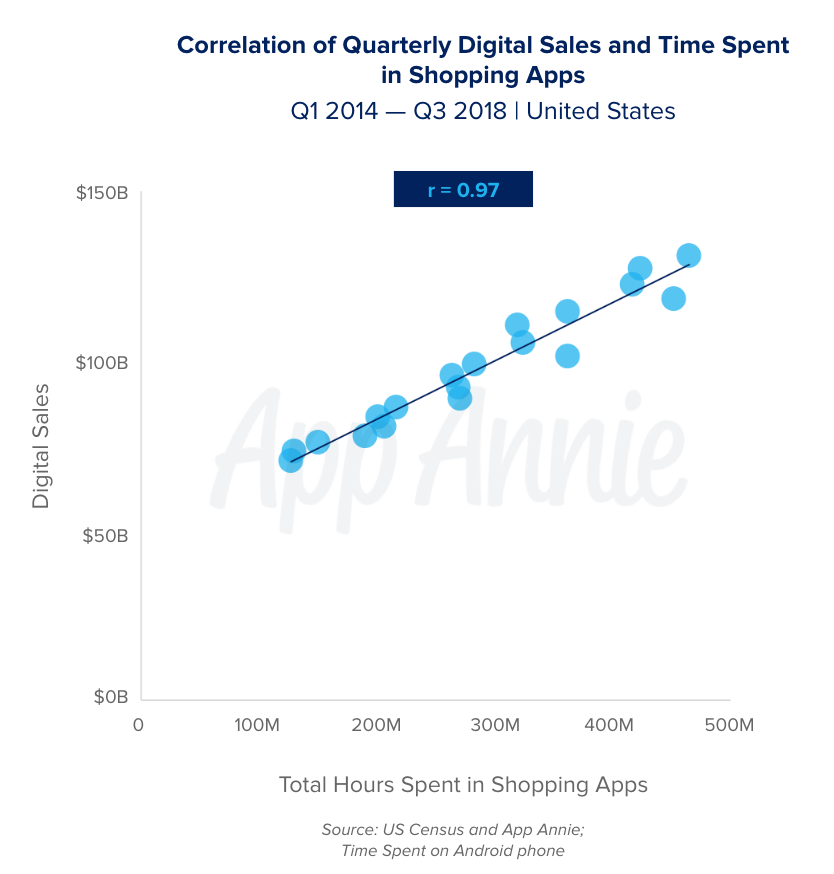 Given the pervasiveness of mobile in consumers' daily lives, retailers such as Walmart and Target will be presenting at the Digital NewFronts to showcase their unique advertising strategies for increasing consumer engagement and to further establish their credibility as digital leaders against behemoths including Amazon.
According to App Annie's State of Mobile 2019 Report, Walmart and Target were the #1 and #2 bricks-and-clicks (retailers selling goods through both brick-and-mortar and online channels) mobile apps, respectively, in 2018 by time spent in app in the US. Both retailers are keen to leverage this advantage by extending personalized media opportunities such as the Target Media Network and Walmart's Vudu streaming service, both of which offer advertisers the ability to tailor campaigns based on existing shopper data. As consumers are spending more time on mobile, retailers are aiming these efforts to further monetize their platforms, gain additional revenue streams and continue to drive sales.
Reaching the Next Generation of Consumers and Understanding Audience Metrics
Gen Z, the next generation of consumers, is a key market for advertisers. This demographic spends 20% more time in mobile apps than the rest of the population and has a notable affinity for video consumption.
To monetize these engagements, we're seeing more social channels such as Tik Tok, Instagram and Snapchat expanding mobile ad models. For example, Snap Inc. announced last week "Snap Select" — a new ad format that provides an upfront way for brands to pay for premium video ads and reserve inventory in the app's Shows section. Snapchat has leveraged its unique audience to highlight the potential for advertisers: "For marketers active on the platform, that means exclusive access to a uniquely engaged audience".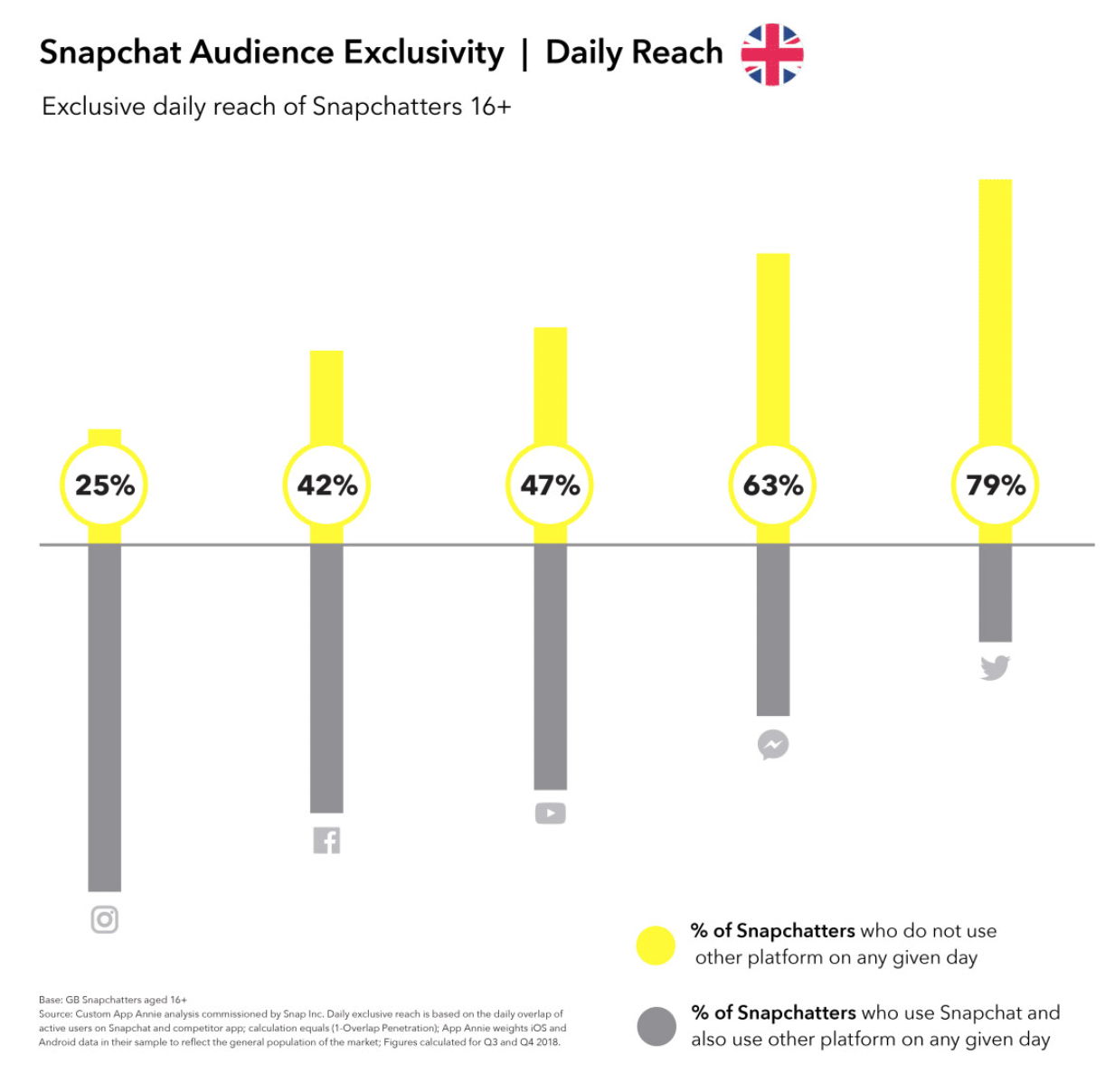 While the advertising industry continues to face challenges related to transparent viewership metrics of traditional channels, mobile ads offers a unique advantage for advertisers to discover how consumers engage with their content, where they're located, demographic groups and more. Mobile provides advertisers with more information about their audience, access to consumers throughout their busy days and direct calls to action with one click.
Connecting the Digital Journey is Critical to the Future of Advertising and Reaching Consumers
Digital transformation has been a pervasive theme across industries for the last decade, driving increasingly more touch points for advertisers to engage with consumers — whether on smartphones, desktop, voice assistants, connected TV and more. The spectrum of channels to reach consumers is also making it increasingly more challenging to trace customer journeys. However, mobile is a useful tool to help bridge this gap. For example, mobile devices help connect to various elements of the customer journey — providing a second screen to capitalize on audiences engaging in social chatter around highly anticipated televised events such as Game of Thrones or the Super Bowl or acting as a vehicle to motivating in-store foot traffic.
Even within mobile, advertisers must consider both mobile app and mobile web usage, and how both are necessary for a successful mobile strategy. While mobile web accounts for only 10% of time spent on mobile, it is a critical channel for garnering brand interest and funneling high-intent users into the app.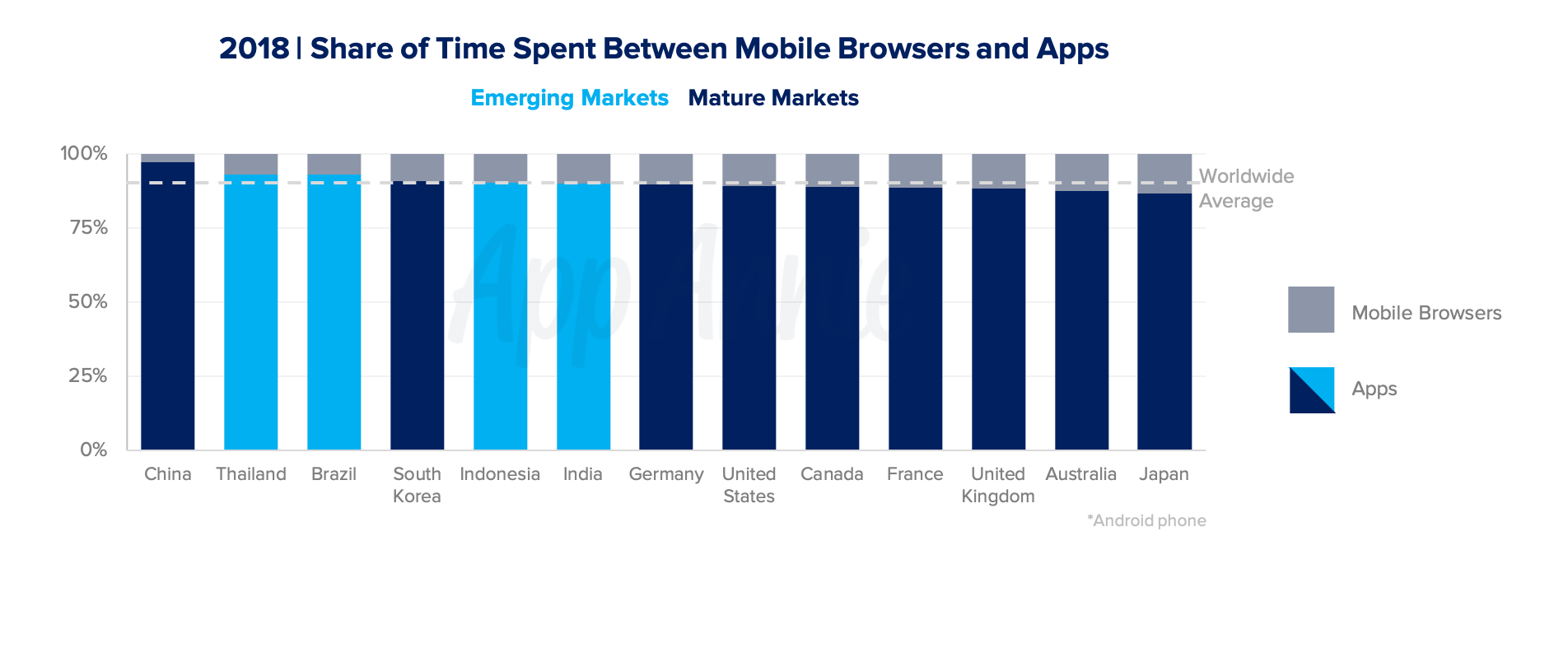 As mobile analytics continue to mature, advertisers are increasingly lured by the sophistication and promise of meeting their consumers where they are spending increasingly more time on a daily basis. For example, Pinterest's recent IPO saw shares surge on the first day of trading, emphasizing mobile's role in the discovery and research role of a shopper's journey and the value-add of this behavior leading to future transactions.
As consumers' digital footprints continue to expand, publishers who can leverage mobile data to inform marketing decisions will become industry leaders — a theme we expect to be a priority throughout IAB's Digital NewFronts conference as well as throughout the digital advertising industry overall. In fact, this year we expect that 60% more mobile apps will monetize through in-app advertising, vying for a piece of the $250 billion digital advertising market.
For More on the State of Mobile Marketing in 2019, check out our latest report:
This post is the latest in a Mobile Minute series that features App Annie's perspective on how mobile is impacting current events and consumer trends. Check in weekly for our take on the latest news cycles and how mobile transformation is shaping industries around the world.