The name of your app is already key to help build your overall app global brand. Before committing to one that shapes your public image, it's good to know the subtler quirks of naming for App Store Optimization (ASO). Users will be browsing app stores on different devices (i.e., computers, phones, tablets) that can alter how your app name looks and the user experience to find the app organically.
While it is much easier to A/B test your app's screenshots, icons and keywords, picking an app name that appeals to users requires an even sharper testing mindset. In this post, we'll show you how to optimize your name for greater visibility — including tips to keep in mind for Google Play and iOS App Store — and how to test out names to make sure you stand out to your desired audience.
Naming ASO Best Practices
Users browse app stores through different methods: directly looking at store front pages, going into individual categories rankings and using the search box. These each factor into your app name strategy, along with specific tactics to employ on the iOS App Store and Google Play.
Keep Your App's Name Length Short and Sweet
Each app store has a maximum app name length before it cuts off. Truncated app names are less likely to grab the attention of users. Note that Apple and Google will occasionally update these character limits:
Google Play: 28-30 characters
iOS App Store: Apple recommends 23 characters or fewer but allows for up to 255 characters currently
Adding important keywords to your app name will give these keywords more weight in the keyword algorithm, but be cautious of adding too many. Apple may outright reject your app submission if the name comes off as spammy or uses someone else's intellectual property.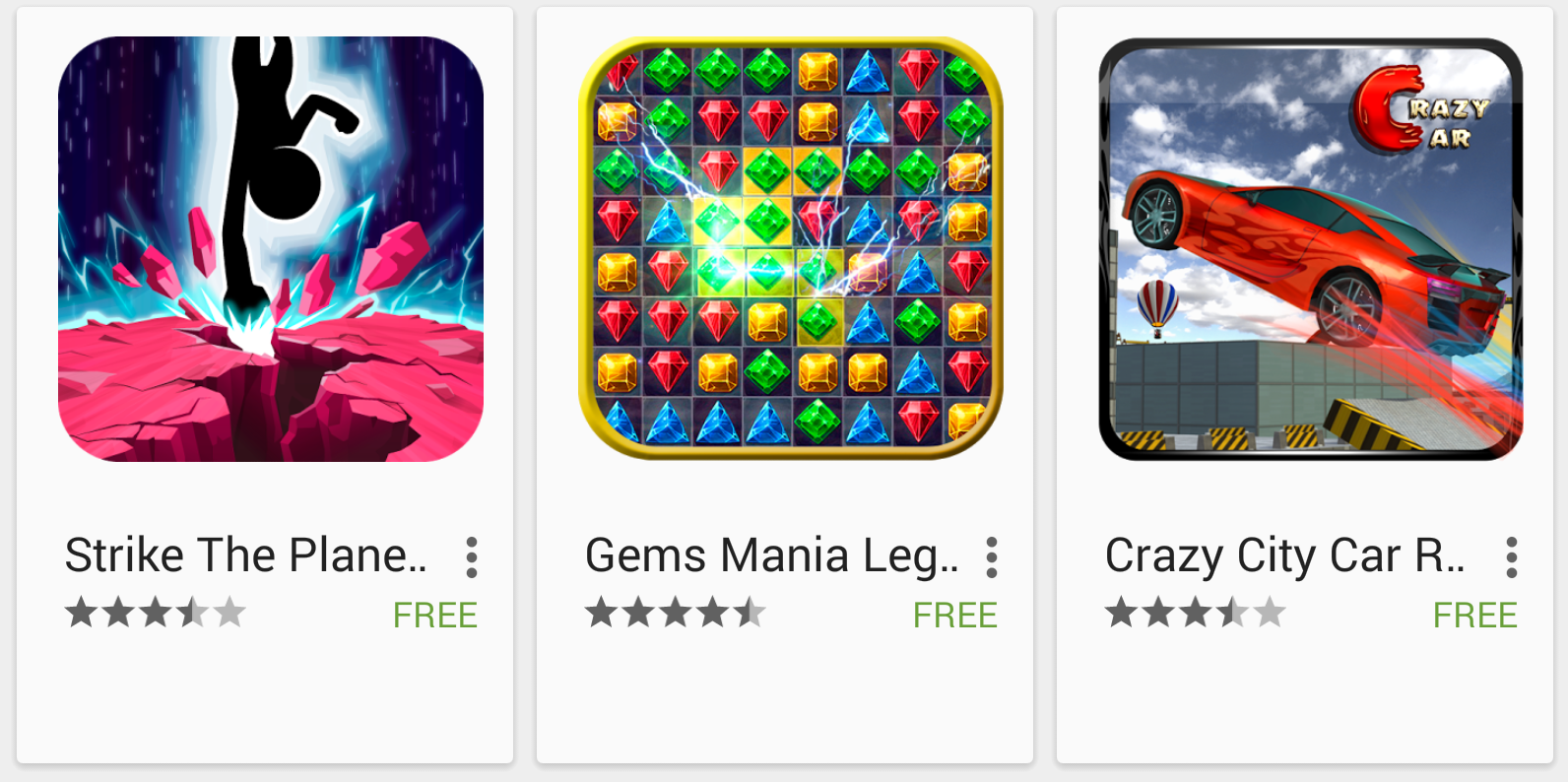 Long app names on Google Play are truncated when users browse categories.
Easily Searchable Names
There are hundreds or thousands of competitor apps on the iOS App Store and Google Play. You need to have an app name that is memorable, relevant and stands out in a sea of similar apps. The most prevalent example of this was the constant use of the name "Flappy" following the success of Flappy Bird, making it difficult to stand out when a user was searching for the term.

"Flappy" is still commonly within names of games that play similarly to the original Flappy Bird.
On the iOS App Store your app name carries more weight in the search experience versus your submitted keyword list. This is also one the most important metadata on Google Play. And it's important to know that the iOS App Store search box is smaller than Google Play, resulting in names becoming truncated earlier.
Match's full iOS App Store title "Match™ - Dating App to Flirt, Chat and Meet Local Single Men and Women" is cut off in the iTunes search box after 41 characters. However, it has the added benefit that by including "dating app" it jumps to the top of a categorial search suggestions if a user types in this key search term.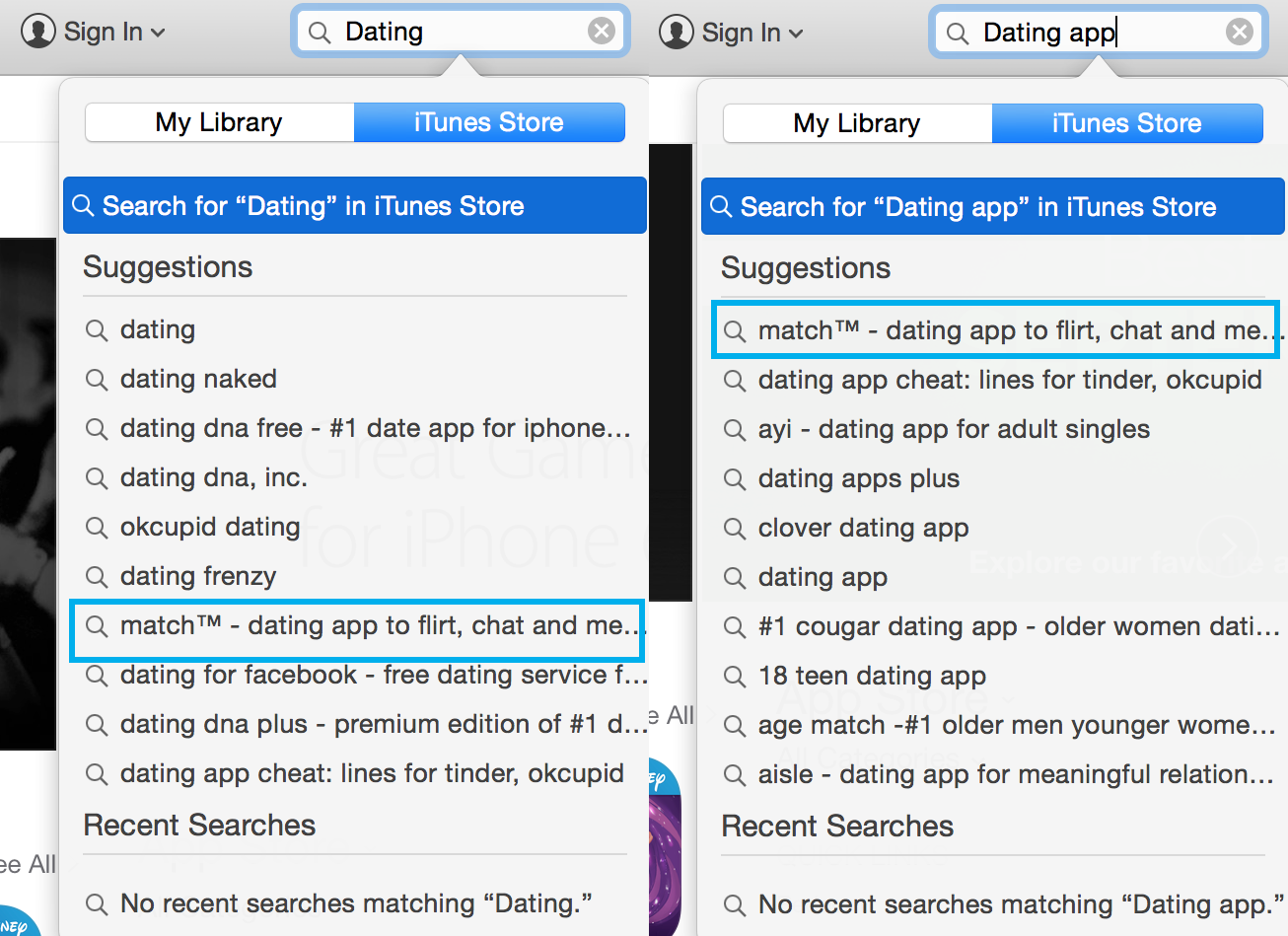 Match's title only includes the first 41 characters when searched on iTunes, but the inclusion of "dating app" places it highly on suggested searches.
A common mistake to avoid for well-known brands: overuse of special characters such as the trademark symbol. These are unlikely to be typed out by users and aren't included in iTunes URLs.
Test It!
A/B testing app names requires several tricks. Changing your app name on the iOS App Store requires submitting a build update, making it impractical. Even Google Experiments doesn't currently offer an option for testing app names.
One option is to use landing pages from services such as UsabilityHub. Landing pages are best implemented to test multiple ASO aspects at once, such as the name, icon and screenshots; however, they're slightly less efficient for standalone app name A/B testing. The biggest downside is that the pool of testers are mostly other designers and marketers, and not the general users you're trying to reach.
Better options are paid Facebook campaigns with each name you want to A/B test on a banner with your icon. This is both quicker than relying on landing pages, and can target the desired audience. User click-through rates (CTR) will reveal the app name that resonates best. One caveat: since this is not a true app store environment, you can't easily test how your app name rates against competitors (using their app names on Facebook tests runs the risk of copyright infringement).
Choosing the Winning Name
There are many factors to consider when crafting the right app name. Both the iOS App Store and Google Play have their own rules for picking catchy and easily searchable names. This is important to outrank competitors and stand out with unique values.
Below is a recap of how to use your app name to increase your installs:
Keep names short to avoid truncation: 30 on Google Play and 23 on iOS
Your app name can add weight to keywords, but avoid keyword stuffing
Choose an app name that stands out from the sea of potential clones
Avoid using special characters that users are unlikely to type
Use Facebook or UsabilityHub to A/B test your app name
App names are the foundation for your brand. Once you've chosen one to show the public, it can be incredibly difficult to change it. By referencing our guides, you can set your app up for success with a strong name from the very beginning.
Want More? App Annie Has It
Subscribe to our blog to see more app industry reports, conference updates and product news. We love hearing from our readers, so share your questions — or tips you've discovered yourself — below or on Twitter.
Want to perform your own analysis? Create a free Store Stats account or request an Intelligence demo today.